Is Kazakhstan in Europe or Asia?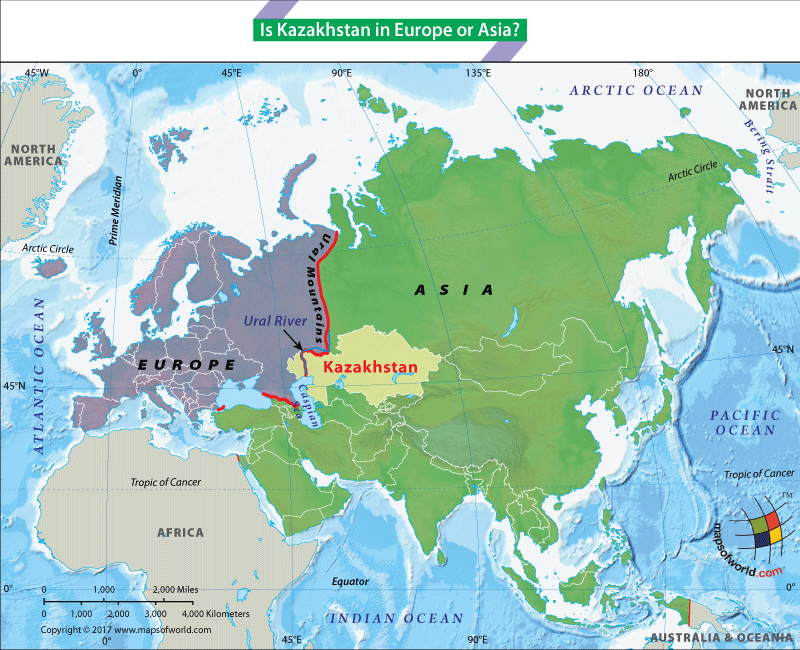 The Republic of Kazakhstan is a country that straddles the continents of both Europe and Asia. Kazakhstan is bordered by Russia in the north and northwest, the People's Republic of China in the east, Kyrgyzstan, Uzbekistan, and Turkmenistan and the Aral Sea in the south, and the Caspian Sea to the southwest. The classification of Kazakhstan as a transcontinental nation is, however, merely a technicality; Kazakhstan shares its cultural identity with other Central Asian countries. The physical features and geographic characteristics of the country also closely resemble those of other countries in Central Asia.
From a glance at a map, it's clear that Kazakhstan is to the east of Turkey. How then is Kazakhstan partly in Europe?
The answer to this question depends on precisely where Europe ends. Europe and Asia are two continents that share a tectonic plate, making it difficult to draw a defining boundary to separate them. Traditionally, natural features – the Ural Mountains, the Ural River, the Caspian Sea, the Black Sea, the Greater Caucasus watershed, the Dardanelles Sea, the Bosporus Strait, and the Aegean Sea – are considered the natural boundaries that divide the two continents. About 10 percent of the total area of Kazakhstan falls to the west of the Ural River. West Kazakhstan and the Atyrau province lie on either side of the Ural River, making Kazakhstan a transcontinental country. This is likely the reason Kazakhstan is a member of the Euro-Atlantic Partnership Council (EAPC), which is made up of NATO members and 20 other partner countries. Lending more support to its European identity is the fact that Kazakhstan is a member of the Organization for Security and Co-operation in Europe (OSCE).
Despite all these explanations, Republic of Kazakhstan is quintessentially a Central Asian country. Being the largest landlocked country in the world, it aligns closely with other Central Asian countries including Tajikistan, Turkmenistan, and Uzbekistan. Kazakhstan also contributes over half of the region's GDP.
Kazakhstan was one of the republics that formed part of the former USSR. With the disintegration of the former Soviet Union, Kazakhstan declared itself independent on December 16, 1991.
Related Maps: