From tourist maps to route maps and transport to driving directions maps, the Travel Maps are customized to serve diverse interests.
Key Benefits
Our city maps include major tourist destinations, marketplaces, significant landmarks, and hotels.
Get street-level details, see the rail and metro routes, and other means of transport for a holistic travel experience.
We churn out downtown maps including minutest of details.
The folded maps have detailed depictions of places of interest, accommodations, and means of transportation.
Road maps show highways, network of roads, and airports to help tourists in traveling from one place to another.
Maps can be created in different sizes and scales and users can request for customizing them to their preference.
Potential Users
Publishers: Our folded maps and travel guides attract high readership and that's why publishers prefer to collaborate with us.
Travelers: A detailed route map with information about streets, fuel stations, and hotels comes handy for travelers.
Tour Operators: Our expertise in creating route maps attracts various tour operators globally.
Tourism Boards: The travel maps created by Mapsofworld answer every travel-related query of the tourists.
Application Developers: We provide maps that can be used on web-based as well as mobile-based platforms.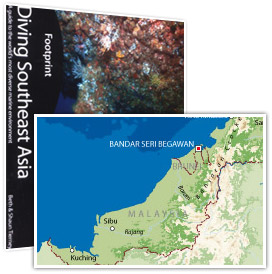 Diving South East Asia Footprint Handbooks, Bath, United Kingdom Aimed at diving enthusiasts across the globe, this guide was published by Footprint as part of their series on activity guides. The guide covers 400 popular diving sites and is augmented by maps and photographs. The challenge for our cartographers was to show the ocean bathymetry in vivid and distinctive colors so that readers can easily make out the depths of the diving spots. Ultimately, after lots of hard work, the final maps produced. These maps are one of the most colorful and attractive maps we have produced ever.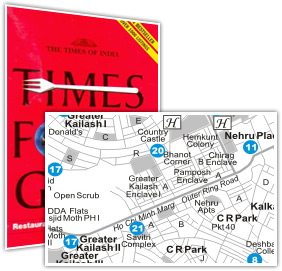 Times food guide – Delhi Bennett Coleman & Co Limited, New Delhi, India Bennett Coleman & Co. limited is the publisher of one of the leading dailies of India named "Times of India". The newspaper came out with an idea of producing Food guides for cities in India with reviews of top eating joints across the city. The challenge here was to make a small and economical food guide which introduces the Indian reader to the concept of rated restaurants. Since the budget was low, considering the paying capacity of average Indian food enthusiasts, the maps couldn't be very elaborative ones. Our cartographers therefore came up with the idea of simple black and white maps along with indexing. It not only saved the number of pages but also provided fair level of details to the readers.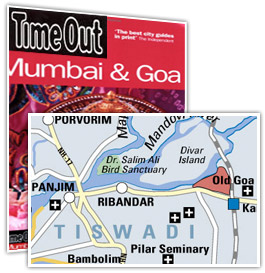 Mumbai and Goa Guide Time out, London, United kingdom This is kind of guide book covers the commercial capital Mumbai and the party paradise Goa. The book has special features of the happening places; details about to visit, to shop, and to eat for the tourists. It also explores the golden beaches of Goa and its capital city Panaji. All these are supplemented through maps prepared exclusively by us. The book has two overview maps, first one is Mumbai and second one is Goa – giving an idea of the locations of the happening places to the readers. These overview maps are followed by particular locality maps covering the shopping areas and localities, which are frequently visited by tourists. The Goa maps show shinning beaches (to visit) and map of the capital city "Panaji".