Kazakhstan Map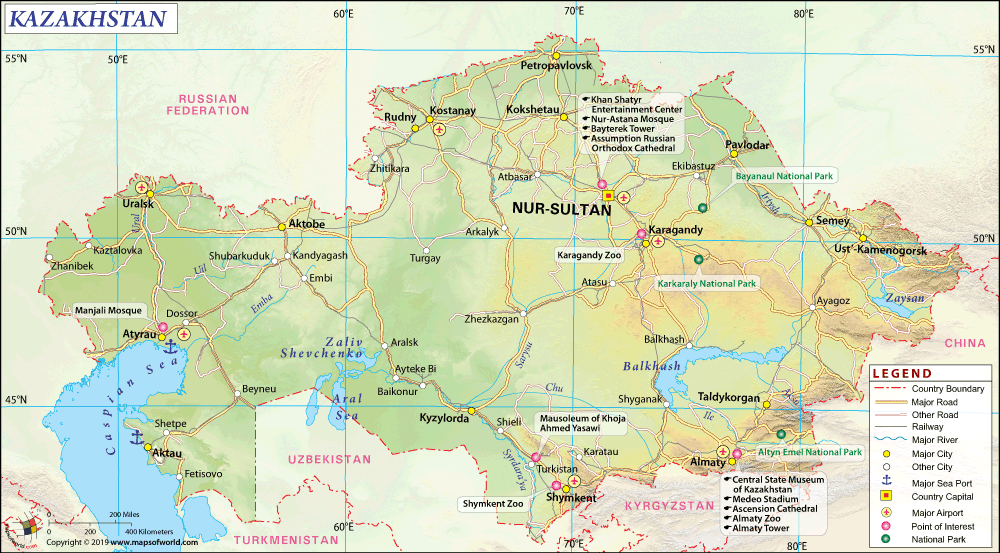 Kazakhstan, also known as Republic of Kazakhstan, is the 9th largest country in terms of land area, and is the world's largest landlocked country. It is situated in Central Asia and Europe and borders Russia, China, Kyrgyzstan, Uzbekistan and Turkmenistan as shown in the map of Kazakhstan. It also adjoins a large part of the Caspian Sea. The capital is Nur-Sultan (previously Astana, until 2019), where it was moved in 1997 from Almaty, the country's largest city.
Kazakhstan Map – Located towards northwestern part of China besides the River Ural of Central Asia, Kazakhstan covers a total land area of 2,717,300 sq. km (1,049,155 sq. miles). According to the population estimate of the year 2018, Kazakhstan has a population of18.28 million (World Bank). The Kazakhstan Map indicates the administrative and political contours of the country.
The Kazakhstan Map further denotes important cities in the country. Kazakhstan is home to a multi-ethnic population, consisting of racial groups of Russian, Kazakh, Uzbek, Uygur, Ukrainian, Tatar and German people. The government of Kazakhstan follows Republican and autocratic presidential style. Kazakhstan is the dominant nation of Central Asia. The economy of Kazakhstan largely depends on oil, mining, agriculture and most other valuable minerals. Islam is the religion of about 70% of the population, with Christianity practiced by 26%.