Singapore Map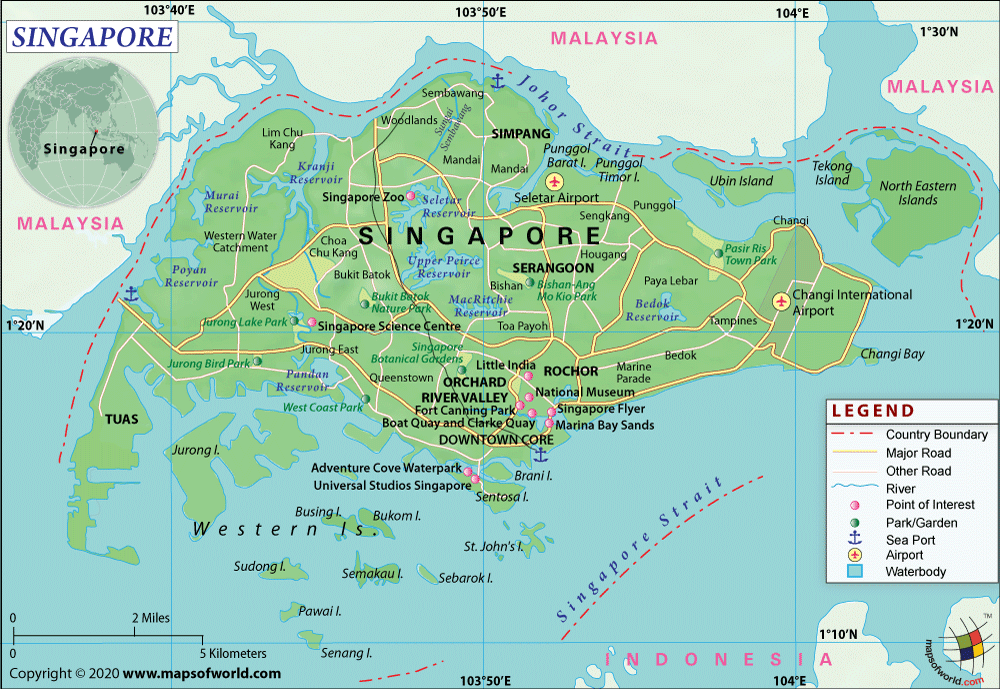 About Singapore
Explore this Singapore map to learn everything you want to know about this country. Learn about Singapore location on the world map, official symbol, flag, geography, climate, postal/area/zip codes, time zones, etc. Check out Singapore history, significant states, provinces/districts, & cities, most popular travel destinations and attractions, the capital city's location, facts and trivia, and many more.
| | |
| --- | --- |
| Full name | Republic of Singapore |
| Capital City | Singapore |
| Language | dialects of Chinese, Malay, English, Tamil, Malayalam and Hindi |
| Currency | Singapore Dollar |
| Religion | Buddhist, Muslim, Christian, Taoist and Hindu |
| National Anthem | "Majulah Singapura"meaning 'Onward Singapore' |
| Newspaper | Asian Wall Street Journal, The Business Times, Computer Times, Berita Harian, Little Speck, Lianhe Zaobao, Tamil Murasu and The Straits Times |
| Places to Visit | Jurong Bird Park, Singapore Zoo, Bukit Timah Nature Reserve, Chinese and Japanese Gardens, Haw Par Villa (Tiger Balm Gardens), Jurong Reptile Park, Ming Village, Singapore Botanic Gardens, Singapore Discovery Centre and Singapore Science Centre |
| Transport | Airways: almost daily flights from all over the world arrive at the Changi International Airport; Roadways: buses and taxis are easily available between Malaysia and Singapore; Waterways: passenger ferries and speed boats are the common options. Speedboats ply between Batam and Pekanbaru in Sumatra. Weekly ships too can be availed between Bintan with Jakarta; Railways: trains run thrice daily between Kuala Lumpur and Singapore on week days; while on weekends there are four trains |
| Shopping | antiques from Bali in Indonesia, China, Philippines, India and Malaysia; carpets from China, India and Persia; clothing; batiks; silks; jewelry; silverware; shoes, briefcases, handbags and wallets made of reptile and snake skins; perfumes; and electronic goods |
The country, it is said, was named by the prince Sang Nila Utama. The island country derives its name from two Malay and Sanskrit words: "Singha"and "Pura"which translates as 'Lion City'.
In the year 1819, the British made the country its trading colony. Subsequent to attaining autonomy in 1959, they joined the Malaysian Federation for two years, separating in 1965.
Physical Map of Singapore
the country of Singapore is a broken off land mass from the main land of Malaysia.
So, not only is it an island surrounded with water, it is also full of lagoons and other types of water bodies intruding into the mainland from the surrounding seas.
The landscape of the country comprises of lowlands near the coast which slowly ascend to form plateaus and hills.
The highest region in the country is known as Bukit Timah. The hills are covered with rain forests, while the coastal regions are encroached upon by swamps and harbors. Climate of Singapore: the climatic condition of the country of Singapore, in general, is tropical. So, the country is hot and wet. Monsoons are torrential, with soaring humidity levels. The monsoons occur twice a year: once between the months of June and September and the second time between the months of December and March.
the island country of Singapore is located in the southern region of Eastern Asia; just off Malaysia. Its immediate political neighbors are Malaysia to the north and Indonesia.
Flora and Fauna of Singapore
Flora: the plant life in Singapore comprises of both land and sea varieties. In the land, the species of plants available are mainly of the rain forest hardwood variety. Mangroves are another kind of habitat. However, grasses, sedges and creepers are quite a common sight in the country too. Water flora includes reeds and sea weeds like red, green and brown seaweeds. Singapore has a number of flowering plants too. Some of the common ones are frangipani, lantana and bougainvillea, angsana, rain tree, yellow flame and wild cinnamon.
Fauna: the fauna in the country comprises of such species as flying lemurs, flying lizards, squirrels, long-tailed macaques, shrews, rats, snakes, skinks and frogs. Bats are found in Singapore in diverse varieties too. Some of the popular ones are fruit bats, horseshoe bats, sheath-tailed bats and the false vampires. Marine fauna in the country includes fish, prawns, mussels, mud-lobsters, freshwater crabs, water bugs, dragonfly, damselfly nymphs, barnacles and mud-skippers. Along with these there are some 180 different avian species in the country.
People of Singapore
the people of Singapore are a mixed race, who holds on to their individuality as much as they allow themselves to mix with other races. Majority of the population of the country are Chinese. They alone contribute to around more than 75% of the population. The other ethnic races that are present in significant amounts are Malays, Indians and mixed-bloods.
Arts, Culture and Music of Singapore
Art: though a fast-paced country, the artistic bent of Singapore can be witnessed in diverse arenas like the city's architecture; to the small shops selling antiques; to the ethnic embroidered silks; to hand crafted jewellery; to the nation's famous silverware and stained glass goods.
Culture: nowhere else in the world is the word culture so synonymous with religion. Singapore's culture emanates from its religious background. Traditions, beliefs, festivals and practices all revolve around this one focal point. However, Singapore is a multi-religious secular nation; so there are Buddhists, Taoists, Muslims, Hindus, Christians and Sikhs. Some of the practices in the nation have also stemmed from the coexistence of these diverse beliefs.
Music: music in Singapore comprises of both traditional and contemporary genres. So while there is rock, hip-hop and punk, there are also folk traditions. Most folk styles in Singapore combine Chinese, Malay and Tamil traits. The chief folk music in Singapore is the Peranakan folk music. It is a genre that blends English forms with Malay tunes. The Peranakan folk music originates from the Peranakans who are a mixed-blood race of Indonesians with other foreigners.
Singapore has a simple and rectangular flag. There are two main colors that dominate the flag; they are red and white. These colors appear in two equal horizontal stripes in the flag, with the color red appearing on top of the white stripe. In the top left side of the flag in the red stripe, there is a white crescent moon with the convex side of the crescent facing the left side of the flag and the concave side facing five five-pointed white stars to the right, which are arranged in a circular manner.
Singapore Embassy
Welcome to the Singapore Embassy website. You will find up to date and detailed information about the work if Singapore Embassy, press statements and speeches issued by the Embassy as well as other useful links on Singapore Embassy.
Singapore Embassy in Washington
Address: 3501 International Place, NW
Washington DC 20008
Telephone: 001-1-(202) 537-3100
Fax: 001-1-(202) 537-0876
The mission of Singapore Embassy was established in the year 1967, March. On the 1st April 1985 the mission moved to its present chancery complex located at the Chanakyapuri Diplomatic Enclave. The Chancery was built on a 3.027 acre plot of land. It is about 8 km from the main administrative and commercial centers in New Delhi and about 14 km from the Indira Gandhi International Airport. The South Korean, Thai, Bhutanese, Italian, Nigerian and the New Zealand Missions are in close proximity to our mission.
Here is the list of all the countries that have foreign missions accredited to Singapore. Presently there 55 resident embassies in Singapore including the high commissions, 39 foreign consular posts and 7 international organization in Singapore. In addition to this there are more than 60 non resident foreign ambassadors which are accredited to Singapore.
Singapore Embassy contains
Resident foreign Embassies and High Commissions
Foreign Consular Posts
Non Resident Foreign Affairs
International Organization/Representative officeConsular Services:
Visa Application
Registration of Singaporeans Overseas
Passports
Notarial Services
Other Information
Foreign Policy:
Ministry of Foreign Affairs
Singapore's Foreign Policy
Singapore-India Relations
Visa Notes and Fees:
With immediate effect the Singapore High Commission has instructed that all visa applications submitted with e- tickets has to be attested with the Company's seal and duly signed by the counter staff issuing that ticket with his / her full name.
Singapore Stock Exchange
The Stock Exchange of Singapore (SES) was a Singapore Stock Exchange company. It was formed in 1973, when the termination of currency interchangeability between Malaysia and Singapore, caused the Stock Exchange of Malaysia and Singapore (SEMS) to separate into the SES and The Kuala Lumpur Stock Exchange (KLSEB).
It merged with the Singapore International Monetary Exchange (SIMEX) on December 1, 1999, to form the Singapore Exchange (SGX).
Alliances:
Singapore Stock Exchange already acquired a strategic investment in Bombay Stock Exchange (5%) for US$42.7m. It is consistent with the strategy of building an Asian Gateway for securities and derivatives. Collaboration was also signed with Abu Dhabi Securities Market in order to benefit from the Singapore and United Arab Emirates. Moreover, Tokyo Stock Exchange is looking for some partners in Asia and is currently discussing with Singapore Exchange to develop jointly traded products. Tokyo Stock Exchange (TSE) may even take a major stake in Singapore Stock Exchange.
After the London Stock Exchange (LSE) rejected a £2.4bn takeover approach from NASDAQ in 2006, LSE showed that it is fighting to retain its independence and preferred to establish an Euro-Asian Gateway for securities and derivatives. LSE is currently collaborating with SGX – calling it a major strategic partner in Asia – and may even take a stake in the exchange.
On June 15, 2007, TSE announced that it had purchased a 4.99% stake in SGX for 37.4 billion yen (US$303 million). The Monetary Authority of Singapore (MAS) and SGX today released the findings from a study they had commissioned on the current state of corporate governance of SGX-listed companies in Singapore.
Singapore Stock Exchange plays a major role in the economy of the country.
Singapore Banks
Singapore banks can be classified into 111 commercial banks, 49 merchant banks and 45 banks with representative offices in Singapore. Commercial banks in Singapore take up universal banking. Some of the Local banks are Bank of Singapore, DBS Bank Ltd, Far Eastern Bank Ltd, United Overseas Bank Ltd. Presently there are 106 Foreign Commercial Banks in Singapore of which 24 are Full Banks, 35 are Wholesale banks, and 47 offshore banks. Some more branch offices of renowned banks are located in Singapore like American Express Bank, Bangkok Bank Public Company Ltd, Bank of America, Bank of China, Bank of India, Indian Oversees bank, UCO Bank, Southern Bank and JP Morgan Chase Bank.
Singapore Government
The republic of Singapore follows a parliamentary system of government. Singapore Government has an honorary Head of State and this post is occupied by the President.
The cabinet, formed by ministers, is the decision-making body headed by the Prime Minister.
The Constitution of Singapore the President honors the President as the Head of State. The President holds office for a period of six years. Till the year 1991 the President of Singapore was appointed by the Parliament. But 1991 marked the year when the President became an elected representative of the people of Singapore. The present President of Singapore Ms. Halimah Yacob who was elected to this post in 2017, and is countries first woman president.