Texas Map with Cities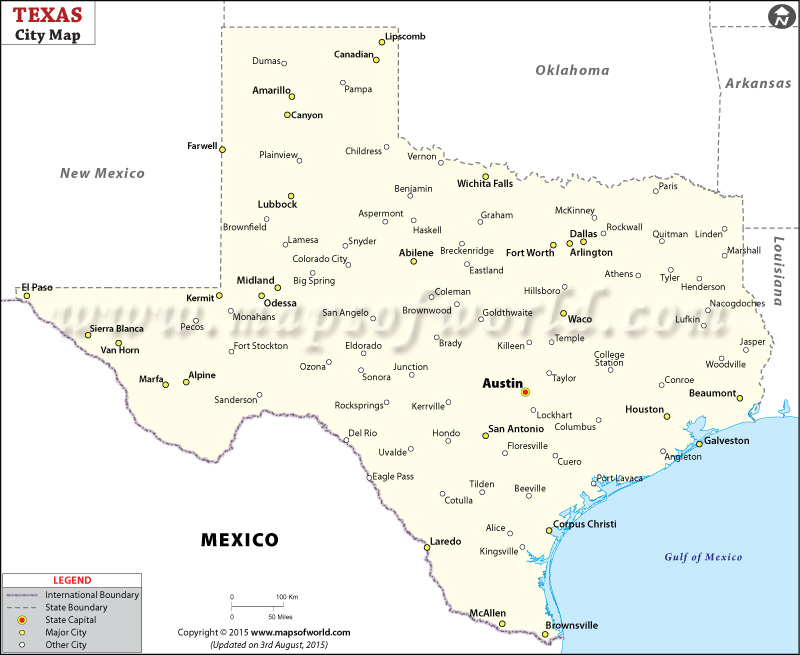 Map of Texas Cities
Map of Texas Cities provides a comprehensive visual overview of the cities scattered throughout the state of Texas. This map allows you to easily navigate and explore the diverse locations of each city.
Cities in Texas
Texas has many different cities, and each one is special in its own way. Some cities are big and busy, while others are small and cozy. Texas cities have something for everyone, whether you like going out at night, exploring nature, enjoying cultural events, or visiting historical places. Whatever you're interested in, you can find it in Texas.
How Many Cities are in Texas
Texas is home to many cities, with a total of 1,215 incorporated municipalities. These cities are spread across the state, providing countless opportunities for exploration and discovery. The Map of Texas Cities is a valuable resource for visualizing the distribution of cities.
Largest Cities in Texas
The largest cities in Texas are the ones with the highest populations and offer a multitude of activities and attractions. Some of the biggest cities in Texas include Houston, San Antonio, Dallas, Austin, and Fort Worth. These cities boast world-class museums, diverse culinary scenes, thriving music and arts communities, and iconic landmarks.
Safest Cities in Texas
Some cities in Texas are known for making safety a top priority. These cities work hard to keep their residents and visitors safe. They have low crime rates and take proactive steps to maintain a secure environment. Living or visiting these cities gives a feeling of safety and peace.
Best Cities to Live in Texas
Texas has numerous cities that are considered great places to live. These cities offer a high quality of life, abundant job opportunities, and a variety of amenities. Some of the best cities to live in Texas are Austin, Houston, Dallas, San Antonio, and Fort Worth. They provide a blend of cultural diversity, excellent schools, outdoor recreational options, and a strong sense of community.
Major Cities in Texas

City
Population
Description

Houston

2,320,268

A diverse metropolis known for its energy industry.

San Antonio

1,547,253

A vibrant city with rich history and cultural heritage.

Dallas

1,343,573

A bustling city with a thriving arts and culinary scene.

Austin

978,908

The capital city known for its music and tech industries.

Fort Worth

909,585

A city with a blend of Western heritage and modern amenities.