Best Museums in the US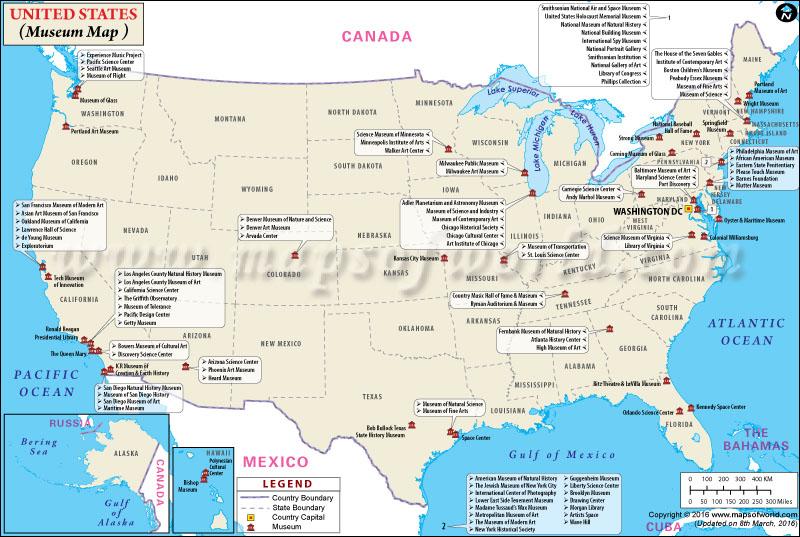 The USA museums section provides information about all the museums and galleries in every state of the United States. According to a government statement, more than 35,000 museums are in the US. All US museums states offer tourists to visit several museums, galleries, and art houses. These museums exhibit the country's vast living and cultural heritage apart from the art created by some world-renowned artists.
USA museums comprise all arrays of museums like natural history museums, philately museums, war museums, personalia museums and art museums, children's museums, history museums, multidisciplinary museums, science museums, and technology museums.
| Museum Name | City/Locations | US States |
| --- | --- | --- |
| The Museum of Modern Art | New York City | New York |
| Guggenheim Museum | New York City | New York |
| Metropolitan Museum of Art | New York City | New York |
| Library of Congress | Washington DC | District of Columbia |
| Art Institute of Chicago | Chicago | Illinois |
| Getty Museum | Los Angeles | California |
| National Gallery of Art | Washington DC | District of Columbia |
| American Museum of Natural History | New York City | New York |
| Exploratorium | San Francisco | California |
| Museum of Contemporary Art | Chicago | Illinois |
| Smithsonian Institution | Washington DC | District of Columbia |
| Institute of Contemporary Art | Boston | Massachusetts |
| Andy Warhol Museum | Pittsburgh | Pennsylvania |
| Smithsonian National Air and Space Museum | Washington DC | District of Columbia |
| Kennedy Space Center | Merritt Island | Florida |
| Brooklyn Museum | New York City | New York |
| The Jewish Museum of New York City | New York City | New York |
| Museum of Fine Arts | Boston | Massachusetts |
| Walker Art Center | Minneapolis | Minnesota |
| Seattle Art Museum | Washington DC | District of Columbia |
| de Young Museum | San Francisco | California |
| Space Center | Houston | Texas |
| National Portrait Gallery | Washington DC | District of Columbia |
| African American Museum | Philadelphia | Pennsylvania |
| High Museum of Art | Atlanta | Georgia |
| Adler Planetarium and Astronomy Museum | Chicago | Illinois |
| Museum of Fine Arts | Houston | Texas |
| Artists Space | New York City | New York |
| The Queen Mary | Long Beach | California |
| National Baseball Hall of Fame | Cooperstown | New York |
| Colonial Williamsburg | Williamsburg | Virginia |
| Philadelphia Museum of Art | Philadelphia | Pennsylvania |
| Museum of Science | Boston | Massachusetts |
| The Griffith Observatory | Los Angeles | California |
| Museum of Science and Industry | Chicago | Illinois |
| ICR Museum of Creation & Earth History | Santee | California |
| Denver Art Museum | Denver | Colorado |
| Portland Museum of Art | Portland | Maine |
| Portland Art Museum | Portland | Oregon |
| Museum of Glass | Tacoma | Washington |
| Tech Museum of Innovation | San Jose | California |
| Science Museum of Minnesota | St. Paul | Minnesota |
| Liberty Science Center | Jersey City | New Jersey |
| Pacific Science Center | Seattle | Washington |
| Oyster & Maritime Museum | Chincoteague | Virginia |
| Maritime Museum | San Diego | California |
| Arizona Science Center | Phoenix | Arizona |
| Morgan Library | New York City | New York |
| Denver Museum of Nature and Science | Denver | Colorado |
| Carnegie Science Center | Pittsburgh | Pennsylvania |
| Museum of Natural Science | Houston | Texas |
| Museum of Flight | Seattle | Washington |
| Milwaukee Art Museum | Wisconsin | Wisconsin |
| Phoenix Art Museum | Phoenix | Arizona |
| Mutter Museum | Philadelphia | Pennsylvania |
| Orlando Science Center | Orlando | Florida |
| Baltimore Museum of Art | Baltimore | Maryland |
| New York Historical Society | New York City | New York |
| Ryman Auditorium & Museum | Nashville | Tennessee |
| Museum of Transportation | St. Louis | Missouri |
| Oakland Museum of California | Oakland | California |
| Library of Virginia | Richmond | Virginia |
| Polynesian Cultural Center | Laie | Hawaii |
| California Science Center | Los Angeles | California |
| Chicago Cultural Center | Chicago | Illinois |
| Kansas City Museum | Kansas City | Missouri |
| Ritz Theatre & LaVilla Museum | Jacksonville | Florida |
| Los Angeles County Museum of Art | Los Angeles | California |
| Museum of Tolerance | Los Angeles | California |
| Maryland Science Center | Baltimore | Maryland |
| Eastern State Penitentiary | Philadelphia | Pennsylvania |
| Wright Museum | Wolfeboro | New Hampshire |
| National Building Museum | Washington DC | District of Columbia |
| Country Music Hall of Fame & Museum | Nashville | Tennessee |
| Heard Museum | Phoenix | Arizona |
| Fernbank Museum of Natural History | Atlanta | Georgia |
| Discovery Science Center | Santa Ana | California |
| Museum of San Diego History | San Diego | California |
| San Diego Museum of Art | San Diego | California |
| Strong Museum | Rochester | New York |
| St. Louis Science Center | St. Louis | Missouri |
| Port Discovery | Baltimore | Maryland |
| Phillips Collection | Washington DC | District of Columbia |
| National Museum of Natural History | Washington DC | District of Columbia |
| Barnes Foundation | Philadelphia | Pennsylvania |
| Bishop Museum | Honolulu | Hawaii |
| San Diego Natural History Museum | San Diego | California |
| Science Museum of Virginia | Richmond | Virginia |
| Arvada Center | Arvada | Colorado |
| International Spy Museum | Washington DC | District of Columbia |
| Lower East Side Tenement Museum | New York | New York |
| Pacific Design Center | West Hollywood | California |
| Please Touch Museum | Philadelphia | Pennsylvania |
| Experience Music Project | Seattle | Washington |
| Milwaukee Public Museum | Milwaukee | Wisconsin |
| Springfield Museum | Springfield | Oregon |
| Minneapolis Institute of Arts | Minneapolis | Minnesota |
| Los Angeles County Natural History Museum | Los Angeles | California |
| Ronald Reagan Presidential Library | Simi Valley | California |
| United States Holocaust Memorial Museum | Washington DC | District of Columbia |
| Peabody Essex Museum | Salem | Massachusetts |
| Asian Art Museum of San Francisco | San Francisco | California |
| Corning Museum of Glass | New York City | New York |
| Drawing Center | New York City | New York |
| Chicago Historical Society | Chicago | Illinois |
| Wave Hill | New York City | New York |
| Boston Children's Museum | Boston | Massachusetts |
| Bob Bullock Texas State History Museum | Austin | Texas |
| Lawrence Hall of Science | Berkeley | California |
| Atlanta History Center | Atlanta | Georgia |
| Bowers Museum of Cultural Art | Santa Ana | California |
| San Francisco Museum of Modern Art | San Francisco | California |
| International Center of Photography | New York City | New York |
| Madame Tussaud's Wax Museum | New York City | New York |
| The House of the Seven Gables | Salem | Massachusetts |