Oklahoma Map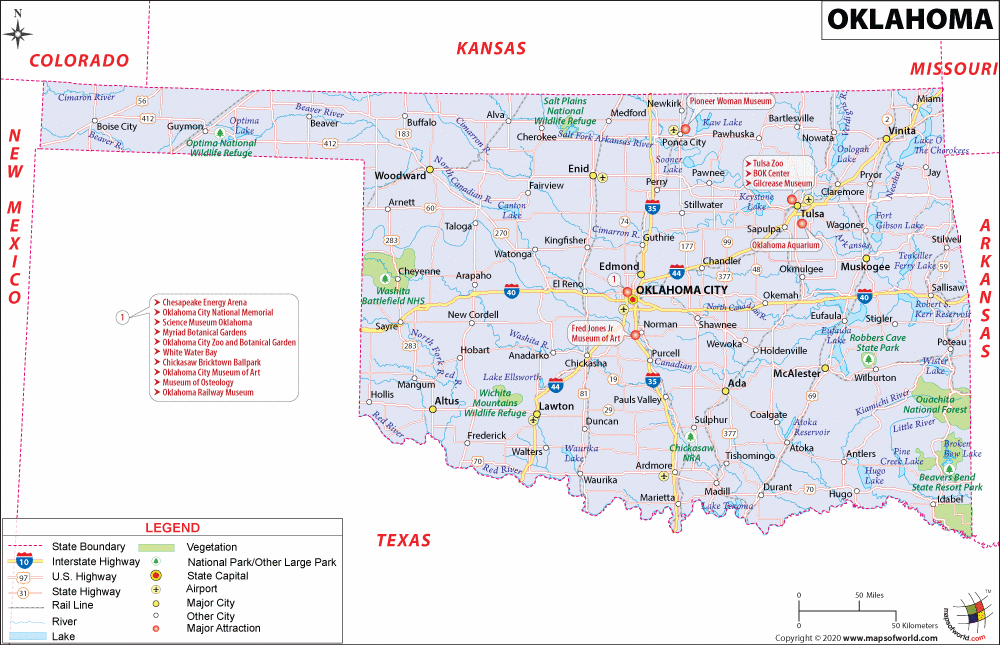 History of Oklahoma
Also Known as "the Sooner State", the state of Oklahoma is situated on a confluence of three varied cultural areas. It served traditionally as a route for cattle drives, a destination for settlers from the South, and a Native American territory sanctioned by the government. Evidence of inhabitation in the state of Oklahoma exists as early as the ice age. The first settler communities however only took root between 850 and 1450 AD. French explorers claimed the area in the 1700s.
The area remained under French rule till 1803 till the Louisiana purchase whereby all territories west of the Mississippi river were bought by the U.S. The state has a rich history with a presence of Native American, English, Scottish, German, and Irish ancestry.
There are a total of seventy-seven counties in Oklahoma. The largest county in Oklahoma is Osage County and the smallest is Cimarron County. Check this Oklahoma County Map which locates all the counties of Oklahoma on the map.
Geography of Oklahoma
Oklahoma is located in West South Central United States. It is the 28th most populous state in the US. The state consists of mountain ranges, prairie, mesas, and eastern forests. Most of the state of Oklahoma lies in the Great Plains and the U.S. Interior Highlands and is prone to rough and extreme weather.
Oklahoma is one of the six states on the Frontier Strip. It is bounded from various directions by the states of Arkansas, Missouri, Kansas, Colorado, New Mexico and Texas. The state is situated in a temperate zone. It experiences extreme temperature and rainfall typical of a continental climate. Most of Oklahoma lies in an area known as the Tornado Alley which is marked by severe weather. On average, 54 tornadoes strike the state per year. This is the highest rate in the world over.
Oklahoma Attractions
The main cities in the state of Oklahoma are Oklahoma City and Tulsa, which are also its economic hub. The place has 11 different eco-systems and hence a stunning variety of scenery. Major attractions include Wichita Mountains Wildlife Refuge, Quartz Mountain Resort, Chickasaw National Recreation Area, Beavers Bend and Howchatown State Park, etc.
For those interested in soaking up the culture, the place has a variety of diverse cultural traditions: Native Americans, cowboys, and oil barons, Oklahoma has it all! It is a good place for heritage tourism, visiting museums and on a different note, taking up road trips. Oklahoma has something for everyone.
Education in Oklahoma
The state has the highest enrollment rate of Native Americans in the nation. The state is also considered among the best in terms of pre-kindergarten education.
For higher education, there are several public institutions in Oklahoma. Oklahoma State University, the University of Oklahoma and the University of Central Oklahoma are a few of the largest in the state. Another notable institution is Langston University – the state's only historically Black college.