Is Texas Bigger Than Germany?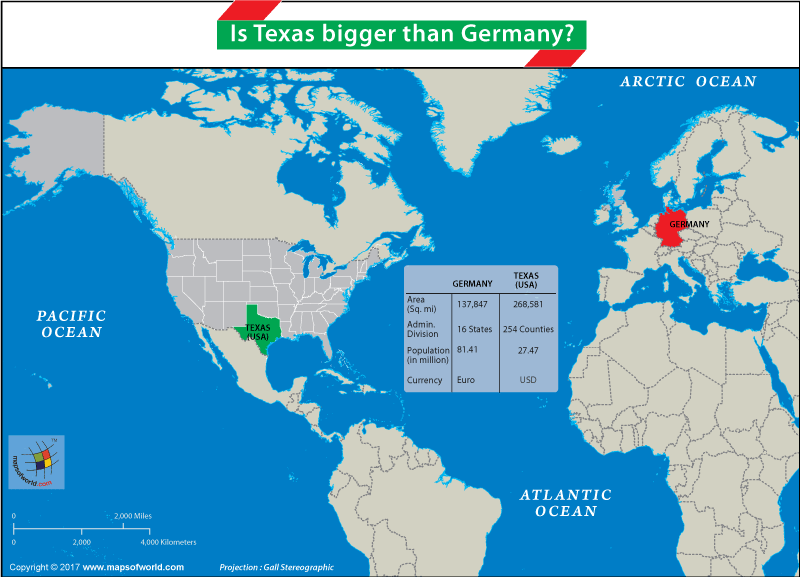 In terms of the area they cover, the state of Texas is about twice as big as the Republic of Germany. Germany, however, is more populous than Texas.
Texas, in the southern United States, is the second largest state, both in terms of the area it covers and population. Texas stretches across an area of about 268,581 square miles (696,241 square kilometers), and is home to an estimated population of 27.47 million (as of 2015).
Germany is a prominent country in central western Europe, and covers an area of about 137,847 square miles (357,021 square kilometers). Though much smaller than the US state of Texas, Germany is home to a much bigger population. 2015 estimates suggest that over 81.41 million people have made Germany their home. The current migrant wave that has swept through Europe and Germany's liberal policies have translated into a significant growth in the country's population over the past few years. In fact, Germany is the most populous among the European Union (EU) member states and is also the most popular immigration destination in the world, apart from the US. German society is a liberal inclusive one and the country does not maintain any statistics on the ethnicity or race of its residents.
Not unlike Germany, Texas too is a very welcoming state. The 2010 census found about 70.4 percent of Texan residents are White American, 11.8 percent African American, 3.8 percent Asian American and over 10.5 percent had other racial affiliations. The relative security from the fallout of the US housing bubble that Texas offered made it a favorite of migrants from other states and from abroad.
On the topic of Texas and Germany, there is a unique amalgamation of these two very different cultures. In the mid-19th century a number of German immigrants settled down in the state of Texas. They founded several settlements which have now grown into towns such as Boerne, Bulverde, Comfort, Fredericksburg, New Braunfels, and Walburg (in Texas Hill Country) and Schulenburg and Weimar (in east Texas). These descendants are now fully assimilated into American society and the quintessential 'Texas German' spoken by the elderly folk is nearly extinct.
Related Maps: