Levels of English Proficiency Around the World
Next Story
The Percentage of Widows Around the World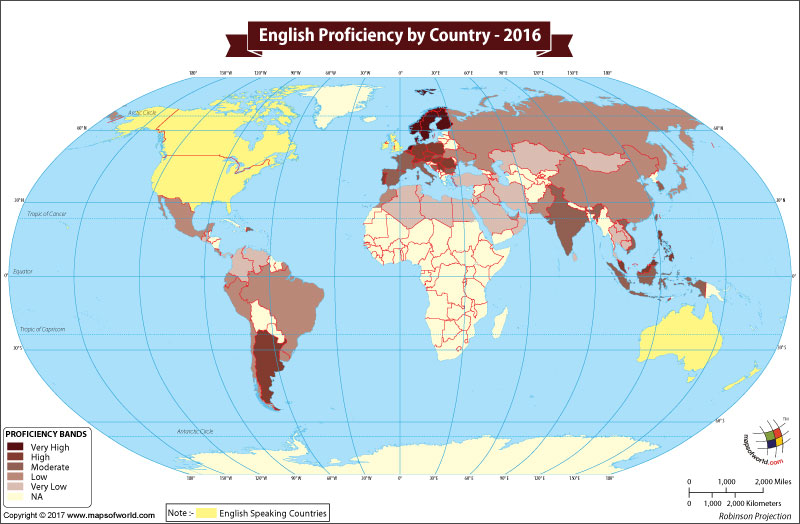 If you have a theme, we have a map.
Contact us for your custom mapping requirements
We all know English is a widely spoken language. But the level of proficiency is wide ranging around the world.
Hundreds of millions of people speak English as their first language, but over a billion people speak it as their second, third or fourth language. Australia, Canada, New Zealand, Ireland, United Kingdom and the US contribute a large number of native speakers. Former British Crown colonies in Asia, Africa and the Caribbean add more English speakers to this pool. However, among countries where it is not the first language, the level of English proficiency can vary from country-to-country.
To analyze the average level of English language skills among non-English speaking nations, EF Education First publishes the EF English Proficiency Index, which is a ranking of English skills by country. According to the sixth edition of the EF English Proficiency Index, published in 2016, the Netherlands topped the list. The nation had a score of 72.16 in 2015. Barring Singapore, the other countries with very high English proficiency were European nations. These included Denmark, Sweden, Norway, Finland, Singapore and Luxembourg.
India, Spain, South Korea, France, Indonesia, Italy, Slovakia, Dominican Republic, Bulgaria, and others, were listed as nations where the proficiency in English is 'moderate.'
Many countries on the list of English proficiency are listed as 'low,' or 'very low.' Some nations listed as 'low,' may or may not surprise you, and they include; Russia, Japan, China, Brazil, Pakistan, Morocco, and others.
Some nations listed at 'very low' include Turkey, Sri Lanka, Qatar, Thailand, Iran, Oman, Kuwait, Mongolia, Saudi Arabia, and others.
The table below provides information on the levels of English proficiency around the world.
| Country | Score | Level |
| --- | --- | --- |
| Netherlands | 72.16 | Very High Proficiency |
| Denmark | 71.15 | Very High Proficiency |
| Sweden | 70.81 | Very High Proficiency |
| Norway | 68.54 | Very High Proficiency |
| Finland | 66.61 | Very High Proficiency |
| Singapore | 63.52 | Very High Proficiency |
| Luxembourg | 63.2 | Very High Proficiency |
| Austria | 62.13 | High Proficiency |
| Germany | 61.58 | High Proficiency |
| Poland | 61.49 | High Proficiency |
| Belgium | 60.9 | High Proficiency |
| Malaysia | 60.7 | High Proficiency |
| Philippines | 60.33 | High Proficiency |
| Switzerland | 60.17 | High Proficiency |
| Portugal | 59.68 | High Proficiency |
| Czech Republic | 59.09 | High Proficiency |
| Serbia | 59.07 | High Proficiency |
| Hungary | 58.72 | High Proficiency |
| Argentina | 58.4 | High Proficiency |
| Romania | 58.14 | High Proficiency |
| Slovakia | 57.34 | Moderate Proficiency |
| India | 57.3 | Moderate Proficiency |
| Dominican Republic | 57.24 | Moderate Proficiency |
| Bulgaria | 56.79 | Moderate Proficiency |
| Spain | 56.66 | Moderate Proficiency |
| Bosnia and Herzegovina | 56.17 | Moderate Proficiency |
| South Korea | 54.87 | Moderate Proficiency |
| Italy | 54.63 | Moderate Proficiency |
| France | 54.33 | Moderate Proficiency |
| Hong Kong | 54.29 | Moderate Proficiency |
| Vietnam | 54.06 | Moderate Proficiency |
| Indonesia | 52.94 | Moderate Proficiency |
| Taiwan | 52.82 | Moderate Proficiency |
| Russia | 52.32 | Low Proficiency |
| Japan | 51.69 | Low Proficiency |
| Uruguay | 51.63 | Low Proficiency |
| Macau | 51.36 | Low Proficiency |
| Costa Rica | 51.35 | Low Proficiency |
| China | 50.94 | Low Proficiency |
| Brazil | 50.66 | Low Proficiency |
| Ukraine | 50.62 | Low Proficiency |
| Chile | 50.1 | Low Proficiency |
| Mexico | 49.88 | Low Proficiency |
| Morocco | 49.86 | Low Proficiency |
| Peru | 49.83 | Low Proficiency |
| United Arab Emirates | 49.81 | Low Proficiency |
| Ecuador | 49.13 | Low Proficiency |
| Pakistan | 48.78 | Low Proficiency |
| Colombia | 48.41 | Very Low Proficiency |
| Panama | 48.08 | Very Low Proficiency |
| Turkey | 47.89 | Very Low Proficiency |
| Tunisia | 47.7 | Very Low Proficiency |
| Guatemala | 47.64 | Very Low Proficiency |
| Kazakhstan | 47.42 | Very Low Proficiency |
| Egypt | 47.32 | Very Low Proficiency |
| Thailand | 47.21 | Very Low Proficiency |
| Azerbaijan | 46.9 | Very Low Proficiency |
| Sri Lanka | 46.58 | Very Low Proficiency |
| Qatar | 46.57 | Very Low Proficiency |
| Venezuela | 46.53 | Very Low Proficiency |
| Iran | 46.38 | Very Low Proficiency |
| Jordan | 45.85 | Very Low Proficiency |
| El Salvador | 43.83 | Very Low Proficiency |
| Oman | 43.44 | Very Low Proficiency |
| Kuwait | 42.98 | Very Low Proficiency |
| Mongolia | 42.77 | Very Low Proficiency |
| Algeria | 41.6 | Very Low Proficiency |
| Saudi Arabia | 40.91 | Very Low Proficiency |
| Cambodia | 39.48 | Very Low Proficiency |
| Laos | 38.45 | Very Low Proficiency |
| Libya | 37.82 | Very Low Proficiency |
| Iraq | 37.65 | Very Low Proficiency |
(Data sourced from EF Education First)
Recent Posts