Hurricanes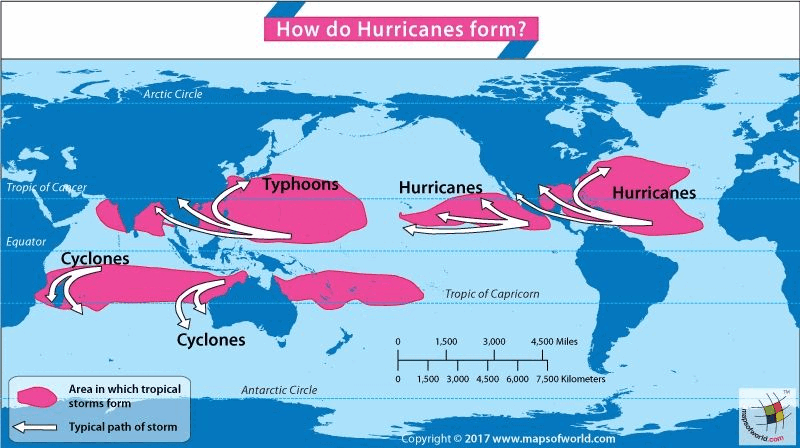 What is a Hurricane
A hurricane is a tropical cyclone with sustained winds of at least 74 miles per hour (119 kilometers per hour) that occurs in the Atlantic Ocean, Caribbean Sea, Gulf of Mexico, or eastern Pacific Ocean. Hurricanes are powerful storms that can cause significant damage to coastal areas through strong winds, heavy rain, storm surges, and flooding.
They form over warm ocean waters when there is enough moisture and unstable atmospheric conditions, and can last for several days as they move across the ocean or make landfall.
June 1, 2023 – November 30, 2023
The official hurricane season in the Atlantic basin (which includes the Atlantic Ocean, Caribbean Sea, and Gulf of Mexico) runs from June 1st to November 30th. This is when the conditions in the region are most favorable for the formation and intensification of tropical storms and hurricanes. However, it's important to note that hurricanes can and do occur outside of this time frame, although it's less common. For example, the first named storm of the 2022 Atlantic hurricane season, Tropical Storm Ana, formed on May 22nd, a few days before the official start of the season.
Hurricanes, also known as tropical cyclones, form over warm ocean waters in the tropics when several atmospheric conditions come together:
Warm Ocean Waters: Hurricanes require warm water temperatures of at least 80°F (27°C) to form and strengthen. Warm ocean waters provide the energy that drives the storm's convection and evaporation process.
Low Atmospheric Pressure: Low atmospheric pressure at the surface helps create the conditions for the storm to form. The warm air over the ocean rises, and as it does so, it cools, causing water vapor to condense into clouds.
High Humidity: High humidity in the lower to mid-levels of the atmosphere is necessary to maintain the storm's strength and organization.
Weak Vertical Wind Shear: Vertical wind shear, or changes in wind speed and direction with height, can disrupt the formation and maintenance of a hurricane. Weak vertical wind shear is needed for a hurricane to form and remain intact.
As the storm intensifies, it begins to rotate around a low-pressure center known as the eye. The storm's winds can reach speeds of over 74 miles per hour (119 kilometers per hour), and the storm can generate huge waves and storm surges, which can cause significant damage to coastal areas.
Hurricanes are named by the World Meteorological Organization (WMO), which is a specialized agency of the United Nations responsible for coordinating and standardizing global meteorological activities.
Hurricanes are classified into five categories based on their maximum sustained wind speed according to the Saffir-Simpson Hurricane Wind Scale. The categories are as follows:
Category 1 – Wind speed 74-95 miles per hour (119-153 kilometers per hour)
Category 2 – Wind speed 96-110 miles per hour (154-177 kilometers per hour)
Category 3 – Wind speed 111-129 miles per hour (178-208 kilometers per hour)
Category 4 – Wind speed 130-156 miles per hour (209-251 kilometers per hour)
Category 5 – Wind speed 157 miles per hour (252 kilometers per hour) or higher
Preparing for a hurricane involves several steps to ensure your safety and protect your property. Here are some key things to keep in mind:
Stay informed: Stay informed about weather conditions and any warnings or alerts issued by local authorities. You can also sign up for emergency alerts from your local government or National Weather Service.
Evacuation plan: Develop an evacuation plan that includes a designated meeting place and a communication plan with family members. Identify evacuation routes and follow the instructions of local authorities if they issue an evacuation order.
Emergency kit: Prepare an emergency kit that includes essentials such as water, non-perishable food, medications, first aid supplies, a flashlight, batteries, and a battery-powered radio.
Protect your property: Secure loose outdoor items such as patio furniture, potted plants, and trash cans. If you live in an area prone to flooding, consider purchasing flood insurance.
Reinforce windows and doors: If you live in a hurricane-prone area, consider installing storm shutters or plywood over windows and doors to protect against high winds.
Backup power: Consider purchasing a generator or other backup power source in case of power outages.
Have a plan for pets: Make sure you have a plan in place for your pets, including food, water, and any necessary medications.
Check in with neighbors: Check in with your neighbors, especially those who may need assistance such as the elderly or those with disabilities.
The United States has experienced several devastating hurricanes throughout its history. Here are some of the worst hurricanes in US history, ranked by the number of fatalities:
The biggest hurricane ever recorded is actually difficult to determine because hurricanes can cover a large area and can have multiple measurements such as diameter, wind speed, and central pressure. However, one of the largest hurricanes ever recorded was Hurricane Sandy in 2012. While not the strongest hurricane, Hurricane Sandy was an enormous storm that spanned over 1,100 miles (1,770 km) and impacted several US states and parts of the Caribbean. The storm surge from Hurricane Sandy was responsible for significant flooding and damage in New York City and along the New Jersey coastline.
Below are some of the facts about Hurricanes:
Hurricanes are also known as typhoons or cyclones, depending on the region in which they occur.
Hurricanes are classified based on their wind speed, using the Saffir-Simpson Hurricane Wind Scale, which ranges from category 1 to category 5.
The eye of a hurricane is the calm center of the storm, surrounded by the eyewall, which contains the strongest winds and heaviest rainfall.