What are the Key Facts of India?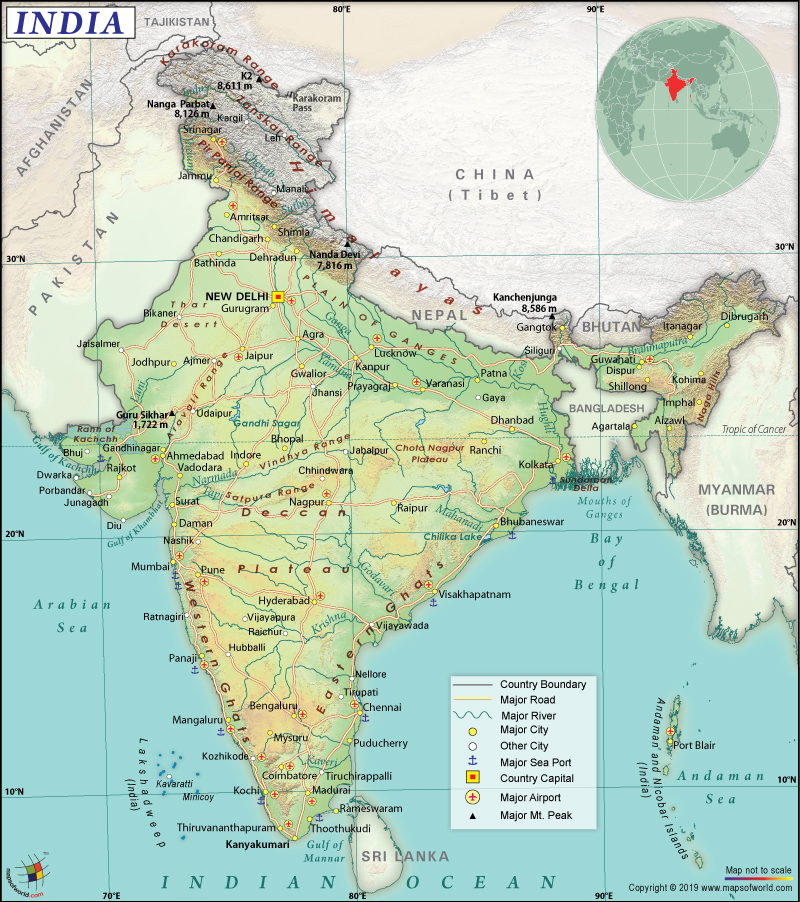 | | |
| --- | --- |
| Official Name | Republic of India |
| Continent | Asia |
| Capital | New Delhi |
| Largest City | Mumbai |
| Coordinates | 20.000000, 77.000000 |
| Area | 32,87,263 sq mi ( 1,269,346 sq km) |
| Land Boundaries | 9,445 mi ( 15,200 km) |
| Coastline | 4,671 mi ( 7,517 km) |
| Currency | Indian rupee (₹) (INR) |
| Neighboring Countries | Pakistan, Afghanistan, China, Nepal, Bhutan, Bangladesh, Myanmar. Maritime neighbors: Sri Lanka, Maldives, and Indonesia |
| Population | 1,324,171,354 (2016 est.) |
| Official Languages | 22 Scheduled languages inlcuding Hindi, English is used for official purposes |
| Major Religion | Secular (Hindu Majority) |
| National Day | 15 August (Independence Day) |
| National Anthem | "Jana-Gana-Mana" |
| Form of Government | Federal parliamentary republic |
| President | Ram Nath Kovind |
| Prime Minister | Narendra Modi |
| GDP per capita (PPP) | $ 7,761.6 (World Bank, 2018) |
| GDP per capita (nominal) | $ 2,015.6 (World Bank, 2018) |
| HDI | 0.64 (2017), Rank: 130 |
| Literacy Rate (%) | NA |
| Space Agency | Indian Space Research Organisation (ISRO) |
| Military Expenditure Ranking | 3 (SIPRI, 2017) |
| No. of Olympic Medals | 28 (as of 2018) |
| Driving Side | left |
| Calling Code | +91 |
| Time Zone | UTC+05:30 (IST) |
| Internet TLD | .in |
Where is India?
India is located in Southern Asia between Myanmar and Pakistan in the Northern Hemisphere. It borders the Arabian Sea (on the southwest) as well as the Bay of Bengal (on the southeast). India shares its border with 7 neighboring countries: Bangladesh to the east, Afghanistan and Pakistan to the west, China, Nepal and Bhutan to the north, and Myanmar to the east, India shares maritime boundaries with Sri Lanka, the Maldives in the Indian Ocean and Indonesia. The Andaman and Nicobar Islands (one of the southernmost parts of India) share a maritime border with Indonesia as well as Thailand.
What is the Geography of India?
India is spread across a total area of 3,287,263 sq. km (1,269,346 sq. mi), out of which 2,973,193 sq. km (1,147,956 sq. mi) is land area and 314,070 sq. km (121,263 sq. mi) is water area. The total land boundary shared by India with its neighboring countries is 15,200 km (9,445 mi). Overall, the total length of the coastline of the mainland, Lakshadweep Islands and Andaman & Nicobar Islands is 7,517 km (4,671 mi).
India is bounded by the Indian Ocean to the south, Arabian Sea to the west, the Bay of Bengal to the east, and Lakshadweep Sea to the southwest. Sri Lanka is located to the southeast of India and the two countries are separated by the Palk Strait and Gulf of Mannar. To the south of the Lakshadweep Islands across the Eight Degree Channel, Maldives is located just 125 km (78 mi) away.
Andaman and Nicobar Islands of India are located to the southeast of mainland India (around 1,200 km or 750 mi) away. The southernmost tip of mainland India is Kanyakumari. However, India's southernmost tip is located on the Great Nicobar Island (known as the Indira Point). Indira Col, Siachen Glacier is the northernmost point controlled by the Indian administration.
The mean elevation of India is 160 m (525 ft). While Kanchenjunga is the highest elevation point (at 8,586 m or 28,169 ft), the lowest elevation point is sea level at Indian Ocean. The major mountains of India are Kanchenjunga, Nanda Devi, Kamet, and many more. The major rivers of India are Ganga, Brahmaputra, Indus, Kaveri, Godavari, Yamuna, etc.
There are 4 terrains in the country: the Himalayas in the north, deserts in west, plains (flat to rolling) along the Ganges, and Deccan Plains (upland plain) in the south. Indian naval hydrographic charts show that the mainland coastline consists of sandy beaches (43%), mudflats or marshy shores (46%), and rocky shores including cliffs (11%).
There are 8 categories of soils in India. They are alluvial, black, forest, laterite, red, peaty & organic, saline & alkaline, and arid & desert. Around 80% of the total land surface of India constitutes alluvial soil. Black soil is mainly found in the Deccan lava region, which is mainly spread over three Indian states (Madhya Pradesh, Gujarat, and Maharashtra). The tropical regions (having heavy rainfall) such as northeastern states, Eastern Ghats, and the Western Ghats generally have laterite soils. Red soils are found mainly in the Aravallis, Chota Nagpur plateau, Andhra plateau, Karnataka plateau, and Tamil Nadu. The slopes of the Himalayan Hills and other mountains in India have forest soils. They can also be found in the Eastern and Western Ghats.
While the Himalayan mountain range defines the northern frontiers of India, the western border with neighboring Pakistan is defined by the Karakoram range, the salt marshes of the Rann of Kutch, the Thar Desert, and Punjab Plains.
In the far northeast, Myanmar (erstwhile Burma) is separated from India by deeply forested mountainous regions, Kachin Hills, and Chin Hills. The bordering area of India and Bangladesh is defined by Mizo Hills, Khasi Hills, and Sundarbans Gangetic delta.
The major climates in India can be classified as alpine tundra and glacier climate in northern India, arid desert in the western parts, and humid tropical regions (supporting rainforests) in southwest India as well as the island territories.
Four seasons are generally found in India. Winter season continues from December to February, followed by summer that lasts from March to June. The rainy season starts from June and continues till September. India experiences a post-monsoon period during October to November.
During summertime, the temperature can go above 40 °C (104 °F) during the daytime. The average temperature in coastal regions generally hovers around 30 °C (86 °F). However, a high level of humidity is the characteristic feature of the coastal regions. The temperature in the Thar Desert can easily go above 45 °C (113 °F). In India, the temperature can range from as high as 51 °C (124 °F) to as low as −45 °C (−49 °F), depending upon the diverse geographical variation.
What is the Economy of India?
India has a developing mixed economy, which is currently one of the biggest economies of the world. World Bank's reports show that this economic powerhouse had a nominal GDP of US$2.726 trillion in 2018 and it grew at the rate of 6.98% the same year. India has a population of over 1.2 billion, a workforce of 513.7 million (2nd largest labor force in the world), and it strives to become a high-middle income country by 2030.
Generally, the main contributor to the economy is the services sector, contributing 54.40% of the GDP. While industry contributes 29.73% to the GDP, agriculture contributes 15.87% of the GDP. However, most of the Indian population is still involved in agriculture (47%), followed by the services sector (31%), and the industrial sector (22%).
Further, IT industry (including IT services, BPO, software services, etc.) has expanded fast in the last few decades and is currently the largest private-sector employer in India. India is one of the largest automobile manufacturers in the world and also one of the fastest-growing e-commerce markets the world-over. Moreover, India boasts a vibrant startup ecosystem and currently occupies 4th position in the world, in terms of the number of 'unicorns' valued at US$1 billion or more, behind countries such as US, China and UK.
Broadly, India has been successful in bringing down its extreme poverty level from 46% in the mid-1990s to 13.4% in 2015. However, there are still 176 million poor people living in India.
What is the Transportation System of India?
India's transportation system has developed with time and need. It currently caters to over 1.1 billion people and accounts for 5.5% of the national GDP. India has a vast road network that transports 8.23 billion passengers and 970 million tons of freight every year. The country has 4,699,024 km (2,919,838 mi) of total roadways, out of which 96,214 km (59,785 mi) are national highways/expressways, 147,800 km (91,839 mi) are state highways, and 4,455,010 km (2,768,214 mi) are other roads.
The railway network is also huge in India, which transports around 18 million people every day. 68,525 km (42,579 mi) of railways are present, out of which 58,404 km (36,291 mi) are broad gauge networks, and 9,499 km (5,902 mi) are narrow gauge networks. 346 airports are there in India, out of which 253 have paved runways and 93 have unpaved runways. 45 heliports are also there.
14,500 km (9010 mi) of waterways is present in India. 1,719 merchant marine ships are also present. Under the Inland Waterways Authority of India, there are 106 National Waterways (NW). Main seaports of the country include Chennai, Vishakhapatnam, Mumbai, Kolkata, Sikka, Kandla, and Jawaharlal Nehru Port.
What International Organizations is India part of?
UN, ADB, BIMSTEC, WTO, IMF, BIS, WHO, BRICS, C, ILO, CD, NAM, CICA, UNHCR, CP, EAS, FAO, UNESCO, FATF, G-15, G-20, G-24, G-5, G-77, UNCTAD, IAEA, IBRD, ICAO, ICRM, IDA, IFAD, IFC, IFRCS, IHO, IMO, IMSO, Interpol, IOC, IOM, IPU, ISO, ITSO, ITU, MIGA, MINURSO, MONUSCO, OECD, OPCW, PCA, SAARC, SACEP, UNDOF, UNIDO, UNIFIL, UNISFA, UNITAR, UNMISS, UNOCI, UNWTO, UPU, WCO, WIPO, WMO, AfDB (nonregional member), Arctic Council (observer), ARF, ASEAN (dialogue partner), CERN (observer), ICC (national committees), OAS (observer), SCO (observer), LAS (observer), Pacific Alliance (observer), ITUC (NGOs), PIF (partner), WFTU (NGOs)
Related Links:

Related Maps: