What are the Key Facts of Australia?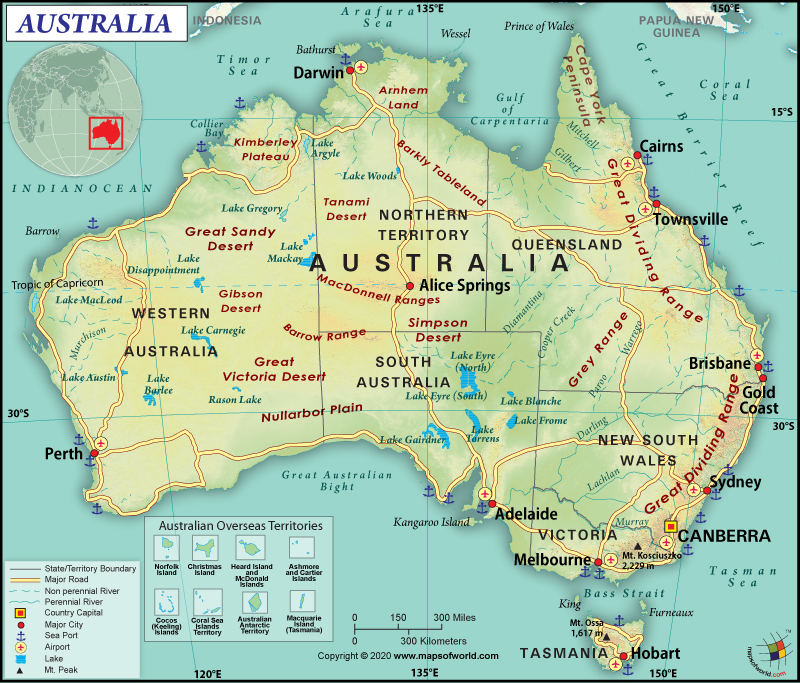 Official Name

Continent

Australia and Oceania

Capital

Canberra

Largest City

Coordinates

-27.000000, 133.000000

Area

2,969,907 sq. mi ( 7,692,024 sq. km)

Land Boundaries

0 mi ( 0 km)

Coastline

16,007 mi ( 25,760 km)

Currency

Australian dollar (AUD)

Neighboring Countries

Maritime neighbors: Solomon Islands, New Zealand, Indonesia, Papua New Guinea, Vanuatu, Timor-Leste, New Caledonia (France)

Population

23,401,892 (2016 Census)

Official Languages

English

Major Religion

Christianity

National Day

26 January (Australia Day)

National Anthem

"Advance Australia Fair"

Form of Government

Federal parliamentary constitutional monarchy

Monarch

Elizabeth II

Prime Minister

Scott Morrison

GDP per capita (PPP)

$ 51,601.8 (World Bank, 2018)

GDP per capita (nominal)

$ 57,305.3 (World Bank, 2018)

HDI

0.938 (2018), Rank: 6

Literacy Rate (%)

NA

Space Agency

Australian Space Agency

Military Expenditure Ranking

13 (SIPRI, 2018)

No. of Olympic Medals

512 (as of 2018)

Driving Side

left

Calling Code

+61

Time Zone

UTC+08:00 (AWST), UTC+09:30 (ACST), UTC+10:00 (AEST).
Summer DST: UTC+10:30, UTC+11:00

Internet TLD

.au
Where is Australia?
Australia, the country, is located in the Oceania Region, the Australian Continent. A continent that is situated between the South Pacific Ocean and the Indian Ocean.
What is the Geography of Australia?
Australia is spread across a total area of 7,692,024 sq. km (2,969,907 sq. mi), out of which 7,682,300 sq. km (2,966,153 sq. mi) is land area and 58,920 sq. km (22,749 sq. mi) is water area. Though it doesn't have any land boundary, it has a 25,760 km (16,007 mi) long coastline. Here is the Australia Physical Map showing all the physical features of the country.
A low plateau with deserts mainly characterizes the country's terrain. The fertile plain is located in the southeast part. The mean elevation of this country is 330 m (1,083 ft). While Mount Kosciuszko at 2,228 m (7,310 ft) is the highest elevation point in the country, Lake Eyre at -15 m (-49 ft) is the lowest elevation point.
Mount Kosciuszko, Mount Townsend, Mount Twynam, Rams Head, Etheridge Ridge's unnamed peak, and others are the highest mountains in Australia. Some of the longest rivers in the country are River Murray, Murrumbidgee River, Darling River, and Lachlan River.
Australia is not only a country but also the seventh-largest continent of the world. There are four significant landforms in the country: the Coastal Plains, the Western Plateau, the Central Lowlands, and the Eastern Highlands.
The Coastal Plains are located on Australia's western edge. They are flat, low-lying landform that extends from Queensland to Victoria. Mountains, as well as the Great Dividing Range, separate the coastal plains from the Great Dividing Range. The multiple landforms found in this coastal belt include the Great Barrier Reef, numerous valleys, the Brisbane River, and high rocky elevation.
The most dominant landform is the Western Plateau, which incorporates 1/3rd of the Australian continent. This region is spread across 2,700,000 sq km (1,042,476 sq mi), which includes the largest drainage division (consisting of ancient igneous and metaphoric rocks). Arid or semi-arid conditions are found in the Western Plateau. The victorian desert, The Great Sandy, and Uluru are the most important locations in the country.
The Central Lowlands occupy 1/4th of the total landmass in Australia. The low-lying, featureless landform is located above 200 m (656 ft) above sea level. This landform is mainly made up of old rocks and sediments. Great Artesian Basin, Flinders Range, and the Simpson Desert are the most iconic landforms in this region.
The Eastern Highlands (also called The Great Dividing Range) is located in the eastern part of the country, covering around 10% of the total landmass. It is spread from Tasmania to the Cape York Peninsula, extending for around 3,500 km (2,175 mi). A significant part of this stretch of land is rugged. There are many gorges and valleys in this region. It is also the most fertile part of Australia. Mt. Kosciusko, the Murray-Darling River system and the Bass Strait are some of the major landforms in the Eastern Highlands.
What is the Climate of Australia?
A wide range of climate zones is found in Australia, mainly because of its vastness. A more tropical-influenced climate is located in Australia's northern section. While the climate remains hot or humid during summer, it remains quite warm or dry during winter. The southern parts of the country are cooler. The summers are mild and cold. Sometimes the winters are rainy. While December-January is the hottest period in Australia, July-August is the coldest period.
In the southern parts of Australia, the average summer temperature hovers within 25-30 °C (77-86 °F) and the average temperature hovers within 5-10 °C (41-50 °F) during winter. A typical mountain climate is found in the southeastern region including the "Australian Alps" and the Tasmanian Mountains. Winters become very harsh in this area, and the peaks of the highest mountains remain covered by snow all year round. The temperature in central Australia (mainly having dessert and bush) can sometimes reach 50°C and more.
The annual precipitation level in northern Australia is around 100 in (2,540 mm). Heavy wind and rainstorms can take place due to tropical cyclones. These storms generally take place from November-April. The southern coastal areas also get extra-tropical storms during this period.
What is the Economy of Australia?
The nominal GDP of Australia was US$ 1.432 trillion, and the economy grew at an annual rate of 2.835% in 2018. The country had a US$44 billion positive balance of trade in 2017 as the export and import values were US$243 billion and US$199 billion, respectively.
The major items exported by this Oceanic country are coal briquettes, iron ore, wheat, petroleum gas, gold, etc. The major import items of Australia are broadcasting equipment, special purpose ships, refined petroleum, cars, delivery trucks, etc.
The rate of unemployment decreased from 6.06% in 2014 to 5.29% in 2018. Reports say that the unemployment rate would come down to 4.79% by 2024. The 2018 Poverty in Australia report by ACOSS (Australian Council of Social Service) says that the total number of people living below the poverty line ($433 per week for a single adult living alone or $909 per week for a couple with two children) was more than three million (including 739,000 children), which is around 13.2% of the total population.
What is the Transportation System of Australia?
There are four major public transport systems in Australia, and they are trains, ferries, trams, and buses. The major public transports in different states of the country are Australian Capital Territory (ACTION), New South Wales (NSW Transport Info), Northern Territory (Northern Territory Department of Transport), Queensland (Translink), South Australia (Adelaide Metro), Tasmania (Metro Tasmania), Victoria (Public Transport Victoria), and Western Australia (Transperth).
Road transport has become the enabler of the Australian economy. The total roadway available in this country is 873,573 km (542,813 mi), out of which 145,928 km (90,675 mi) is urban and 727,645 km (452,138 mi) is non-urban. An extensive railway network is also available in this country. Over 33,343 km (20,718 mi) long railway network is available in the country, out of which 17,446 km (10,840 mi) is standard gauge, 12,318 km (7,654 mi) is a narrow gauge, and 3,247 km (2,018 mi) is a broad gauge.
Around 2,000 km (1,243 mi) long waterways are also available in the country. Most of the waterways used on the Murray and Murray-Darling River systems are for recreation purposes. The major seaports are Sydney, Port Kembla, Port Adelaide, Melbourne, Brisbane, Cairns, Darwin, Fremantle, Hobart, Geelong, Newcastle, and Gladstone.
While Melbourne is the main container port, the main LNG terminals for export are Darwin, Burrup (Pluto), Barrow Island, Australia Pacific, Wheatstone, Gladstone, Bladin Point (Ichthys), Karratha, Curtis Island, and Prelude (offshore FLNG). The main dry bulk cargo ports for iron ore are Dampier, Port Walcott, and Port Hedland. There are two dry bulk cargo ports for coal, and they are Hay Point and Dalrymple Bay.
There are 480 airports in Australia, out of which 349 are paved, and 131 are unpaved. One heliport is also there. The busiest airports here are Sydney Airport (in Sydney), Melbourne Airport (in Melbourne), Brisbane Airport (in Brisbane), Perth Airport (in Perth), and Adelaide Airport (in Adelaide), and four major domestic airlines in the country are Jetstar, Tigerair, Virgin Australia, and Qantas.
What International Organizations is Australia part of?
UN, WTO, IMF, ILO, WHO, Paris Club, UNESCO, ADB, ANZUS, APEC, ARF, Australia Group, BIS, C, CD, CP, EAS, EBRD, FAO, FATF, G-20, IAEA, IBRD, ICAO, ICCt, ICRM, IDA, IEA, IFC, IFRCS, IHO, IMO, IMSO, Interpol, IOC, IOM, IPU, ISO, ITSO, ITU, MIGA, NEA, NSG, OECD, OPCW, PCA, PIF, Sparteca, SPC, UNCTAD, UNHCR, UNMISS, UNMIT, UNRWA, UNTSO, UNWTO, UPU, WCO, WIPO, WMO, ZC, ASEAN (dialogue partner), EITI (implementing country), ICC (national committees), OSCE (partner), Pacific Alliance (observer), SAARC (observer), SICA (observer), WFTU (NGOs), ITUC (NGOs)
Related Links:

Related Maps:
37,516 total views, 1 views today