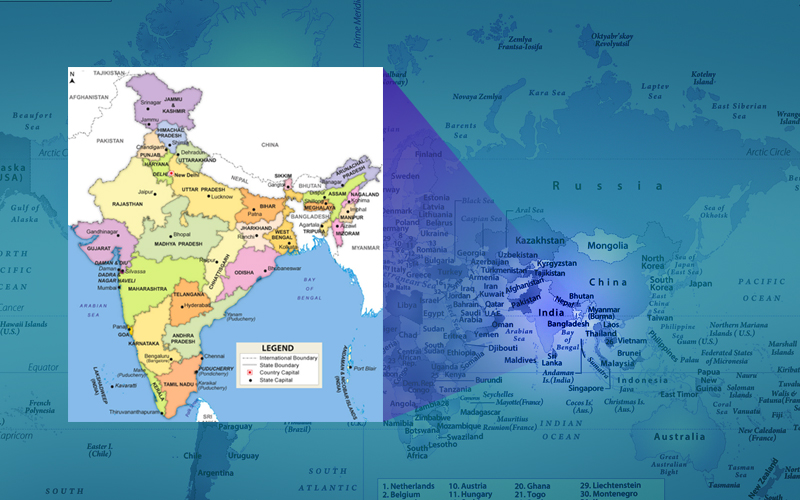 No, India is not a continent.
India is a country located in the southern region of the Asian continent. India is the largest democracy in the world and is a sovereign nation with well-defined borders. Home to over 1.25 billion people, it is the second most populous country in the world. It is not surprising that a country as diverse as India is often mistaken for a continent.
Let us take a look at the numerous geographical features that you're likely to find in India. The Himalayas are the snow-capped, lofty mountains of the north, the Deccan Plateau, the vast Gangetic plain, the sandy coasts of the south, the Thar Desert, the mangrove forests of the east, the gushing rivers that crisscross this sprawling country and the vast ocean that borders the south – India is an amalgamation of features that one would expect in a continent. In India, 1,652 languages and dialects are spoken, numerous religions practiced, and a variety of cultures coexist in harmony.
Economically and politically, India is emerging as one of the most influential nations in Asia, and perhaps even in the world. With a growth between 7.6 and 7.9 percent, the Indian economy with its focus on agriculture, manufacturing, and services is a bright spot in an otherwise gloomy global scenario. A global leader in science, technology and medicine, India is also a preferred tourist destination visited by over 7.5 million people each year.
While India is not a continent, the terms 'Indian continent' and 'Indian subcontinent' are quite commonly used. The Indian subcontinent refers to the South Asian region that includes Sri Lanka, Maldives, India, Bangladesh, Bhutan, Nepal, and Pakistan.
India is sometimes also mistaken for a continent because the country sits on its own continental plate. The Indian plate was part of the ancient continent, Gondwana, over 100 million years ago. When it broke away, it remained fused with Australia as the Indo-Australian plate. About 3 million years ago, the two separated and the Indian plate fused with Asia.