What are the Top Ten Coffee Exporting Countries?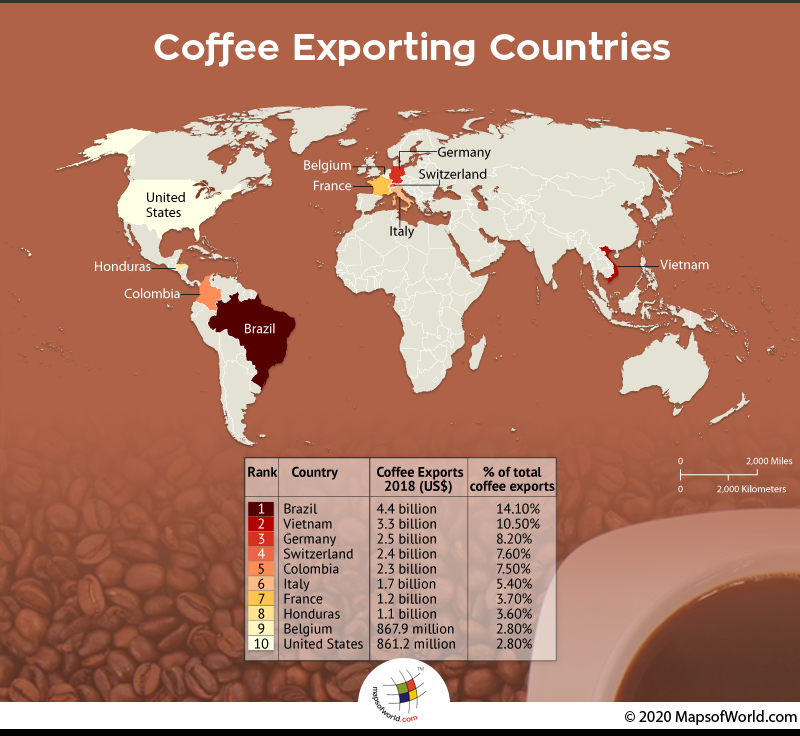 Coffee is a kick-starter and an integral part of the daily routine for many. It is coffee that helps many of us survive the Monday blues, when we have strenuous tasks to complete. The fondness for the beverage has been prevalent even before the existence of large international coffee chains like Starbucks, Costa Coffee, Kim Hortons and Dunkin' Donuts. In the 18th century, Voltaire, a French literati and one a famous historian, reportedly had an intake of 50-60 cups in a day, and yet lived till the age of 83.
Even though numerous ill-effects of caffeine have been known, people still tend to reach for the happy cup of Joe. Estimations suggest that over 3.5 billion cups of coffee are consumed every day, worldwide. Often called a 'socially acceptable psychoactive drug,' its production is ever-rising, and so are the exports.
The global coffee exports in 2018 accounted for the US $861.2 million as per World's Top Exports, with Brazil contributing the largest, at 14.10% of the total exports. The production in the country is also the highest since 1840. It was in the 18th century, that the first coffee plant was brought in to the country by French settlers. Currently, there are more than 10,000 square miles of the Brazilian landscape that is covered with coffee plantations.
Vietnam, the second-largest exporter has maintained its niche within the international market by focusing on the less-expensive Robusta bean. These beans give a bitter taste in comparison to Arabica beans, which are known to be the richest. The total exports from Vietnam contribute 10.7% of the world's exports. It was in the 1980s when the Communist Party suggested that coffee production would benefit Vietnam, and the resulting abundant production indeed transformed the economy of the nation.
Germany does not have large coffee plantations, yet the country ranks third amid top ten exporters. It is because Germany engages in purchasing, processing and re-exporting of the brown commodity. The majority of the raw coffee beans are bought from developing countries and the profit is extracted from the resale value when its quality is improved.
Here is the list of top ten coffee exporting giants:
Country

Coffee

Exports 2018 (US$)
% of total

coffee

exports
Brazil
4.4 billion
14.10%
Vietnam
3.3 billion
10.50%
Germany
2.5 billion
8.20%
Switzerland
2.4 billion
7.60%
Colombia
2.3 billion
7.50%
Italy
1.7 billion
5.40%
France
1.2 billion
3.70%
Honduras
1.1 billion
3.60%
Belgium
867.9 million
2.80%
United States
861.2 million
2.80%
Related Link:
 Related Maps: