Norway Map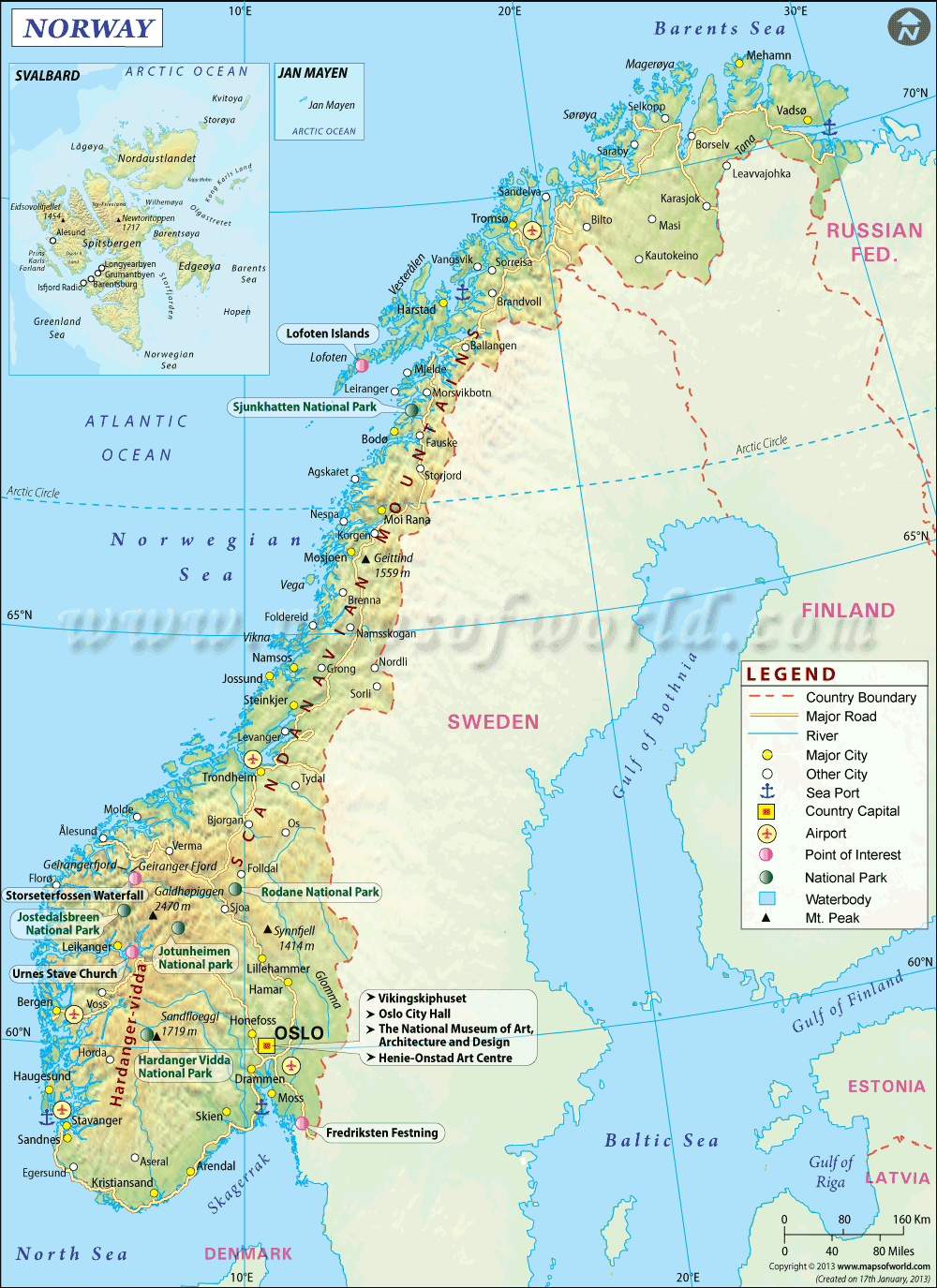 Norway is located in Northern part of Europe. Norway shares its boundary with Sweden, Finland and Russia. It lies between latitudes 57° and 81° N, and longitudes 4° and 32° E.
History of Norway
Despite the fact that Norway's history is drenched in blood; in modern times it has emerged as a peaceful nation. Whether it's about lodging a battle against the opposed elements, the undying and fearless spirit of the Vikings, the inherent influence of Christianity or the ceaseless struggle to forge an independent and sovereign identity – every event one following the other has formed one of the greatest epics in the world's history.
Norwegians like the Swedes and Danes belong to the Teutonic origin. They first inhabited Norway around 10,000 years ago. Their first major source of occupation was fishing and hunting, but gradually they moved to farming and rearing livestock. It was around 500 BC that first farms were created. The period was called the Bronze Age as the metal bronze was used for making jewellery, weapons, and tools. Then, came the Iron Age, which was characterized by improved tools and increasing trade. The age came to an end during 1000 AD, which was followed by the Viking Age (800-1030) AD and was undoubtedly the eventful phase in the history of Norway. In 1015, Olaf II Haraldsson was crowned the first king of the whole Norway and Christianity was established wherein Norwegians were asked to convert.
By 13th century, the countries constituting Shetland, Greenland, Iceland, the Orkney and the Faeroes Islands were ruled by the Norwegian empire. The rule lasted until around 1350 as the deadly epidemic of Black Death decimated over half of Norway's inhabitants.
From the period (1380-1814), the country was ruled by Denmark, thereafter it retained some mark of independence – writing its own national constitution and forming a new union with Sweden. In 1905, the parliament of Norway severed the ties with Sweden and chose its own Danish prince for the throne, who came to be known as King Haakon VII.
However, during the period of World War II, Norway was captured by the German forces. And, until the war came to an end, King Haakon and his government continued to live in exile in London. Significantly, in the late 1960s vast reserves of gas and oil were found off the Norwegian coast. It boosted the nation's economy and from past eight years, Norway has been elected by the UN as the world's ideal country to live in.
Trivia