Why is Greenland a Part of Denmark?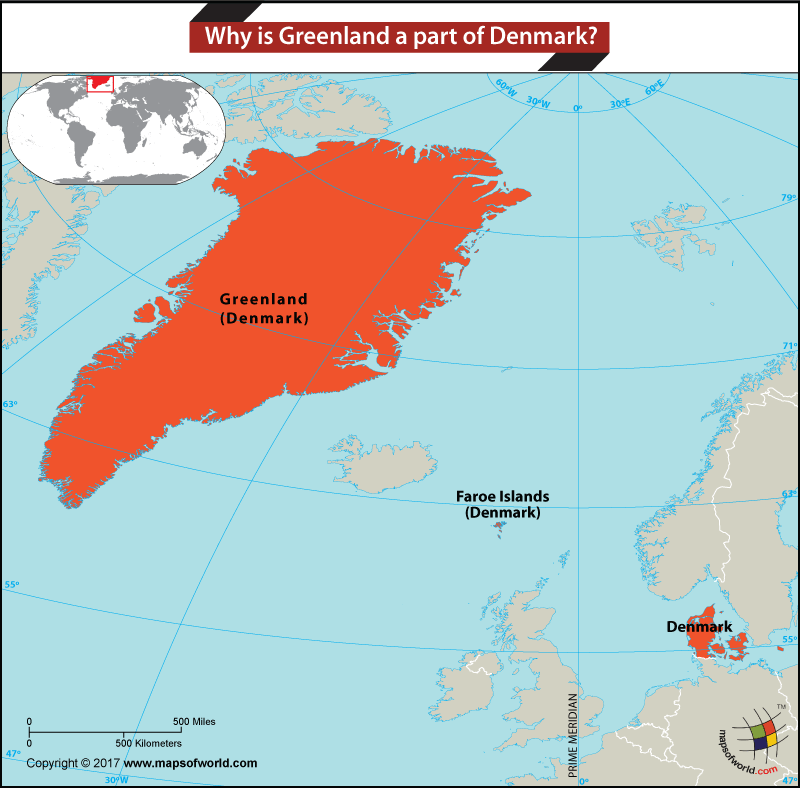 Though geographically a part of North America, Greenland, the largest island in the world (excluding Australia which is a continent), is a dependent territory of Denmark. Despite being part of the Kingdom of Denmark, Greenland enjoys a great deal of autonomy in matters of governance and has its own parliament.
The first group of people to have set foot in Greenland came from North America some 4000 to 5000 years ago. Several subsequent waves of immigration brought different Inuit (Eskimo) settlers to this large island. These settlers came to Greenland via Canada, and it wasn't until the 10th century CE, that Europeans made it to the southern coast of Greenland.
The people of (modern day) Greenland are the descendants of the Thule people, who settled in Greenland through the 12th century CE. The Thule people came from Alaska and made their way to Greenland through the northern fringes of Canada.
In 982 CE, Erik the Red, a Norwegian was banished from Iceland and settled in Greenland where he established a settlement. In 986 CE, he was followed by a number of Norwegians who settled along Julianehåb and Godthåb. Erik's son, Leif Eriksson, brought Christianity to the pagan land. By the 15th century, however, the Norse settlement declined and later vanished. The reasons for such the disappearance is still a mystery.
Much later, in 1721, Hans Egede reached Greenland on a Lutheran mission from Denmark-Norway. This marked the start of Danish colonialism in Greenland. Despite the absence of their own early settlements, the Denmark-Norway sponsored missionaries interacted with the Inuits and baptized them. Denmark established trading colonies in Greenland. Between the late 1700s and mid-1900s, the Danish government assumed full control over Greenland, and other foreign traders were banned from entering the region or from holding trade ties.
During World War II, Denmark came under the occupation of Germany and Greenland's protection became the responsibility of the United States. Greenland was returned to Denmark in 1945. Following this, numerous social and economic reforms were undertaken by the Danish government, and Greenland was granted autonomy on May 1st, 1979. In 1973, Greenland had joined the European Union as part of Denmark but left in 1985. The foreign affairs and defense of Greenland is managed by Denmark. Denmark also contributes to about two-thirds of Greenland's budget.
Related Maps: