Emory University Campus Map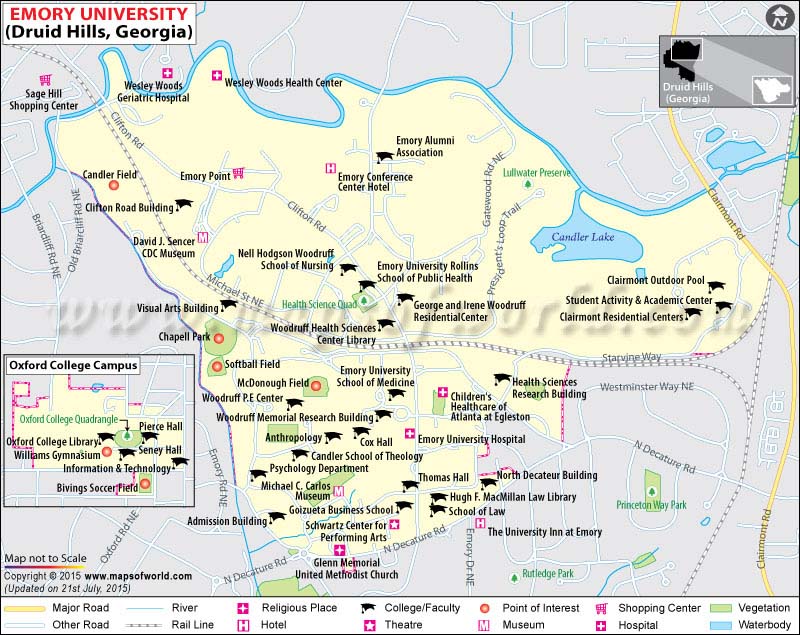 | | |
| --- | --- |
| Description: Map of Emory University, Georgia. | Disclaimer |
×
Disclaimer : All efforts have been made to make this image accurate. However Compare Infobase Limited, its directors and employees do not own any responsibility for the correctness or authenticity of the same.
About Emory University
In a Nutshell
Emory University is a private university, located near metropolitan Atlanta in Druid Hills, Georgia. With two undergraduate colleges and seven graduate and professional schools, Emory has a total of about 13,893 students enrolled, 7,441 of which are undergraduates, while 6,453 are enrolled in the graduate and professional schools.
Emory College was founded in 1836 by leaders of the Methodist Church, named for Bishop John Emory, the college was located in Oxford, Georgia. In 1914, the Methodist Church chose to expand the college, making it into Emory University in 1915, and moving it to metropolitan Atlanta after receiving a land donation from Coca-Cola President Asa Candler. Since the school was affiliated with the Methodist Church, it originally had strict rules for its students and did not allow athletics for the first years of Emory University's existence.
Today, Emory does have athletic teams, though it prioritizes academics over athletics. A focus on research is demonstrated by Emory's groundbreaking discoveries and innovations, like having created medications that are widely used in treatment of HIV, and being ranked fourth in the public sector for discovering new drugs and vaccines. Emory is also highly ranked for its business school, and the quality of life and happiness of its students. Emory follows a semester system that begins in August and ends in May each year.
Academic Achievement
Emory's strong focus on academics carries throughout its many programs and schools. The common application for undergraduate applicants allows hopeful students to apply to both of Emory's undergraduate schools, Emory College of Arts and Sciences and Oxford College, at once, otherwise students can choose one or the other. Oxford College, allows students to study at the original campus, almost forty miles east of Atlanta for two years, before transferring to the other undergraduate school or applying to one of the professional schools, like the Woodruff School of Nursing or the Goizueta Business School, which are located at the main campus.
The average undergraduate class has about 19 students, and Emory's student to faculty ratio is just seven to one. An interesting part of Emory's academic system is that it offers a major in Interdisciplinary Studies in Culture and Society so students can shape their own paths toward their degrees.
Graduate programs are offered at both the Woodruff School of Nursing and the Goizueta Business School, as well as the Laney School of Graduate Studies, School of Law, School of Medicine, Rollins School of Public Health, and Candler School of Theology.
Bang For Your Buck
Tuition at Emory University is currently $40,600 annually, with almost $7,000 in housing costs and about $4,640 for food costs per student. With the addition of books, fees, and personal expenses, the total budge for an Emory undergrad is $55,992.
Around two-thirds of students at Emory receive financial aid. Need-based aid at the federal, state, and university level are available to students, though the school does not offer any athletic scholarships.
Two programs make up the Emory Advantage, an effort to prevent students from graduating Emory with a large debt load from student loans. Loan Replacement Grants are available to students with family incomes below $50,000, and allow these students to avoid taking out loans. The Loan Cap Program stops Federal loan debt at $15,0000 when students come from families with a total income of between $50,000 and $100,000, replacing any loans beyond that amount with grants.
Social Scene
All first and second year students live on campus at Emory, and a total of three-fourths of all undergraduates also live on campus in the twenty campus residence halls. A variety of housing styles are available, including both co-ed and single-sex halls, double rooms, single rooms, and theme residence halls. Students can apply to these theme houses, where students are united based on common interests or cultural backgrounds, like the German house, in which students immerse themselves into German-speaking community to practice their language skills or learn about the culture from a native-speaking graduate student. Students can even create theme halls for themselves if they round up other students to join.
Around 37 percent of students at Emory participate in the Greek community, in one of the school's fourteen fraternities and twelve sororities. Upperclassmen can also choose to live in their fraternity or sorority houses during their undergraduate careers. Four out of five students at Emory volunteered their time to community service during their college careers.
Emory has made a serious effort to create a diverse and open minded student population that has been ranked near the top of lists for students with disabilities, and for being LGBT-friendly. International study abroad programs are offered in more than forty countries with over a hundred programs worldwide, and at the Emory campus, scholars and students come from over 120 countries.
While there continues to be no football team at Emory, there are eighteen varsity sports teams who play in the NCAA Division III. Emory has a focus on club and intramural sports instead, and more than 65 percent of students participate in sports, including varsity, club, and intramural sports.
Where is Emory University Located
Emory is one of the southernmost top university in the United States, which offers a very different college experience than colleges in other regions like the Northeast or the West. The campus is located in Druid Hills, Georgia, in the Atlanta metropolitan area, which is home to more than five million residents. Atlanta is a culturally diverse city with a vibrant social scene that offers many entertainment and recreational activities. Opportunities for internships, jobs, and research await Emory students in Atlanta, as the university has partnerships with various institutions within the city.
Just a short drive from the Appalachian Mountains, notably the Smoky Mountains and the Blue Ridge Mountains, the Emory campus is near plenty of great weekend getaways, like beaches in Georgia and neighboring states like Florida and South Carolina. Atlanta's Hartsfield-Jackson airport in Atlanta is the busiest in the world, with international flights all around the world.
Why Emory Made Our List
Emory is one of the highest ranked universities in the South, offering students a different college experience from that of other universities around the country. Students from the South may enjoy staying nearer to home, while students from the rest of the United States will enjoy the experience of an iconic region and city of the United States. Strong academic programs and groundbreaking research activity make Emory an excellent place to gain an education.