Duke University Campus Map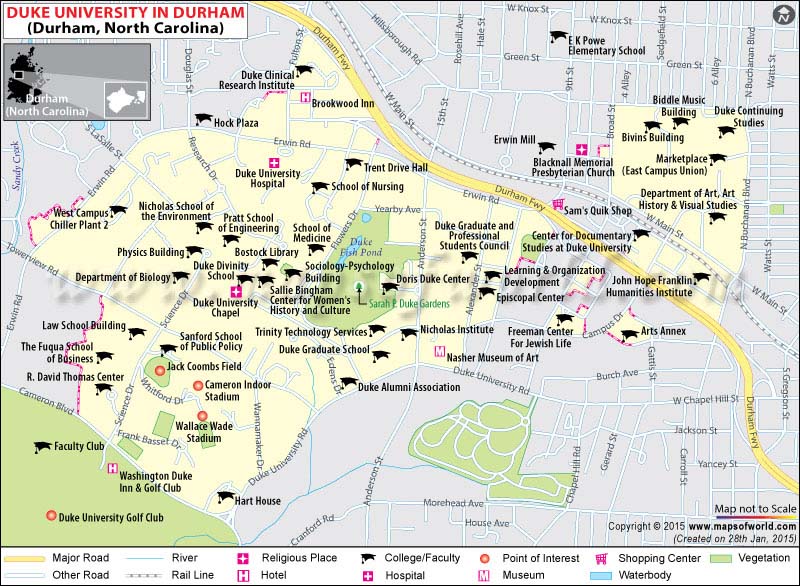 | | |
| --- | --- |
| Description: Map of Duke University in Durham, NC. | Disclaimer |
×
Disclaimer  : 
All efforts have been made to make this image accurate. However Compare Infobase Limited, its directors and employees do not own any responsibility for the correctness or authenticity of the same.
About Duke University
In a Nutshell
Duke University is a top tier private university with a high level of research activity. This school has been ranked one of the most difficult universities to get into, and has an admissions rate of about 13 percent. Duke has two undergraduate schools and ten graduate colleges. The undergraduate student population consists of about 6,484 students and about 8,100 students in its graduate and professional schools, for a total of 14,746 students.
Duke is located in Durham, North Carolina, although it started in the town of Trinity before moving to its current home. Initially, the school was founded by Methodist and Quaker groups in 1838 with the name Brown's Schoolhouse. Duke is still affiliated with the United Methodist Church, but mainly symbolically and historically. In 1841, it was chartered by the state as the Union Institute Academy, before changing its name to Normal College in 1851, then finally settling on Trinity College in 1859. The school remained Trinity College, and in 1892 it moved to the city of Durham with a large donation from Washington Duke. The Duke family also created an endowment to allow the school to grow to become a coeducational institution that would promote equality between men and women. The school's name was later changed to reflect these contributions, and it became Duke University.
Today, Duke has grown to become a prominent institute of higher education with a great reputation.
Academic Achievement
A strong focus on interdisciplinary studies, academic resources and facilities, and a variety of research opportunities make Duke one of the best universities in the United States. In addition to the forty-odd majors and minors students can choose from, Duke offers around twenty certificate programs, in which students can earn a certificate in a different area from their degree or main course of study. Students at Duke are also able to pursue an additional fifty student-designed interdisciplinary majors.
Duke has two schools for undergraduate students: Trinity College of Arts and Science (which 80 percent of undergrads attend), and the rest go to Pratt School of Engineering. The top undergraduate majors are Public Policy Studies, Economics, Biomedical Engineering, Psychology, and Biology.
Duke has a student to faculty ratio of eight to one, and a freshman retention rate of 97 percent, ranking it high in terms of small class sizes and an indicator of happy students.
Among the many academic resources are leadership and research programs, labs and centers for research, like a Marine Lab on the coast, the Lemur Center, Genome Sciences Institute, and Kenan Institute for Ethics. The Duke University Medical center is one of the top medical schools in the nation.
Duke's Perkins Library is one of its greatest resources, with a millions of volumes in the entire system. The system is rated in the top ten for private research library systems.
Almost half of the students completing their undergraduate degree at Duke participate in a study abroad program, which is part of Duke's effort to provide an international education.
Bang For Your Buck
Tuition at Duke runs at a high cost of over $40,100 annually, with the addition of room and board estimated at about $13,240, the total comes to about $52,000. Duke, like many other top private universities in the United States, has a need-blind admissions policy and pledges to assist students who are unable to afford their education at this school. Almost half of undergraduates at Duke receive financial assistance, and the average aid award is over $37,400.
In addition to need-based aid, Duke also gives out merit-based aid in the form of scholarships, and athletic scholarships, though it does focus on financial needs of students first.
Social Scene
Students at Duke are required to live on campus for their freshman, sophomore, and junior years, after which they are able to move off campus if they choose to do so. Freshmen all live in together in on the East Campus, in one of the fourteen dorms. Sophomores typically live on West Campus, and juniors and the seniors that choose to live on campus can live on either West Campus or Central Campus. The housing regulations at Duke are designed to create and foster close knit communities within each class.
Students attend Duke from all around the United States, but the best represented states are California, then North Carolina, New York, Florida, New Jersey. The international students come from a number of countries, but the best represented are China, Canada, Singapore, the UK, and Korea.
Duke's social scene includes over 400 clubs and organizations, which range from spiritual groups to community service groups, and outdoor activities. The athletic teams at Duke, the Blue Devils, are highly ranked. The men's basketball team has won several recent national championships, and women's golf is also highly ranked with many national wins under their belts.
Where is Duke University Located in Durham
Duke's location is one of its greatest attributes, as an urban environment with the great outdoors right on campus. Its location in Durham, North Carolina places it between the beaches on the Atlantic Coast and the Appalachian and Blue Ridge Mountains.
The campus itself is large, at about 8,610 acres which includes the Sarah P. Duke Gardens and the Duke Forest. The Gardens feature plants from various regions in the world like Eastern Asia and Eastern North America and serve as a serene oasis right on campus.
The campus is designed with architecture from the Collegiate Gothic style on the West Campus with stone buildings. West Campus is the main part of campus, housing all sophomores, as well as some juniors and seniors and some academic departments. The Duke Chapel sits on West Campus, topped with a bell tower that contains a fifty bell carillon.
East Campus, or the Freshman campus was the original campus of Duke when it first moved to Durham, and then the home of the Women's College. It features Georgian architecture, freshmen dorms, and several academic departments. Central Campus contains administrative departments and various recreational facilities.
The Duke Lemur Center, a sanctuary for endangered primates, contains a variety of species and a total of about 250 animals, including lemurs and lorises. The Lemur Center houses the world's largest colony of endangered prosimian primates.
Why Duke Makes Our List
Duke is a great school for a wide variety of majors as well as graduate programs. The location of Duke offers students a great alternative to the abundance of schools in the Northeast or even the West Coast, that gives students a chance to experience great landscapes and outdoor activities. Duke's athletic teams provide exciting social events and contribute to school unity and pride. All of these qualities make Duke a great university with opportunities to associate and network with a variety of scholars, professors, and fellow students.