University of Notre Dame Campus Map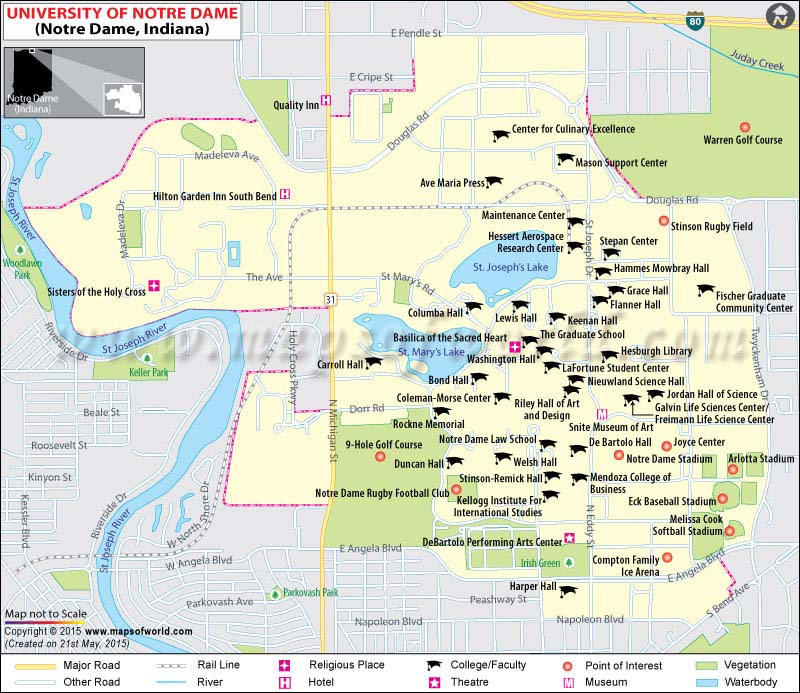 | | |
| --- | --- |
| Description: Map of University of Notre Dame, indiana | Disclaimer |
×
Disclaimer : All efforts have been made to make this image accurate. However Compare Infobase Limited, its directors and employees do not own any responsibility for the correctness or authenticity of the same.
About University of Notre Dame
In a Nutshell
Notre Dame University is a private Catholic institution located near South Bend, Indiana, with undergraduate, graduate, and doctorate programs. Around 8,402 undergraduate students, 3,552 graduate students, and 1,547 doctorate students are enrolled in programs at Notre Dame, for a total student population of about 12,004. Notre Dame has eight schools and programs, and its academic calendar follows a semester system. The largest school of Notre Dame is the School of Arts and Letters, which contains most undergraduate programs at the University. There is also the College of Engineering, the College of Science, the School of Architecture and Mendoza College of Business which both have undergraduate programs and graduate programs, and the law school, which is only available to graduate students.
The university was founded by Catholic missionary priests who came from France (and Notre Dame is French for Our Lady). Reverend Edward Sorin and the Brothers of St. Joseph began working to build the university in 1844, after receiving donations of land from a local bishop. Sorin's goal was to create an American Catholic school that would provide a religious-based academic experience. Notre Dame was originally a school for males only, though its sister school, Saint Mary's College was started nearby in 1844, and women were able to attend Notre Dame beginning in 1972.
While Notre Dame is still a Catholic institution and there are still many opportunities on campus for students to attend religious services, the university respects all faiths and encourages the diverse points of view that having an interfaith student population brings together.
Academic Achievement
Notre Dame is a selective university, with an admissions rate of about 24 percent. A student to faculty ratio of twelve to one ensures that students will have a chance to work closely with their professors and build strong networks. Notre Dame University supports the idea that education should be integrated with research, and allows students to learn from researchers as well as participate in research opportunities.
Freshmen applicants can list an intended major as they apply, but can not declare or apply to a specific school. All freshmen begin with a general studies program called First Year of Studies, in which students fulfill general education requirements ensuring that students receive a well-rounded education. The First Year Studies program pairs students with an academic adviser so their first year goes smoothly and they learn to gain the most out of their education. Most students declare their major by the end of their second year at Notre Dame, when they complete most general education requirements and specialize in their chosen fields. This First Year program helps make Notre Dame a unique university with excellent academic programs, and helps give students at the university the best possible experience during their first year at school.
The College of Letters and Arts has twenty academic departments and offers thirty-three majors. The College of Science has six academic departments and awards Bachelor of Science degrees. The School of Architecture sends its students to Rome for a one-year program to study architecture in the historic city.
Bang For Your Buck
Tuition at Notre Dame is currently set at $42,971, with room and board at about $11,934 annually. These two major costs come to a total of $54,905 per student each year. Notre Dame has pledged to meet 100 percent of demonstrated need, and 75 percent of its students received financial aid, though about 45 percent of students received financial assistance directly from the university. The average scholarship awarded from the University was $26,500.
Merit-based scholarships are also available from the university, such as the Hesburgh-Yusko scholarship, which is awarded to 25 outstanding students annually. Recipients of this award will receive a $25,000 scholarship for each year they receive the award, for up to four years, and a total of $100,000.
Despite these somewhat steep costs, the university reports that 99 percent of graduates find placement in a career, grad school, or service within six months of graduation, which means the cost of this education should be quickly recovered after graduation.
Social Scene
One hundred percent of first year students live on campus in the twenty-nine single sex residence halls – fifteen for male students and fourteen for female students to which students are randomly assigned. Though living in a dorm is not required for upperclassmen, about 80 percent of sophomores, juniors, and seniors choose to live in dorms for all four years, demonstrating the positive experience dorm life at Notre Dame gives students. Also demonstrating the happiness of students at NDU is the freshman retention rate of 98 percent. Residence halls are social centers of the students' lives, holding dances, community service projects and many other activities. Since there is no Greek community at Notre Dame, students delve deeper into the residential communities and build strong bonds, so they don't want to leave after their first years.
The majority of students at Notre Dame are Catholic, but religious participation is not compulsory and other religions are accepted and welcomed, and only about half of the faculty identify as Catholic. However, students at Notre Dame are required to follow certain rules, including parietals, which regulate visiting times for opposite-sex students in the dorms, requiring opposite-sex guests to leave rooms after midnight on weeknights and 2:00 am on weekends.
Athletics play a major role at Notre Dame, whose football team, the Fighting Irish, have won many national championships, playing in NCAA Division I in the Big East Conference. Notre Dame boasts a total of twenty-six varsity teams, thirty club sports, and fifty-seven intramural sports. The intramural sports system at Notre Dame has been recognized for its variety and high participation.
Notre Dame is also recognized as a university that encourages international learning. More than half of students spend at least a term abroad, making Notre Dame the third highest in the percentage of students who study abroad. International study abroad programs available in twenty countries around the world.
Where is University of Notre Dame Located
Notre Dame is located near South Bend, Indiana, less than one hundred miles east of Chicago, and just over the state line from Michigan. The large scenic campus is spread over 1,250 acres, which includes lakes, green areas, and trails for hiking. Notable features of the Notre Dame campus architecture are the Gothic Basilica and the Golden Dome.
Downtown South Bend is just two miles away, offering opportunities for shopping, dining, and some entertainment. Outlet shopping and other recreational options are located just about ten miles away.
Since Notre Dame is set away from big cities, it has formed a community of its own with a great collegiate atmosphere and much different college experience.
Why Notre Dame Made Our List
Notre Dame provides some of the best academic programs in a very different way from many other highly ranked university, offering another kind of experience. The First Year program can alter the freshman experience by providing much-needed guidance to students as they navigate their first years of college, work on discovering their interests and goals while choosing a major, and figure out what study habits work and how to succeed during university. The skills that freshmen learn during this program, with the help of one-on-one advising, are invaluable for students to get the most out of their education and graduate with the skills necessary to succeed.