About Northwestern University in Chicago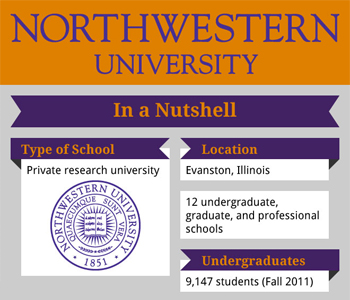 Where is Northwestern University
Northwestern's main campus is known as Evanston Campus, located in the city named for the college's founder. The campus is divided into North Campus and South Campus. The North Campus houses fraternity quads, and the majority of the science and athletic departments. At the same time, the South Campus is home to sorority quads, arts buildings, like the school's art museum, and humanities departments.
The main campus is just a short distance from Chicago, one of the most lively and diverse cities in the United States. Some of Northwestern's campuses are located within the city itself. Chicago offers students options for entertainment, shopping, dining, work and internships, and much more.
In a Nutshell
Northwestern is a private research university located in the Midwest, just north of Chicago, Illinois. With its twelve undergraduate, graduate, and professional schools, Northwestern offers students a wide variety of courses and majors to its many students. Northwestern has a substantial number of students, with approximately 8,300 undergraduate students and 8,100 graduate and professional students for a total of about 16,400 students. Northwestern's main campus is located twelve miles north of Chicago in Evanston, Illinois, though it does have medical and law schools headquartered in Chicago.
Northwestern's colleges vary in that some teach undergraduate or graduate students only, while others have a combination of the two. Northwestern's schools include the Weinberg College of Arts and Sciences, which most undergrads attend, the School of Communication, School of Education and Social Policy, McCormick School of Engineering and Applied Science, Medill School of Journalism, School of Law, Graduate School, Kellogg School of Management, Feinberg School of Medicine, Bienen School of Music, Northwestern in Qatar, and the School of Continuing Studies.
Founded in 1851 with the help of John Evans, Northwestern was created as a school for the Northwest Territory, which is now the states of Ohio, Indiana, Michigan, Wisconsin, and Minnesota. The land for the campus, located on the shores of Lake Michigan, was purchased in 1853, the school was built, and the first classes started in the autumn of 1855. Northwestern has been open to women since 1869.
Academic Achievement
Northwestern is a large residential research university, with about equal focus on undergraduate and graduate studies in terms of number of students. There are 124 different undergraduate degrees and 145 graduate and profession degrees offered at Northwestern's schools. Undergraduate students follow a core curriculum of liberal arts and science courses, in addition to the specialization of the chosen major. Northwestern follows a quarter system that runs from late September to early June.
Bang For Your Buck
Tuition costs at Northwestern are about $42,000 annually. Room and board costs run almost $13,000, and with the addition of books, supplies, and other estimated personal expenses, the total cost for a year at Northwestern will run students about $58,000.
Traditional financial aid options are available to students at Northwester, including scholarships, grants, loans, and work study through private groups or the federal government. In addition to these financial aid options, Northwestern offers scholarships to its students, which do not need to be repaid. Approximately 45 percent of Northwestern undergraduate students receive a scholarship provided by the university.
Social Scene
Freshmen at Northwestern are guaranteed campus housing if they choose to live in one of the thirty-one residence halls on campus. About two-thirds of all undergraduate students at Northwestern choose to live in the residence halls on campus, and the rest live at home or off-campus. A few types of housing units are available, including residence houses, that house less than fifty students, and offer a typical home-style living arrangement. Resident halls are a more typical dormitory-style living arrangement, which have a large number of students living in large housing units. This type of student housing offers a classic college experience, with plenty of social events and opportunities to meet other students. Eleven residential colleges are available to students at Northwestern, which are themed to focus on a particular interest group, such as engineering. Another option for housing is the Greek system of fraternities and sororities at Northwestern.
Students at Northwestern come from every state in the country, and over fifty countries around the world. A few traditions are carried on each year at Northwestern University, which help provide a sense of community and tradition. Some of these traditions are the painting of a monumental rock on campus to advertise events and student groups, and the Primal Scream, in which students scream out their windows at the start of finals week as a way to release some stress.
Northwestern athletic teams are part of NCAA Division I and the Big Ten Conference. Northwestern's football team is well supported by the students, and when the team wins, the clock tower on campus is lit purple, the school color. These are just a few of the activities available at Northwestern University, in addition to the hundreds of student organizations at Northwestern.
Why Northwestern Made Our List
Northwestern is a reputable Midwestern university that has a strong academic record, active social scene and a great location. On the larger size in terms of students and programs, Northwestern allows for a wider variety of students and opportunities, as well as a broad spectrum of courses to choose from. Over all, Northwestern offers students a well-rounded education and college experience.