Alabama Zip Code Map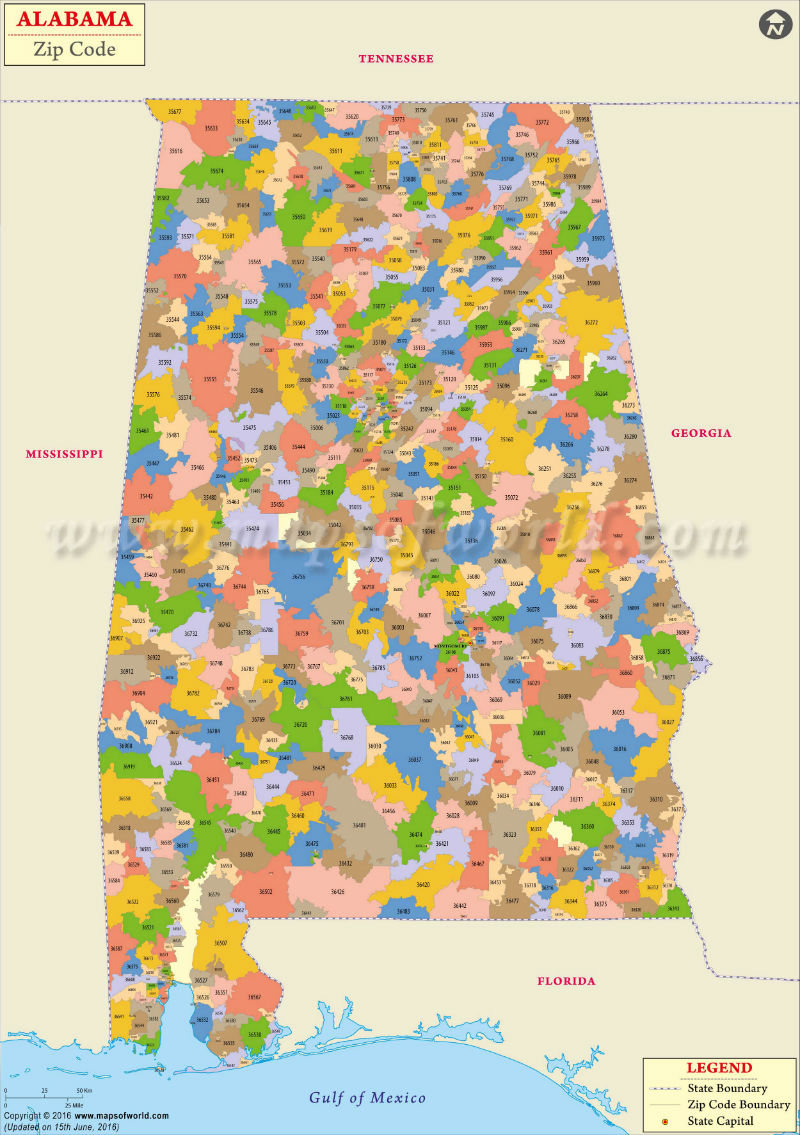 Alabama Zip code map lists the zip codes of all the towns and cities located in the state.
Like the other zip code maps, in this map, colors are used to differentiate one place from the other.
Apart from the postal codes, the zip code maps also trace the outlines of that particular place.
| Zip Code | Type | Common Cities | County |
| --- | --- | --- | --- |
| | | | |
| --- | --- | --- | --- |
| 35004 | Standard | Moody, Acmar | St. Clair County |
| 35005 | Standard | Adamsville | Jefferson County |
| 35006 | Standard | Adger | Jefferson County |
| 35007 | Standard | Alabaster | Shelby County |
| 35010 | Standard | Alexander City, Alex City | Tallapoosa County |
| 35011 | PO Box | Alexander City, Alex City | Tallapoosa County |
| 35013 | PO Box | Allgood | Blount County |
| 35014 | Standard | Alpine | Talladega County |
| 35015 | PO Box | Alton | Jefferson County |
| 35016 | Standard | Arab | Marshall County |
| 35019 | Standard | Baileyton | Cullman County |
| 35020 | Standard | Bessemer, Brighton | Jefferson County |
| 35021 | PO Box | Bessemer | Jefferson County |
| 35022 | Standard | Bessemer, Helena | Jefferson County |
| 35023 | Standard | Bessemer, Hueytown | Jefferson County |
| 35031 | Standard | Blountsville | Blount County |
| 35032 | PO Box | Bon Air | Talladega County |
| 35033 | Standard | Bremen | Cullman County |
| 35034 | Standard | Brent | Bibb County |
| 35035 | Standard | Brierfield | Bibb County |
| 35036 | PO Box | Brookside | Jefferson County |
| 35038 | PO Box | Burnwell | Walker County |
| 35040 | Standard | Calera | Shelby County |
| 35041 | PO Box | Cardiff | Jefferson County |
| 35042 | Standard | Centreville | Bibb County |
| 35043 | Standard | Chelsea | Shelby County |
| 35044 | Standard | Childersburg, Coosa Pines | Talladega County |
| 35045 | Standard | Clanton | Chilton County |
| 35046 | Standard | Clanton | Chilton County |
| 35048 | PO Box | Clay | Jefferson County |
| 35049 | Standard | Cleveland, Nectar | Blount County |
| 35051 | Standard | Columbiana | Shelby County |
| 35052 | PO Box | Cook Springs | St. Clair County |
| 35053 | Standard | Crane Hill | Cullman County |
| 35054 | Standard | Cropwell | St. Clair County |
| 35055 | Standard | Cullman, Dodge City, Good Hope | Cullman County |
| 35056 | PO Box | Cullman | Cullman County |
| 35057 | Standard | Cullman, Good Hope | Cullman County |
| 35058 | Standard | Cullman | Cullman County |
| 35060 | PO Box | Docena | Jefferson County |
| 35061 | Standard | Dolomite | Jefferson County |
| 35062 | Standard | Dora | Jefferson County |
| 35063 | Standard | Empire | Walker County |
| 35064 | Standard | Fairfield | Jefferson County |
| 35068 | Standard | Fultondale, Coalburg | Jefferson County |
| 35070 | PO Box | Garden City | Cullman County |
| 35071 | Standard | Gardendale | Jefferson County |
| 35072 | Standard | Goodwater | Coosa County |
| 35073 | Standard | Graysville | Jefferson County |
| 35074 | PO Box | Green Pond | Bibb County |
| 35077 | Standard | Hanceville | Cullman County |
| 35078 | Standard | Harpersville | Shelby County |
| 35079 | Standard | Hayden | Blount County |
| 35080 | Standard | Helena | Shelby County |
| 35082 | PO Box | Hollins | Clay County |
| 35083 | Standard | Holly Pond | Cullman County |
| 35085 | Standard | Jemison | Chilton County |
| 35087 | Standard | Joppa | Cullman County |
| 35089 | Standard | Kellyton | Coosa County |
| 35091 | Standard | Kimberly | Jefferson County |
| 35094 | Standard | Leeds | Jefferson County |
| 35096 | Standard | Lincoln | Talladega County |
| 35097 | Standard | Locust Fork | Blount County |
| 35098 | Standard | Logan | Cullman County |
| 35111 | Standard | Mc Calla, Lake View | Tuscaloosa County |
| 35112 | PO Box | Margaret | St. Clair County |
| 35114 | Standard | Maylene | Shelby County |
| 35115 | Standard | Montevallo | Shelby County |
| 35116 | Standard | Morris | Jefferson County |
| 35117 | Standard | Mount Olive | Jefferson County |
| 35118 | Standard | Mulga, Sylvan Spgs, Sylvan Springs | Jefferson County |
| 35119 | PO Box | New Castle | Jefferson County |
| 35120 | Standard | Odenville, Branchville | St. Clair County |
| 35121 | Standard | Oneonta, Highland Lake, Rosa | Blount County |
| 35123 | PO Box | Palmerdale | Jefferson County |
| 35124 | Standard | Pelham, Indian Spgs, Indian Springs, Indian Spri… | Shelby County |
| 35125 | Standard | Pell City | St. Clair County |
| 35126 | Standard | Pinson, Dixiana | Jefferson County |
| 35127 | Standard | Pleasant Grove, Pleasant Grv | Jefferson County |
| 35128 | Standard | Pell City | St. Clair County |
| 35130 | Standard | Quinton, W Jefferson, West Jefferson | Walker County |
| 35131 | Standard | Ragland | St. Clair County |
| 35133 | Standard | Remlap | Blount County |
| 35135 | Standard | Riverside | St. Clair County |
| 35136 | Standard | Rockford | Coosa County |
| 35137 | PO Box | Saginaw | Shelby County |
| 35139 | PO Box | Sayre | Jefferson County |
| 35142 | PO Box | Shannon | Jefferson County |
| 35143 | Standard | Shelby | Shelby County |
| 35144 | PO Box | Siluria, Alabaster | Shelby County |
| 35146 | Standard | Springville | St. Clair County |
| 35147 | Standard | Sterrett, Westover | Shelby County |
| 35148 | Standard | Sumiton | Walker County |
| 35149 | PO Box | Sycamore | Talladega County |
| 35150 | Standard | Sylacauga, Oak Grove, Taladga Spgs, Talladega Sprin… | Talladega County |
| 35151 | Standard | Sylacauga, Oak Grove | Talladega County |
| 35160 | Standard | Talladega, Waldo | Talladega County |
| 35161 | PO Box | Talladega, Waldo | Talladega County |
| 35171 | Standard | Thorsby | Chilton County |
| 35172 | Standard | Trafford, County Line | Blount County |
| 35173 | Standard | Trussville | Jefferson County |
| 35175 | Standard | Union Grove | Marshall County |
| 35176 | Standard | Vandiver | Shelby County |
| 35178 | Standard | Vincent | Shelby County |
| 35179 | Standard | Vinemont, S Vinemont, South Vinemont, West Point | Cullman County |
| 35180 | Standard | Warrior | Jefferson County |
| 35181 | PO Box | Watson | Jefferson County |
| 35182 | PO Box | Wattsville | St Clair County |
| 35183 | Standard | Weogufka | Coosa County |
| 35184 | Standard | West Blocton | Bibb County |
| 35185 | PO Box | Westover | Shelby County |
| 35186 | Standard | Wilsonville | Shelby County |
| 35187 | PO Box | Wilton | Shelby County |
| 35188 | Standard | Woodstock | Bibb County |
| 35201 | PO Box | Birmingham | Jefferson County |
| 35202 | PO Box | Birmingham | Jefferson County |
| 35203 | Standard | Birmingham | Jefferson County |
| 35204 | Standard | Birmingham | Jefferson County |
| 35205 | Standard | Birmingham | Jefferson County |
| 35206 | Standard | Birmingham | Jefferson County |
| 35207 | Standard | Birmingham | Jefferson County |
| 35208 | Standard | Birmingham | Jefferson County |
| 35209 | Standard | Birmingham, Homewood, Mountain Brk | Jefferson County |
| 35210 | Standard | Birmingham, Irondale, Mountain Brk | Jefferson County |
| 35211 | Standard | Birmingham | Jefferson County |
| 35212 | Standard | Birmingham | Jefferson County |
| 35213 | Standard | Birmingham, Crestline Heights, Crestline Hts, Mounta… | Jefferson County |
| 35214 | Standard | Birmingham, Forestdale | Jefferson County |
| 35215 | Standard | Birmingham, Center Point | Jefferson County |
| 35216 | Standard | Birmingham, Hoover, Mountain Brk, Vestavia, Vestavia… | Jefferson County |
| 35217 | Standard | Birmingham | Jefferson County |
| 35218 | Standard | Birmingham, Ensley | Jefferson County |
| 35219 | PO Box | Birmingham, Mountain Brk | Jefferson County |
| 35220 | PO Box | Birmingham, Center Point | Jefferson County |
| 35221 | Standard | Birmingham | Jefferson County |
| 35222 | Standard | Birmingham | Jefferson County |
| 35223 | Standard | Birmingham, Mountain Brk, Mountain Brook, Vestavia | Jefferson County |
| 35224 | Standard | Birmingham | Jefferson County |
| 35225 | Unique | Birmingham | Jefferson County |
| 35226 | Standard | Birmingham, Bluff Park, Hoover, Vestavia, Vestavia H… | Jefferson County |
| 35228 | Standard | Birmingham, Midfield | Jefferson County |
| 35229 | Unique | Birmingham | Jefferson County |
| 35230 | Unique | Birmingham | Jefferson County |
| 35231 | PO Box | Birmingham | Jefferson County |
| 35232 | PO Box | Birmingham | Jefferson County |
| 35233 | Standard | Birmingham | Jefferson County |
| 35234 | Standard | Birmingham | Jefferson County |
| 35235 | Standard | Birmingham, Center Point | Jefferson County |
| 35236 | PO Box | Birmingham, Hoover | Jefferson County |
| 35237 | PO Box | Birmingham | Jefferson County |
| 35238 | PO Box | Birmingham | Jefferson County |
| 35240 | Unique | Birmingham | Jefferson County |
| 35242 | Standard | Birmingham, Meadowbrook, Shoal Creek, Vestavia, Vest… | Shelby County |
| 35243 | Standard | Birmingham, Cahaba Heights, Cahaba Hts, Mountain Brk… | Jefferson County |
| 35244 | Standard | Birmingham, Bluff Park, Hoover | Jefferson County |
| 35245 | Unique | Birmingham | Jefferson County |
| 35246 | Unique | Birmingham | Jefferson County |
| 35249 | Unique | Birmingham | Jefferson County |
| 35253 | PO Box | Birmingham, Mountain Brk, Mountain Brook | Jefferson County |
| 35254 | Unique | Birmingham | Jefferson County |
| 35255 | PO Box | Birmingham | Jefferson County |
| 35259 | PO Box | Birmingham, Homewood, Mountain Brk | Jefferson County |
| 35260 | PO Box | Birmingham | Jefferson County |
| 35261 | PO Box | Birmingham | Jefferson County |
| 35263 | Unique | Birmingham | Jefferson County |
| 35266 | PO Box | Birmingham, Mountain Brk, Vestavia, Vestavia Hills, … | Jefferson County |
| 35270 | Unique | Birmingham, AL | |
| 35277 | Unique | Birmingham | Jefferson County |
| 35278 | Unique | Birmingham | Jefferson County |
| 35279 | Unique | Birmingham | Jefferson County |
| 35280 | Unique | Birmingham | Jefferson County |
| 35281 | Unique | Birmingham | Jefferson County |
| 35282 | Unique | Birmingham | Jefferson County |
| 35283 | PO Box | Birmingham | Jefferson County |
| 35285 | Unique | Birmingham | Jefferson County |
| 35286 | Unique | Birmingham | Jefferson County |
| 35287 | Unique | Birmingham | Jefferson County |
| 35288 | Unique | Birmingham | Jefferson County |
| 35289 | Unique | Birmingham | Jefferson County |
| 35290 | Unique | Birmingham | Jefferson County |
| 35291 | Unique | Birmingham | Jefferson County |
| 35292 | Unique | Birmingham | Jefferson County |
| 35293 | Unique | Birmingham | Jefferson County |
| 35294 | Unique | Birmingham | Jefferson County |
| 35295 | Unique | Birmingham | Jefferson County |
| 35296 | Unique | Birmingham | Jefferson County |
| 35297 | Unique | Birmingham | Jefferson County |
| 35298 | Unique | Birmingham | Jefferson County |
| 35299 | Unique | Birmingham | Jefferson County |
| 35401 | Standard | Tuscaloosa | Tuscaloosa County |
| 35402 | PO Box | Tuscaloosa | Tuscaloosa County |
| 35403 | PO Box | Tuscaloosa | Tuscaloosa County |
| 35404 | Standard | Tuscaloosa | Tuscaloosa County |
| 35405 | Standard | Tuscaloosa | Tuscaloosa County |
| 35406 | Standard | Tuscaloosa | Tuscaloosa County |
| 35407 | PO Box | Tuscaloosa | Tuscaloosa County |
| 35440 | PO Box | Abernant | Tuscaloosa County |
| 35441 | Standard | Akron, Stewart | Hale County |
| 35442 | Standard | Aliceville, Old Memphis | Pickens County |
| 35443 | Standard | Boligee | Greene County |
| 35444 | Standard | Brookwood | Tuscaloosa County |
| 35446 | Standard | Buhl | Tuscaloosa County |
| 35447 | Standard | Carrollton, Pickensville | Pickens County |
| 35448 | PO Box | Clinton | Greene County |
| 35449 | PO Box | Coaling | Tuscaloosa County |
| 35452 | Standard | Coker | Tuscaloosa County |
| 35453 | Standard | Cottondale, Coaling | Tuscaloosa County |
| 35456 | Standard | Duncanville | Tuscaloosa County |
| 35457 | Standard | Echola | Tuscaloosa County |
| 35458 | Standard | Elrod | Tuscaloosa County |
| 35459 | Standard | Emelle | Sumter County |
| 35460 | Standard | Epes | Sumter County |
| 35461 | Standard | Ethelsville | Pickens County |
| 35462 | Standard | Eutaw, Union | Greene County |
| 35463 | Standard | Fosters | Tuscaloosa County |
| 35464 | Standard | Gainesville | Sumter County |
| 35466 | Standard | Gordo | Pickens County |
| 35468 | PO Box | Kellerman | Tuscaloosa County |
| 35469 | Standard | Knoxville | Greene County |
| 35470 | Standard | Livingston, Coatopa | Sumter County |
| 35471 | PO Box | Mc Shan | Pickens County |
| 35473 | Standard | Northport | Tuscaloosa County |
| 35474 | Standard | Moundville, Cypress, Havana | Hale County |
| 35475 | Standard | Northport | Tuscaloosa County |
| 35476 | Standard | Northport | Tuscaloosa County |
| 35477 | PO Box | Panola | Sumter County |
| 35478 | PO Box | Peterson | Tuscaloosa County |
| 35480 | Standard | Ralph | Tuscaloosa County |
| 35481 | Standard | Reform | Pickens County |
| 35482 | PO Box | Samantha | Tuscaloosa County |
| 35485 | PO Box | Tuscaloosa | Tuscaloosa County |
| 35486 | PO Box | Tuscaloosa | Tuscaloosa County |
| 35487 | Unique | Tuscaloosa | Tuscaloosa County |
| 35490 | Standard | Vance | Tuscaloosa County |
| 35491 | PO Box | West Greene | Greene County |
| 35501 | Standard | Jasper | Walker County |
| 35502 | PO Box | Jasper | Walker County |
| 35503 | Standard | Jasper | Walker County |
| 35504 | Standard | Jasper | Walker County |
| 35540 | Standard | Addison, Arley | Winston County |
| 35541 | Standard | Arley | Winston County |
| 35542 | Standard | Bankston | Fayette County |
| 35543 | Standard | Bear Creek | Marion County |
| 35544 | Standard | Beaverton | Lamar County |
| 35545 | PO Box | Belk | Fayette County |
| 35546 | Standard | Berry | Fayette County |
| 35548 | Standard | Brilliant | Marion County |
| 35549 | Standard | Carbon Hill | Walker County |
| 35550 | Standard | Cordova | Walker County |
| 35551 | PO Box | Delmar | Winston County |
| 35552 | Standard | Detroit | Lamar County |
| 35553 | Standard | Double Springs, Double Spgs | Winston County |
| 35554 | Standard | Eldridge | Fayette County |
| 35555 | Standard | Fayette | Fayette County |
| 35559 | PO Box | Glen Allen | Fayette County |
| 35560 | PO Box | Goodsprings | Walker County |
| 35563 | Standard | Guin, Gu-win | Marion County |
| 35564 | Standard | Hackleburg | Marion County |
| 35565 | Standard | Haleyville | Winston County |
| 35570 | Standard | Hamilton | Marion County |
| 35571 | Standard | Hodges | Franklin County |
| 35572 | Standard | Houston | Winston County |
| 35573 | PO Box | Kansas | Walker County |
| 35574 | Standard | Kennedy | Lamar County |
| 35575 | Standard | Lynn | Winston County |
| 35576 | Standard | Millport | Lamar County |
| 35577 | PO Box | Natural Bridge, Natural Brg | Winston County |
| 35578 | Standard | Nauvoo | Walker County |
| 35579 | Standard | Oakman | Walker County |
| 35580 | Standard | Parrish | Walker County |
| 35581 | Standard | Phil Campbell | Franklin County |
| 35582 | Standard | Red Bay | Franklin County |
| 35584 | PO Box | Sipsey | Walker County |
| 35585 | Standard | Spruce Pine | Franklin County |
| 35586 | Standard | Sulligent | Lamar County |
| 35587 | Standard | Townley | Walker County |
| 35592 | Standard | Vernon | Lamar County |
| 35593 | Standard | Vina | Franklin County |
| 35594 | Standard | Winfield | Marion County |
| 35601 | Standard | Decatur | Morgan County |
| 35602 | PO Box | Decatur | Morgan County |
| 35603 | Standard | Decatur | Morgan County |
| 35609 | PO Box | Decatur | Morgan County |
| 35610 | Standard | Anderson | Lauderdale County |
| 35611 | Standard | Athens | Limestone County |
| 35612 | PO Box | Athens | Limestone County |
| 35613 | Standard | Athens | Limestone County |
| 35614 | Standard | Athens | Limestone County |
| 35615 | PO Box | Belle Mina | Limestone County |
| 35616 | Standard | Cherokee | Colbert County |
| 35617 | PO Box | Cloverdale | Lauderdale County |
| 35618 | Standard | Courtland, N Courtland, North Courtland | Lawrence County |
| 35619 | Standard | Danville | Morgan County |
| 35620 | Standard | Elkmont | Limestone County |
| 35621 | Standard | Eva | Morgan County |
| 35622 | Standard | Falkville | Morgan County |
| 35630 | Standard | Florence, Saint Florian | Lauderdale County |
| 35631 | PO Box | Florence | Lauderdale County |
| 35632 | Unique | Florence | Lauderdale County |
| 35633 | Standard | Florence | Lauderdale County |
| 35634 | Standard | Florence | Lauderdale County |
| 35640 | Standard | Hartselle | Morgan County |
| 35643 | Standard | Hillsboro | Lawrence County |
| 35645 | Standard | Killen | Lauderdale County |
| 35646 | Standard | Leighton | Colbert County |
| 35647 | Standard | Lester | Limestone County |
| 35648 | Standard | Lexington | Lauderdale County |
| 35649 | PO Box | Mooresville | Limestone County |
| 35650 | Standard | Moulton | Lawrence County |
| 35651 | Standard | Mount Hope | Lawrence County |
| 35652 | Standard | Rogersville | Lauderdale County |
| 35653 | Standard | Russellville, Littleville | Franklin County |
| 35654 | Standard | Russellville | Franklin County |
| 35660 | Standard | Sheffield | Colbert County |
| 35661 | Standard | Muscle Shoals | Colbert County |
| 35662 | PO Box | Muscle Shoals | Colbert County |
| 35670 | Standard | Somerville | Morgan County |
| 35671 | Standard | Tanner | Limestone County |
| 35672 | Standard | Town Creek | Lawrence County |
| 35673 | Standard | Trinity | Morgan County |
| 35674 | Standard | Tuscumbia | Colbert County |
| 35677 | Standard | Waterloo | Lauderdale County |
| 35699 | Unique | Decatur | Morgan County |
| 35739 | Standard | Ardmore | Limestone County |
| 35740 | Standard | Bridgeport | Jackson County |
| 35741 | Standard | Brownsboro | Madison County |
| 35742 | PO Box | Capshaw | Limestone County |
| 35744 | Standard | Dutton | Jackson County |
| 35745 | Standard | Estillfork | Jackson County |
| 35746 | Standard | Fackler | Jackson County |
| 35747 | Standard | Grant | Marshall County |
| 35748 | Standard | Gurley | Madison County |
| 35749 | Standard | Harvest | Madison County |
| 35750 | Standard | Hazel Green | Madison County |
| 35751 | Standard | Hollytree | Jackson County |
| 35752 | Standard | Hollywood | Jackson County |
| 35754 | Standard | Laceys Spring | Morgan County |
| 35755 | Standard | Langston | Marshall County |
| 35756 | Standard | Madison | Limestone County |
| 35757 | Standard | Madison | Madison County |
| 35758 | Standard | Madison, Triana | Madison County |
| 35759 | Standard | Meridianville | Madison County |
| 35760 | Standard | New Hope | Madison County |
| 35761 | Standard | New Market | Madison County |
| 35762 | PO Box | Normal | Madison County |
| 35763 | Standard | Owens Cross Roads, Big Cove, Hampton Cove, Owens X Rds | Madison County |
| 35764 | Standard | Paint Rock | Jackson County |
| 35765 | Standard | Pisgah | Jackson County |
| 35766 | Standard | Princeton | Jackson County |
| 35767 | PO Box | Ryland | Madison County |
| 35768 | Standard | Scottsboro, Hytop | Jackson County |
| 35769 | Standard | Scottsboro | Jackson County |
| 35771 | Standard | Section | Jackson County |
| 35772 | Standard | Stevenson | Jackson County |
| 35773 | Standard | Toney | Madison County |
| 35774 | Standard | Trenton | Jackson County |
| 35775 | Standard | Valhermoso Springs, Valhermoso Sp, Valhermoso Spg, Vlhrmoso … | Morgan County |
| 35776 | Standard | Woodville | Jackson County |
| 35801 | Standard | Huntsville | Madison County |
| 35802 | Standard | Huntsville | Madison County |
| 35803 | Standard | Huntsville | Madison County |
| 35804 | PO Box | Huntsville | Madison County |
| 35805 | Standard | Huntsville | Madison County |
| 35806 | Standard | Huntsville | Madison County |
| 35807 | PO Box | Huntsville | Madison County |
| 35808 | Standard | Huntsville | Madison County |
| 35809 | PO Box | Huntsville | Madison County |
| 35810 | Standard | Huntsville | Madison County |
| 35811 | Standard | Huntsville | Madison County |
| 35812 | PO Box | Huntsville | Madison County |
| 35813 | Standard | Huntsville | Madison County |
| 35814 | PO Box | Huntsville | Madison County |
| 35815 | PO Box | Huntsville | Madison County |
| 35816 | Standard | Huntsville | Madison County |
| 35824 | Standard | Huntsville | Madison County |
| 35893 | Unique | Huntsville | Madison County |
| 35894 | Unique | Huntsville | Madison County |
| 35895 | Unique | Huntsville | Madison County |
| 35896 | Unique | Huntsville | Madison County |
| 35897 | Unique | Huntsville | Madison County |
| 35898 | Unique | Huntsville | Madison County |
| 35899 | Unique | Huntsville | Madison County |
| 35901 | Standard | Gadsden | Etowah County |
| 35902 | PO Box | Gadsden | Etowah County |
| 35903 | Standard | Gadsden, Hokes Bluff | Etowah County |
| 35904 | Standard | Gadsden | Etowah County |
| 35905 | Standard | Gadsden, Glencoe | Etowah County |
| 35906 | Standard | Rainbow City, Gadsden | Etowah County |
| 35907 | Standard | Gadsden, Southside | Etowah County |
| 35950 | Standard | Albertville | Marshall County |
| 35951 | Standard | Albertville | Marshall County |
| 35952 | Standard | Altoona, Snead, Susan Moore | Etowah County |
| 35953 | Standard | Ashville | St. Clair County |
| 35954 | Standard | Attalla | Etowah County |
| 35956 | Standard | Boaz, Sardis City | Etowah County |
| 35957 | Standard | Boaz, Sardis City | Marshall County |
| 35958 | Standard | Bryant | Jackson County |
| 35959 | Standard | Cedar Bluff | Cherokee County |
| 35960 | Standard | Centre | Cherokee County |
| 35961 | Standard | Collinsville | DeKalb County |
| 35962 | Standard | Crossville | DeKalb County |
| 35963 | Standard | Dawson | DeKalb County |
| 35964 | PO Box | Douglas | Marshall County |
| 35966 | Standard | Flat Rock | Jackson County |
| 35967 | Standard | Fort Payne | DeKalb County |
| 35968 | Standard | Fort Payne, Pine Ridge | DeKalb County |
| 35971 | Standard | Fyffe, Lakeview | DeKalb County |
| 35972 | Standard | Gallant | Etowah County |
| 35973 | Standard | Gaylesville | Cherokee County |
| 35974 | Standard | Geraldine | DeKalb County |
| 35975 | Standard | Groveoak | DeKalb County |
| 35976 | Standard | Guntersville | Marshall County |
| 35978 | Standard | Henagar | DeKalb County |
| 35979 | Standard | Higdon | DeKalb County |
| 35980 | Standard | Horton | Marshall County |
| 35981 | Standard | Ider | DeKalb County |
| 35983 | Standard | Leesburg, Sand Rock, Sandrock | Cherokee County |
| 35984 | Standard | Mentone | DeKalb County |
| 35986 | Standard | Rainsville, Powell, Shiloh | DeKalb County |
| 35987 | Standard | Steele | St. Clair County |
| 35988 | Standard | Sylvania | DeKalb County |
| 35989 | Standard | Valley Head, Hammondville | DeKalb County |
| 35990 | PO Box | Walnut Grove | Etowah County |
| 36003 | Standard | Autaugaville | Autauga County |
| 36005 | Standard | Banks | Pike County |
| 36006 | Standard | Billingsley | Autauga County |
| 36008 | PO Box | Booth | Autauga County |
| 36009 | Standard | Brantley | Crenshaw County |
| 36010 | Standard | Brundidge | Pike County |
| 36013 | Standard | Cecil | Montgomery County |
| 36015 | PO Box | Chapman | Butler County |
| 36016 | Standard | Clayton | Barbour County |
| 36017 | Standard | Clio | Barbour County |
| 36020 | Standard | Coosada | Elmore County |
| 36022 | Standard | Deatsville | Elmore County |
| 36023 | PO Box | East Tallassee, E Tallassee, Tallassee | Tallapoosa County |
| 36024 | Standard | Eclectic | Elmore County |
| 36025 | Standard | Elmore | Elmore County |
| 36026 | Standard | Equality | Coosa County |
| 36027 | Standard | Eufaula, Bakerhill | Barbour County |
| 36028 | Standard | Dozier | Covington County |
| 36029 | Standard | Fitzpatrick | Bullock County |
| 36030 | Standard | Forest Home | Butler County |
| 36031 | PO Box | Fort Davis | Macon County |
| 36032 | Standard | Fort Deposit | Lowndes County |
| 36033 | Standard | Georgiana | Butler County |
| 36034 | Standard | Glenwood | Pike County |
| 36035 | Standard | Goshen | Pike County |
| 36036 | Standard | Grady | Montgomery County |
| 36037 | Standard | Greenville | Butler County |
| 36038 | PO Box | Gantt | Covington County |
| 36039 | Standard | Hardaway | Macon County |
| 36040 | Standard | Hayneville, Gordonville | Lowndes County |
| 36041 | Standard | Highland Home | Crenshaw County |
| 36042 | Standard | Honoraville | Crenshaw County |
| 36043 | Standard | Hope Hull | Montgomery County |
| 36045 | PO Box | Kent, Tallassee | Elmore County |
| 36046 | Standard | Lapine | Crenshaw County |
| 36047 | Standard | Letohatchee | Lowndes County |
| 36048 | Standard | Louisville | Barbour County |
| 36049 | Standard | Luverne | Crenshaw County |
| 36051 | Standard | Marbury | Autauga County |
| 36052 | Standard | Mathews | Montgomery County |
| 36053 | Standard | Midway | Bullock County |
| 36054 | Standard | Millbrook | Elmore County |
| 36057 | PO Box | Mount Meigs | Montgomery County |
| 36061 | PO Box | Perote, Banks | Bullock County |
| 36062 | PO Box | Petrey | Crenshaw County |
| 36064 | Standard | Pike Road | Montgomery County |
| 36065 | PO Box | Pine Level | Montgomery County |
| 36066 | Standard | Prattville | Autauga County |
| 36067 | Standard | Prattville | Autauga County |
| 36068 | PO Box | Prattville | Autauga County |
| 36069 | Standard | Ramer | Montgomery County |
| 36071 | Standard | Rutledge | Crenshaw County |
| 36072 | PO Box | Eufaula | Barbour County |
| 36075 | Standard | Shorter | Macon County |
| 36078 | Standard | Tallassee | Elmore County |
| 36079 | Standard | Troy | Pike County |
| 36080 | Standard | Titus | Elmore County |
| 36081 | Standard | Troy | Pike County |
| 36082 | Unique | Troy | Pike County |
| 36083 | Standard | Tuskegee | Macon County |
| 36087 | PO Box | Tuskegee Institute, Tuskegee Inst | Macon County |
| 36088 | Standard | Tuskegee Institute, Tuskegee Inst | Macon County |
| 36089 | Standard | Union Springs | Bullock County |
| 36091 | Standard | Verbena | Chilton County |
| 36092 | Standard | Wetumpka | Elmore County |
| 36093 | Standard | Wetumpka | Elmore County |
| 36101 | PO Box | Montgomery | Montgomery County |
| 36102 | PO Box | Montgomery | Montgomery County |
| 36103 | PO Box | Montgomery | Montgomery County |
| 36104 | Standard | Montgomery | Montgomery County |
| 36105 | Standard | Montgomery | Montgomery County |
| 36106 | Standard | Montgomery | Montgomery County |
| 36107 | Standard | Montgomery | Montgomery County |
| 36108 | Standard | Montgomery | Montgomery County |
| 36109 | Standard | Montgomery | Montgomery County |
| 36110 | Standard | Montgomery | Montgomery County |
| 36111 | Standard | Montgomery | Montgomery County |
| 36112 | Standard | Montgomery, Maxwell Afb | Montgomery County |
| 36113 | Standard | Montgomery, Maxwell Afb | Montgomery County |
| 36114 | Standard | Montgomery, Mafb Gun Annx, Maxwell Afb Gunter Annex | Montgomery County |
| 36115 | Standard | Montgomery | Montgomery County |
| 36116 | Standard | Montgomery | Montgomery County |
| 36117 | Standard | Montgomery | Montgomery County |
| 36118 | Unique | Montgomery | Montgomery County |
| 36119 | Standard | Montgomery | Montgomery County |
| 36120 | PO Box | Montgomery | Montgomery County |
| 36121 | PO Box | Montgomery | Montgomery County |
| 36123 | PO Box | Montgomery | Montgomery County |
| 36124 | PO Box | Montgomery | Montgomery County |
| 36125 | PO Box | Montgomery | Montgomery County |
| 36130 | Unique | Montgomery | Montgomery County |
| 36131 | Unique | Montgomery | Montgomery County |
| 36132 | Unique | Montgomery | Montgomery County |
| 36133 | Unique | Montgomery | Montgomery County |
| 36134 | Unique | Montgomery | Montgomery County |
| 36135 | Unique | Montgomery | Montgomery County |
| 36140 | Unique | Montgomery | Montgomery County |
| 36141 | Unique | Montgomery | Montgomery County |
| 36142 | Unique | Montgomery | Montgomery County |
| 36177 | Unique | Montgomery | Montgomery County |
| 36191 | Unique | Montgomery | Montgomery County |
| 36201 | Standard | Anniston | Calhoun County |
| 36202 | PO Box | Anniston | Calhoun County |
| 36203 | Standard | Oxford, Anniston | Calhoun County |
| 36204 | PO Box | Anniston, Blue Mountain | Calhoun County |
| 36205 | Standard | Anniston, Fort Mc Clellan, Ft Mc Clellan, Ft Mccle… | Calhoun County |
| 36206 | Standard | Anniston | Calhoun County |
| 36207 | Standard | Anniston | Calhoun County |
| 36210 | PO Box | Anniston | Calhoun County |
| 36250 | Standard | Alexandria | Calhoun County |
| 36251 | Standard | Ashland | Clay County |
| 36253 | PO Box | Bynum | Calhoun County |
| 36254 | PO Box | Choccolocco | Calhoun County |
| 36255 | Standard | Cragford | Clay County |
| 36256 | Standard | Daviston, New Site | Tallapoosa County |
| 36257 | PO Box | De Armanville | Calhoun County |
| 36258 | Standard | Delta | Clay County |
| 36260 | Standard | Eastaboga | Calhoun County |
| 36261 | PO Box | Edwardsville | Cleburne County |
| 36262 | Standard | Fruithurst | Cleburne County |
| 36263 | Standard | Graham | Randolph County |
| 36264 | Standard | Heflin | Cleburne County |
| 36265 | Standard | Jacksonville | Calhoun County |
| 36266 | Standard | Lineville | Clay County |
| 36267 | PO Box | Millerville | Clay County |
| 36268 | Standard | Munford | Talladega County |
| 36269 | Standard | Muscadine | Cleburne County |
| 36271 | Standard | Ohatchee | Calhoun County |
| 36272 | Standard | Piedmont, Borden Springs, Brdn Sprngs | Calhoun County |
| 36273 | Standard | Ranburne | Cleburne County |
| 36274 | Standard | Roanoke | Randolph County |
| 36275 | PO Box | Spring Garden | Cherokee County |
| 36276 | Standard | Wadley | Randolph County |
| 36277 | Standard | Weaver | Calhoun County |
| 36278 | Standard | Wedowee | Randolph County |
| 36279 | Standard | Wellington | Calhoun County |
| 36280 | Standard | Woodland, Newell | Randolph County |
| 36301 | Standard | Dothan, Rehobeth, Taylor | Houston County |
| 36302 | PO Box | Dothan | Houston County |
| 36303 | Standard | Dothan, Kinsey | Houston County |
| 36304 | PO Box | Dothan | Houston County |
| 36305 | Standard | Dothan, Taylor | Houston County |
| 36310 | Standard | Abbeville | Henry County |
| 36311 | Standard | Ariton | Dale County |
| 36312 | Standard | Ashford, Avon | Houston County |
| 36313 | PO Box | Bellwood | Geneva County |
| 36314 | Standard | Black | Geneva County |
| 36316 | Standard | Chancellor | Geneva County |
| 36317 | Standard | Clopton | Henry County |
| 36318 | Standard | Coffee Springs, Coffee Spgs | Geneva County |
| 36319 | Standard | Columbia | Houston County |
| 36320 | Standard | Cottonwood | Houston County |
| 36321 | Standard | Cowarts | Houston County |
| 36322 | Standard | Daleville, Level Plains | Dale County |
| 36323 | Standard | Elba | Coffee County |
| 36330 | Standard | Enterprise | Coffee County |
| 36331 | PO Box | Enterprise | Coffee County |
| 36340 | Standard | Geneva | Geneva County |
| 36343 | Standard | Gordon | Houston County |
| 36344 | Standard | Hartford | Geneva County |
| 36345 | Standard | Headland | Henry County |
| 36346 | Standard | Jack | Coffee County |
| 36349 | PO Box | Malvern | Geneva County |
| 36350 | Standard | Midland City | Dale County |
| 36351 | Standard | New Brockton | Coffee County |
| 36352 | Standard | Newton | Houston County |
| 36353 | Standard | Newville | Henry County |
| 36360 | Standard | Ozark | Dale County |
| 36361 | PO Box | Ozark | Dale County |
| 36362 | Standard | Fort Rucker | Dale County |
| 36370 | Standard | Pansey | Houston County |
| 36371 | PO Box | Pinckard | Dale County |
| 36373 | Standard | Shorterville | Henry County |
| 36374 | Standard | Skipperville | Dale County |
| 36375 | Standard | Slocomb | Geneva County |
| 36376 | Standard | Webb | Houston County |
| 36401 | Standard | Evergreen, Burnt Corn | Conecuh County |
| 36420 | Standard | Andalusia, Babbie, Carolina, Heath, Sanford | Covington County |
| 36421 | Standard | Andalusia | Covington County |
| 36425 | Standard | Beatrice | Monroe County |
| 36426 | Standard | Brewton, East Brewton | Escambia County |
| 36427 | PO Box | Brewton | Escambia County |
| 36429 | PO Box | Brooklyn | Conecuh County |
| 36432 | Standard | Castleberry | Conecuh County |
| 36435 | Standard | Coy | Wilcox County |
| 36436 | Standard | Dickinson | Clarke County |
| 36439 | PO Box | Excel | Monroe County |
| 36441 | Standard | Flomaton | Escambia County |
| 36442 | Standard | Florala | Covington County |
| 36444 | Standard | Franklin | Monroe County |
| 36445 | Standard | Frisco City | Monroe County |
| 36446 | PO Box | Fulton | Clarke County |
| 36449 | PO Box | Goodway | Monroe County |
| 36451 | Standard | Grove Hill, Allen | Clarke County |
| 36453 | Standard | Kinston | Covington County |
| 36454 | Standard | Lenox | Conecuh County |
| 36455 | PO Box | Lockhart | Covington County |
| 36456 | Standard | Mc Kenzie, Mckenzie | Butler County |
| 36457 | PO Box | Megargel | Monroe County |
| 36458 | PO Box | Mexia | Monroe County |
| 36460 | Standard | Monroeville | Monroe County |
| 36461 | PO Box | Monroeville | Monroe County |
| 36462 | Unique | Monroeville | Monroe County |
| 36467 | Standard | Opp, Horn Hill, Onycha | Covington County |
| 36470 | PO Box | Perdue Hill | Monroe County |
| 36471 | Standard | Peterman | Monroe County |
| 36473 | Standard | Range | Conecuh County |
| 36474 | Standard | Red Level | Covington County |
| 36475 | Standard | Repton | Conecuh County |
| 36476 | PO Box | River Falls | Covington County |
| 36477 | Standard | Samson | Geneva County |
| 36480 | Standard | Uriah | Monroe County |
| 36481 | Standard | Vredenburgh | Monroe County |
| 36482 | Standard | Whatley | Clarke County |
| 36483 | Standard | Wing | Covington County |
| 36501 | Standard | Jackson, Alma, Gainestown | Clarke County |
| 36502 | Standard | Atmore, Mc Cullough, Mccullough | Escambia County |
| 36503 | PO Box | Atmore | Escambia County |
| 36504 | PO Box | Atmore | Escambia County |
| 36505 | Standard | Axis | Mobile County |
| 36507 | Standard | Bay Minette | Baldwin County |
| 36509 | Standard | Bayou La Batre, Bayou Labatre | Mobile County |
| 36511 | Standard | Bon Secour | Baldwin County |
| 36512 | PO Box | Bucks | Mobile County |
| 36513 | PO Box | Calvert | Washington County |
| 36515 | Standard | Carlton | Clarke County |
| 36518 | Standard | Chatom | Washington County |
| 36521 | Standard | Chunchula | Mobile County |
| 36522 | Standard | Citronelle | Mobile County |
| 36523 | Standard | Coden | Mobile County |
| 36524 | Standard | Coffeeville | Clarke County |
| 36525 | Standard | Creola | Mobile County |
| 36526 | Standard | Daphne | Baldwin County |
| 36527 | Standard | Spanish Fort | Baldwin County |
| 36528 | Standard | Dauphin Island, Dauphin Islnd | Mobile County |
| 36529 | Standard | Deer Park | Washington County |
| 36530 | Standard | Elberta, Perdido Beach | Baldwin County |
| 36532 | Standard | Fairhope | Baldwin County |
| 36533 | PO Box | Fairhope | Baldwin County |
| 36535 | Standard | Foley | Baldwin County |
| 36536 | PO Box | Foley | Baldwin County |
| 36538 | Standard | Frankville | Washington County |
| 36539 | Standard | Fruitdale | Washington County |
| 36540 | Standard | Gainestown | Clarke County |
| 36541 | Standard | Grand Bay | Mobile County |
| 36542 | Standard | Gulf Shores | Baldwin County |
| 36543 | PO Box | Huxford | Escambia County |
| 36544 | Standard | Irvington | Mobile County |
| 36545 | Standard | Jackson, Salipta, Walker Spgs, Walker Springs | Clarke County |
| 36547 | PO Box | Gulf Shores | Baldwin County |
| 36548 | Standard | Leroy | Washington County |
| 36549 | Standard | Lillian | Baldwin County |
| 36550 | Standard | Little River | Baldwin County |
| 36551 | Standard | Loxley | Baldwin County |
| 36553 | Standard | Mc Intosh | Washington County |
| 36555 | Standard | Magnolia Springs, Magnolia Spgs | Baldwin County |
| 36556 | PO Box | Malcolm | Washington County |
| 36558 | Standard | Millry, Bigbee | Washington County |
| 36559 | PO Box | Montrose | Baldwin County |
| 36560 | Standard | Mount Vernon | Mobile County |
| 36561 | Standard | Orange Beach | Baldwin County |
| 36562 | Standard | Perdido | Baldwin County |
| 36564 | PO Box | Point Clear | Baldwin County |
| 36567 | Standard | Robertsdale | Baldwin County |
| 36568 | PO Box | Saint Elmo | Mobile County |
| 36569 | Standard | Saint Stephens, St Stephens | Washington County |
| 36571 | Standard | Saraland | Mobile County |
| 36572 | Standard | Satsuma | Mobile County |
| 36574 | Standard | Seminole, Robertsdale | Baldwin County |
| 36575 | Standard | Semmes | Mobile County |
| 36576 | Standard | Silverhill | Baldwin County |
| 36577 | PO Box | Spanish Fort | Baldwin County |
| 36578 | Standard | Stapleton | Baldwin County |
| 36579 | Standard | Stockton | Baldwin County |
| 36580 | Standard | Summerdale | Baldwin County |
| 36581 | PO Box | Sunflower | Washington County |
| 36582 | Standard | Theodore, Saltaire | Mobile County |
| 36583 | Standard | Tibbie | Washington County |
| 36584 | Standard | Vinegar Bend | Washington County |
| 36585 | Standard | Wagarville | Washington County |
| 36587 | Standard | Wilmer | Mobile County |
| 36590 | PO Box | Theodore | Mobile County |
| 36601 | PO Box | Mobile | Mobile County |
| 36602 | Standard | Mobile | Mobile County |
| 36603 | Standard | Mobile | Mobile County |
| 36604 | Standard | Mobile | Mobile County |
| 36605 | Standard | Mobile | Mobile County |
| 36606 | Standard | Mobile | Mobile County |
| 36607 | Standard | Mobile | Mobile County |
| 36608 | Standard | Mobile | Mobile County |
| 36609 | Standard | Mobile | Mobile County |
| 36610 | Standard | Mobile, Magazine, Prichard | Mobile County |
| 36611 | Standard | Mobile, Chickasaw | Mobile County |
| 36612 | Standard | Mobile, Whistler | Mobile County |
| 36613 | Standard | Eight Mile, Mobile, Prichard | Mobile County |
| 36615 | Standard | Mobile, Brookley Field, Brookley Fld | Mobile County |
| 36616 | PO Box | Mobile | Mobile County |
| 36617 | Standard | Mobile, Prichard | Mobile County |
| 36618 | Standard | Mobile | Mobile County |
| 36619 | Standard | Mobile, Theodore | Mobile County |
| 36621 | Unique | Mobile | Mobile County |
| 36622 | Unique | Mobile | Mobile County |
| 36625 | Unique | Mobile | Mobile County |
| 36628 | Unique | Mobile | Mobile County |
| 36630 | Unique | Mobile | Mobile County |
| 36633 | PO Box | Mobile | Mobile County |
| 36640 | PO Box | Mobile | Mobile County |
| 36641 | PO Box | Mobile | Mobile County |
| 36644 | Unique | Mobile | Mobile County |
| 36652 | PO Box | Mobile | Mobile County |
| 36660 | PO Box | Mobile | Mobile County |
| 36663 | PO Box | Mobile | Mobile County |
| 36670 | PO Box | Mobile | Mobile County |
| 36671 | PO Box | Mobile | Mobile County |
| 36675 | Unique | Mobile | Mobile County |
| 36685 | PO Box | Mobile | Mobile County |
| 36688 | Unique | Mobile | Mobile County |
| 36689 | PO Box | Mobile | Mobile County |
| 36690 | Unique | Mobile | Mobile County |
| 36691 | PO Box | Mobile | Mobile County |
| 36693 | Standard | Mobile | Mobile County |
| 36695 | Standard | Mobile | Mobile County |
| 36701 | Standard | Selma, Valley Grande | Dallas County |
| 36702 | PO Box | Selma | Dallas County |
| 36703 | Standard | Selma, Valley Grande | Dallas County |
| 36720 | Standard | Alberta | Wilcox County |
| 36721 | Standard | Annemanie | Wilcox County |
| 36722 | Standard | Arlington | Wilcox County |
| 36723 | PO Box | Boykin | Wilcox County |
| 36726 | Standard | Camden | Wilcox County |
| 36727 | Standard | Campbell | Clarke County |
| 36728 | Standard | Catherine, Prairie | Wilcox County |
| 36732 | Standard | Demopolis | Marengo County |
| 36736 | Standard | Dixons Mills | Marengo County |
| 36738 | Standard | Faunsdale, Dayton | Marengo County |
| 36740 | Standard | Forkland | Greene County |
| 36741 | PO Box | Furman | Wilcox County |
| 36742 | Standard | Gallion, Providence | Marengo County |
| 36744 | Standard | Greensboro | Hale County |
| 36745 | PO Box | Jefferson | Marengo County |
| 36748 | Standard | Linden | Marengo County |
| 36749 | Standard | Jones | Autauga County |
| 36750 | Standard | Maplesville | Chilton County |
| 36751 | Standard | Lower Peach Tree, Low Peach Tre, Lwr Pch Tree | Monroe County |
| 36752 | Standard | Lowndesboro, Burkville | Lowndes County |
| 36753 | PO Box | Mc Williams | Monroe County |
| 36754 | Standard | Magnolia | Marengo County |
| 36756 | Standard | Marion, Sprott | Perry County |
| 36758 | Standard | Plantersville | Dallas County |
| 36759 | Standard | Marion Junction, Marion Jct | Dallas County |
| 36761 | Standard | Minter | Dallas County |
| 36762 | Standard | Morvin, Thomasville | Clarke County |
| 36763 | PO Box | Myrtlewood | Marengo County |
| 36764 | PO Box | Nanafalia | Marengo County |
| 36765 | Standard | Newbern | Hale County |
| 36766 | PO Box | Oak Hill | Wilcox County |
| 36767 | Standard | Orrville | Dallas County |
| 36768 | Standard | Pine Apple, Snow Hill | Wilcox County |
| 36769 | Standard | Pine Hill, Yellow Bluff | Wilcox County |
| 36773 | Standard | Safford | Dallas County |
| 36775 | Standard | Sardis | Dallas County |
| 36776 | Standard | Sawyerville | Hale County |
| 36782 | Standard | Sweet Water | Marengo County |
| 36783 | Standard | Thomaston | Marengo County |
| 36784 | Standard | Thomasville | Clarke County |
| 36785 | Standard | Tyler, Benton | Lowndes County |
| 36786 | Standard | Uniontown | Perry County |
| 36790 | Standard | Stanton | Chilton County |
| 36792 | Standard | Randolph | Bibb County |
| 36793 | Standard | Lawley | Bibb County |
| 36801 | Standard | Opelika | Lee County |
| 36802 | PO Box | Opelika | Lee County |
| 36803 | PO Box | Opelika | Lee County |
| 36804 | Standard | Opelika | Lee County |
| 36830 | Standard | Auburn | Lee County |
| 36831 | PO Box | Auburn | Lee County |
| 36832 | Standard | Auburn | Lee County |
| 36849 | Unique | Auburn University, Auburn, Auburn Univ | Lee County |
| 36850 | Standard | Camp Hill | Tallapoosa County |
| 36851 | PO Box | Cottonton | Russell County |
| 36852 | Standard | Cusseta | Lee County |
| 36853 | Standard | Dadeville | Tallapoosa County |
| 36854 | Standard | Valley | Chambers County |
| 36855 | Standard | Five Points | Chambers County |
| 36856 | Standard | Fort Mitchell | Russell County |
| 36858 | Standard | Hatchechubbee | Russell County |
| 36859 | PO Box | Holy Trinity | Russell County |
| 36860 | Standard | Hurtsboro | Russell County |
| 36861 | Standard | Jacksons Gap | Tallapoosa County |
| 36862 | Standard | Lafayette | Chambers County |
| 36863 | Standard | Lanett | Chambers County |
| 36865 | PO Box | Loachapoka | Lee County |
| 36866 | Standard | Notasulga | Macon County |
| 36867 | Standard | Phenix City | Russell County |
| 36868 | PO Box | Phenix City | Russell County |
| 36869 | Standard | Phenix City | Russell County |
| 36870 | Standard | Phenix City | Lee County |
| 36871 | Standard | Pittsview | Russell County |
| 36872 | PO Box | Valley | Chambers County |
| 36874 | Standard | Salem | Lee County |
| 36875 | Standard | Seale | Russell County |
| 36877 | Standard | Smiths Station, Smiths, Smiths Sta | Lee County |
| 36879 | Standard | Waverly | Lee County |
| 36901 | PO Box | Bellamy | Sumter County |
| 36904 | Standard | Butler, Lavaca | Choctaw County |
| 36907 | Standard | Cuba | Sumter County |
| 36908 | Standard | Gilbertown | Choctaw County |
| 36910 | Standard | Jachin | Choctaw County |
| 36912 | Standard | Lisman | Choctaw County |
| 36913 | Standard | Melvin | Choctaw County |
| 36915 | Standard | Needham | Choctaw County |
| 36916 | Standard | Pennington | Choctaw County |
| 36919 | Standard | Silas, Bolinger | Choctaw County |
| 36921 | Standard | Toxey | Choctaw County |
| 36922 | Standard | Ward | Choctaw County |
| 36925 | Standard | York | Sumter County |