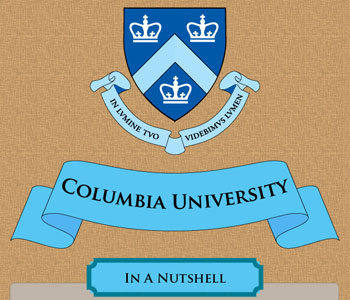 Where is Columbia University
Columbia's campus is located in New York City, and features beautiful architecture and greenery. The school has made an effort to keep the campus beautiful, with unique statues positioned around the campus. The Butler Library is grand and decorated, and has been called one of the most beautiful university libraries in the country (as well as being one of the largest).
Columbia scores points for being a college community within the greater community of New York City. This allows students to have a classic American college experience while in the setting of a bustling, vivacious city.
In a Nutshell
Columbia University is another private Ivy League school, and one of the top universities of the United States. Located in Manhattan, New York City, Columbia offers quality education in the heart of a major world center for-well, everything.
Columbia College was one of the earliest American universities, first opened in 1754 as King's College, and after a short hiatus during the American Revolutionary War, the school opened again with its new name in 1784. This school was the first in the nation to give out the M.D. (Medical Degree), and one of the first institutions for advanced degrees.
Today, Columbia University has about 8,000 undergraduate students enrolled, and excels in many of its academic programs, both undergraduate and graduate, offering schools for Journalism, Medicine, Theology, Law, Business, Engineering and more. With all the graduate programs Columbia offers, a whopping 90 percent of its students go on to continue study as a graduate student. Research programs at Columbia, especially those focused on the sciences, have made many important discoveries and inventions.
Academic Achievement
Columbia is one of the highest rated schools in the United States, as the alma mater to a high number of Supreme Court Justices, politicians, and celebrities, and has ties to the highest number of Nobel Prize winners in any school in the world. As a prestigious university, Columbia accepts only about 6 percent of applicants, making it a very selective university.
Columbia's School of Journalism was started by Joseph Pulitzer himself in 1912, and is considered the top school for this field in the nation. The architecture program is also one of the top rated in the country. Columbia's science programs have brought about many important innovations, like the creation of lasers and blue LEDs, and much more.
Bang For Your Buck
Columbia's tuition is fairly in-line with the other Ivy League universities, at about $41,000 per year, which does not include rent in one of the most expensive cities in the country. But Columbia offers a number of financial aid options, though they include taking out student loans to help pay for this American institution. Large donations are often given by alumni, which grant students scholarships to help pay for their education.
With the number of opportunities Columbia offers, this education can still be a great investment. Connections to the faculty who are at the forefront of their fields, a great location flowing with opportunity, and
Social Scene
Columbia offers student housing to its students for each year of their studies, which enables students to build strong ties to their classmates and colleagues. Freshmen live in large residence halls, while upperclassmen live in apartment-style housing or fraternities and sororities. These Greek associations draw in over 10 percent of students at Columbia. A fairly diverse student population positioned in one of the most diverse cities in the world make Columbia an interesting and exciting place. A number of clubs, research opportunities and internships around campus and off campus give Columbia's students a positive purpose for summers and the rest of the time they're not in class. Opportunities for community service are another important use of free time for students at Columbia.
Sports give students more activities in which to participate, as a team member or a spectator. Columbia's football team, the Lions, play in the same conference as the other top schools in the region, with a good record in the championships.
Why Columbia Makes Our List
A plethora of programs of study, an amazing location in the core of the country, New York City, and a faculty filled with award-winning and esteemed members of society make Columbia one of our top universities of the United States, certainly worthy of a stop on our tour. The many opportunities to continue education after completion of an undergraduate degree, paired with a very high rate of continuation give Columbia a lot of credibility as a university.