Johns Hopkins University Location Map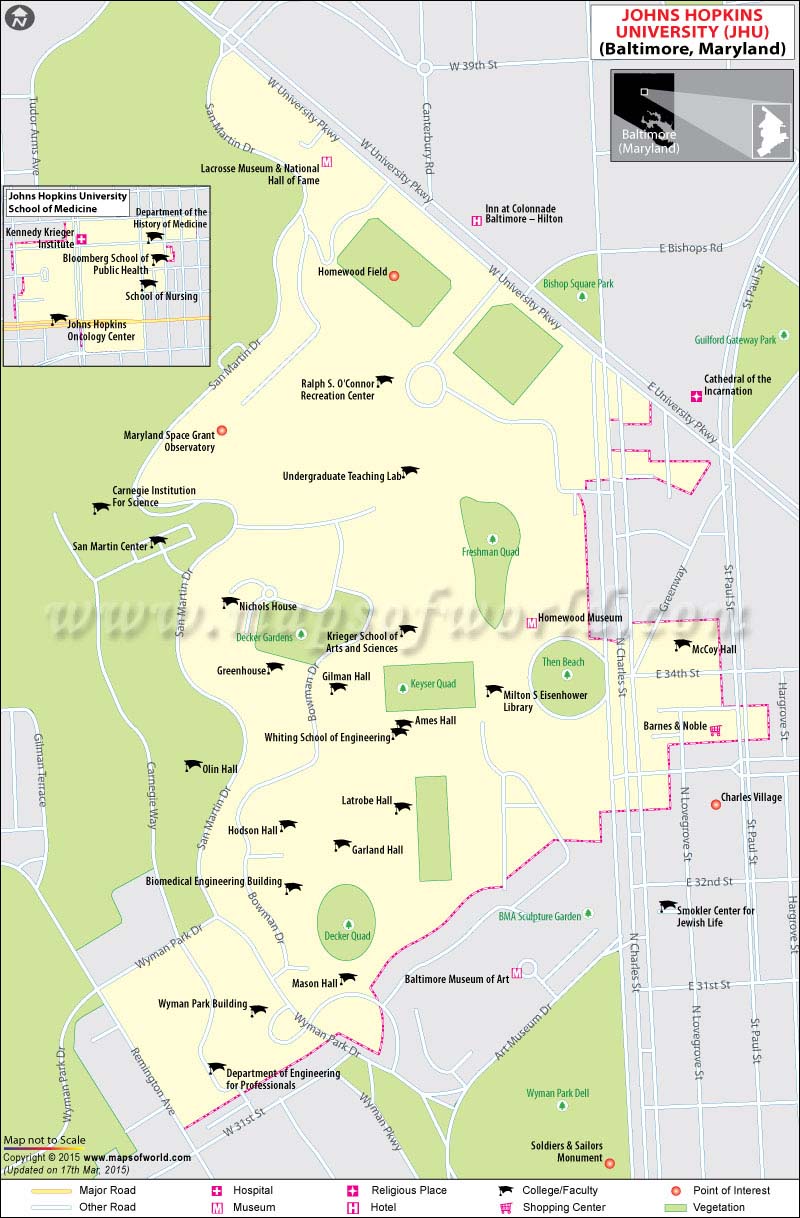 | | |
| --- | --- |
| Description: Map of Johns Hopkins University (JHU) in Baltimore, Maryland. | Disclaimer |
×
Disclaimer : All efforts have been made to make this image accurate. However Compare Infobase Limited, its directors and employees do not own any responsibility for the correctness or authenticity of the same.
About Johns Hopkins University
In a Nutshell
Johns Hopkins University is a private institution of higher education in Baltimore, Maryland with four main campuses in the area. As the self-described first research university in the United States, Johns Hopkins has incorporated research into both undergraduate and graduate education to create the highly regarded university it is today.
Johns Hopkins, a railroad investor for one of the first railroad lines in the United States (Baltimore & Ohio) founded charitable corporations to form a university and hospital. At his death, he left millions of dollars to help fund these two organizations. Johns Hopkins University was founded in 1876, and began under the leadership of its first president, Daniel Coit Gilman, who recognized the important connection between education and research. Until this time, the two had remained strictly separate, though Johns Hopkins University has become a model that other US universities have followed.
The university has grown over several campuses both in the region and beyond. The main campus, Homewood, houses most of the undergraduate programs, in addition to a few professional schools. The other campuses in the area have professional schools like the schools of Medicine, Public Health, and Nursing, which are located on the East Baltimore campus next to Johns Hopkins Hospital. Downtown Baltimore is home to Johns Hopkins University's professional school of music, Peabody Institute. Aside from these Baltimore area campuses, Johns Hopkins has the Nitze School of Advanced International Studies (SAIS), which has programs in Washington D.C., Bologna, Italy, and Nanjing China.
With 5,066 undergraduate students and 1,981 graduate students, Johns Hopkins University is a fairly small university. The university academic calendar follows a semester system, beginning in early September and ending in the end of May.
Academic Achievement
Johns Hopkins has an admissions rate of 18 percent, making it a fairly selective university. With a freshman retention rate of 97 percent, students at Johns Hopkins University are generally very satisfied with their experience at the school. A student to faculty ratio of 13 to 1 means that students have many opportunities to build working relationships with their professors, with the chance to learn in a one-on-one situation.
The main campus of Johns Hopkins is the Homewood Campus, which houses the Krieger School of Arts and Sciences, which most undergraduate students attend. The Whiting School of Engineering, the School of Education, and some parts of the Carey Business School are also on the Homewood Campus. There are fifty majors and forty one minors offered to undergraduate students at Johns Hopkins University.
Some of the most popular majors at JHU are Bioengineering and Biomedical Engineering, International Relations and Affairs, Chemical Engineering, Neuroscience, Political Science, and Government.
Bang For Your Buck
Tuition at John Hopkins is $43,930 per student per year. Room and board for students who live on campus costs $13,390, and an estimated $3,600 in other expenses are figured into the budget, for a total of $60,920 annually.
Financial assistance is available in several form to students who attend Johns Hopkins University, and about 48 percent of freshmen received school grants from the many scholarships offered by the university itself. Around 42 percent of undergraduates received financial aid. The average need-based financial aid package was about $34,052, which covers a large portion of the student budget.
Social Scene
The main campus at Johns Hopkins, the Homewood Campus is situated next to Charles Village and is primarily for undergraduate students. With 99 percent of freshmen living in the ten residence halls on campus, students at Johns Hopkins have a chance to build a strong community. About 56 percent of all undergraduate students live on campus, while the rest live in the surrounding community of Baltimore. Students at Johns Hopkins come from all 50 states, and about 71 countries internationally. The Greek community at JHU thrives, with more than 1,000 students involved in the thirteen fraternities and eight sororities.
Over 400 student organizations based on interests, cultural and religious groups, and over 60 community service groups, there are many opportunities to get involved.
Johns Hopkins University's athletic teams, the Hopkins Blue Jays, play in the NCAA Division III in the Centennial Conference. The exception to this is the JHU men's and women's lacrosse teams, that play in NCAA Division I, and have been successful in national competitions.
Where is Johns Hopkins University Located
Johns Hopkins is set in the urban environment of Baltimore in Charles Village. The campus is described as a peaceful setting, with large green areas and many trees, with a traditional collegiate atmosphere. Off campus, entertainment options in Baltimore include theaters and museums, live music, professional sports, which students enjoy in their free time on breaks and weekends. The campus is not far from a variety of hiking trails and beaches, and there are shuttles that transport students all around the city.
The university is located a short distance from Washington DC, Philadelphia, and New York City, the three top cities in the region. These cities make great destinations for weekend getaways and as potential sources for jobs and internships.
In addition to the several academic campuses that are part of Johns Hopkins University, the school also has the Applied Physics Laboratory. This laboratory is part of the school system, but is not an academic institution. The Applied Physics Laboratory works on issues regarding national security, space science, exploration of the Solar System, civilian research and development.
Why Johns Hopkins Made Our List
Johns Hopkins has a long history of excellence, paving the way for other U.S. universities and forging new paths along the way. For its climate of innovation and emphasis on research, Johns Hopkins University has earned its position on our list of top universities in the United States.