About Yale University in New Haven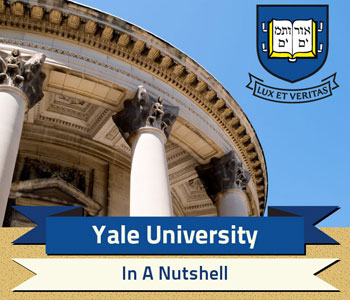 Where is Yale University
Located in downtown New Haven, a midsized city, Yale is situated at the core of its surrounding community. The campus itself features interesting Gothic and Georgian architecture. The town of New Haven is picturesque, earning its nickname "Elm City" for its abundance of the trees. New Haven is located not far from other major cities, including New York City, providing students with plenty of opportunity for weekend trips and fun events.
Though Yale's main campus is fairly small, additional areas of the Yale campus are located at a short distance away. A golf course and several other areas are away from downtown, adding another 500 acres to the total area of the campus, and giving students additional facilities to use.
In a Nutshell
Yale rounds out the top three for universities in the United States, coming in just behind its closest competitors, Princeton and Harvard. Founded in 1701, Yale is the third oldest institution of higher education in the nation. Yale was originally focused on religion and science, since the college was first opened during the Great Awakening and the Enlightenment, though today the school does not have a religious affiliation. From the start, Yale has been a school for the elite members of the community. Located in New Haven, Connecticut, Yale has a small campus of about 260 acres in the heart of downtown. Like Princeton and Harvard, Yale is a private four-year university, which has an undergraduate enrollment of about 5,300.
Yale is the alma matter of many important figures in American politics, including Presidents George H. W. Bush and George W. Bush, and Yale Law School is the place where President Bill Clinton met his wife and fellow politician, Hilary Clinton.
Academic Achievement
Yale has strong programs in the liberal arts, social sciences, engineering and biology, and offers many visual and performing arts classes and majors. With a student to faculty ratio of six to one, Yale offers plenty of opportunities to build strong bonds with professors and other mentors, and small class sizes allow for thorough discussion and interaction between students and their instructors. Yale has a slightly higher rate for admitting new students, accepting about 9.7 of all applicants – though this is still a very selective number.
Yale is another strong research facility, and has more than twenty-four libraries that hold over twelve and a half million publications. The Yale University library collection is one of the largest in the nation.
Bang For Your Buck
Yale's tuition is a steep $40,000, which is fairly in-line with the other top schools on our list. Including room and board, total annual costs will reach around $58,000. These figures have increased drastically in the past few years. However, 66 percent of students at Yale receive financial aid, with only about 7 percent needing to take out student loans. The average annual grant received by individual students is about $35,000.
While the costs are high, the results of a Yale education are usually very positive. A diploma from Yale is almost guaranteed to open the door to many special opportunities.
Social Scene
Yale students mostly live on campus, in one of the twelve housing units, which serve as a social community for students with their own common areas and dining halls. These housing units also often feature their own social events and gatherings, in an attempt to foster stronger bonds. Yale is not the most diverse school – white people make up about 47 percent of its student population, but over 80 percent of the students are from out of state and about 13 percent are from foreign countries. Yale's lacks economic diversity in addition to racial diversity, though it has in recent years been trying to correct this disparity.
Yale's strong athletic teams include its football team and track and field teams. The Harvard-Yale rivalry in football began in 1875, and continues even today to provide an entertaining competition between the two schools. All three of our top university choices had once participated in a triangular debate, though it proved less popular than athletic competitions, probably because there was never a clear winner.
In general, Yale has many student organizations, opportunities, and events in which students can choose to participate. As a fairly liberal community, Yale supports a LGBT community that leads the nation, offering school resources to the group.
Why Yale Makes Our List
Yale, despite the high costs of attending this school, must be included near the top of our list for the many opportunities it gives students as a world-renowned elite institution. The financial assistance provided by the school helps with the costs, but students need high scores on SAT and ACT exams, as well as a grade point average at the top of their high school classes. Overall, the Yale University experience is a positive one, with high prestige, placing Yale on our list of top universities of the United States.