About Carnegie Mellon University in Pittsburgh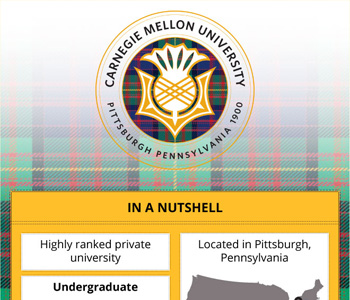 Where is Carnegie Mellon University
Carnegie Mellon is located in Pittsburgh, Pennsylvania, in the Oakland neighborhood, which offers museums, libraries, and entertainment. Carnegie Mellon is not far from the University of Pittsburgh, so many other young people and college students are in the area, making it a fun and lively community.
Though the school has an urban setting, with its campus just three miles from downtown, there are many nearby parks for students to enjoy nature, and its lawn areas are known as the Cut and the Mall.
In a Nutshell
Carnegie Mellon is a highly ranked private university in Pittsburgh, Pennsylvania. Its 12,569 students are nearly equally divided between the undergraduate and graduate schools, with 6,203 undergrads, 4,368 graduate students, 1,922 doctoral students, and 76 special enrollment students. Carnegie Mellon offers distinct academic programs in a variety of fields, from science and technology to arts and the humanities.
Founded by Andrew Carnegie in 1900 as the Carnegie Technical Schools, then changing to the Carnegie Institute of Technology (or Carnegie Tech) in 1912, when it began awarding degrees. The neighboring Mellon Institute of Industrial Research had been a nonprofit organization, that did research for various companies. In 1967, Carnegie Tech and Mellon Institute merged and became Carnegie Mellon University. Over its history, Carnegie Mellon expanded its campus, adding new buildings for academic departments, student housing and services, and additional schools.
Carnegie Mellon has seven schools: Carnegie Institute of Technology (The College of Engineering), College of Fine Arts, Dietrich College of Humanities and Social Sciences, Tepper School of Business, H. John Heinz II College of Public Policy and Information Systems, Mellon College of Science, and the School of Computer Science. Though it has no medical school, Carnegie Mellon offers life science programs instead.
Academic Achievement
Carnegie Mellon's approach to academics is unusual among universities of its kind, with a unique focus on interdisciplinary focus that extends across departments and schools. There are even interdisciplinary programs that award students degrees that cross disciplines like Science and Arts, or Computational Biology. This system allows students who are interested in a broad spectrum of areas of study.
With an admission rate of 28 percent across all its colleges, Carnegie Mellon is a fairly selective college, especially in its College of Science and School of Computer Science. A student to faculty ratio of ten students to every faculty member, and a faculty with about 96 percent of its members having earned a PhD or equivalent, students at Carnegie Mellon can build great relationships with the top scholars in their fields.
As a research university, Carnegie Mellon is home to about a hundred centers and institutes for research, like the Collaborative Innovation Center, where top companies come to discover the next big thing.
Bang For Your Buck
The tuition rate for the 2012/2013 school year was $$44,880, with housing costs of $11,550. With the addition of fees, books, and supplies, the total cost of attending Carnegie Mellon comes to an estimated $57,310 annually.
Students have a variety of options to help pay for their education, including scholarships and grants which do not have to be repaid like loans. While there are several need-based types of financial assistance, students who do not qualify for much need-based financial aid may be able to earn a Carnegie Scholarship, which is specially for incoming freshmen who come from families with middle incomes and would otherwise graduate university with a heavy loan debt.
Carnegie Mellon also offers the Tuition Payment Plan, which divides tuition into monthly fees, rather than paying it all at once at the beginning of the semester. This method is intended to make paying for college easier on some families.
Social Scene
The student body at Carnegie Mellon is somewhat diverse, with students coming from all 50 states, nearly 100 countries. Students can choose from over 200 student organizations to find other students of similar interests, religious beliefs, or cultural backgrounds. The university has study abroad programs in around fifty countries around the world, and students can also choose to spend terms studying at partner or satellite universities around the United States.
Options for student housing at Carnegie Mellon include single-gender residence halls, co-ed residence halls, suites, apartments, houses, sorority and fraternity houses, special interest housing. Freshmen are required to live on campus and have eleven housing units dedicated to housing them. About 75 percent of students live on campus all four years in the twenty-three campus housing units.
Carnegie Mellon athletes compete in the NCAA Division III, as part of the University Athletic Association. The university has a strong football team, track and cross country team, and volleyball team.
Why Carnegie Mellon Made Our List
Carnegie Mellon's strong and unique interdisciplinary academic programs make it an essential stop on our USA Universities Tour. Students at Carnegie Mellon can have a great college experience, with its combination of academics and student activities that make this school one of the top universities in the USA.