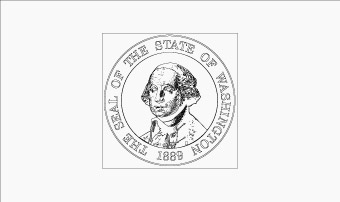 Download Picture of Blank Washington Flag For Kids to Color
About the Flag of Washington
The Washington Flag is truly unique in 2 ways. Firstly it is the only US state flag to use the green color for its field. Secondly the Washington Flag is just the only flag among all other US state flags to bear the portrait of President George Washington.
The state's seal is none other than the picture of George Washington and it is beautifully encircled with a yellow colored circular border, on which the words, "The seal of the State of Washington 1889" are etched.
History of Washington Flag
The Washington Flag was adopted by the State Legislature on 5th May, 1923. Washington became a formal state of the Union on 11th November 1889, but did not immediately choose a state flag for itself. With the commencement of the 20th century some cities of Washington used a military flag featuring a golden image of President Washington on a blue field. Other variations of this flag employed a purple or green background. However the official statue of 1925 standardized the color and other details of the Washington State Flag.
Symbolism of Washington Flag
The green shade on the Washington Flag justifies the state's nickname, which is the "Evergreen State". It is also a hue generally associated with lush vegetation, that characterizes the state. The date 1899, is that year in which, Washington became a state of the US.
The wonderful green colored Washington Flag is noteworthy for depicting the first president of the USA.