Washington State Map with Cities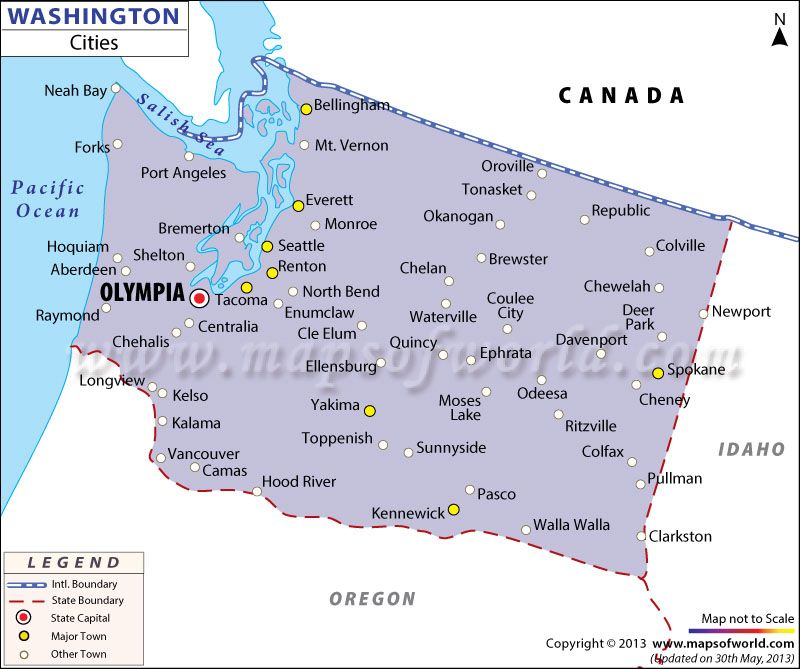 Map of Washington State with Cities
Learn all about the different cities in Washington with the Map of Washington State with Cities. This map allows you to explore the various cities of the state of Washington, making it easier to locate the cities on the map.
Cities in Washington
Washington has a bunch of different cities, and each one is unique. Some cities are busy and exciting, with lots of things to do and cool places to go. Others are calm and peaceful, located in beautiful natural settings. In Washington, there's a city for everyone! Whether you like quiet nature, exciting outdoor activities, or exploring cities, you'll find something you enjoy. Washington's cities offer a mix of experiences, whether you want to relax in nature, have fun outside, or explore the city life.
How Many Cities are in Washington
Washington has a lot of cities – 281 to be exact. Each city adds something special to the whole picture of what the state is like. Whether you like big busy cities with lots of action or cozy small towns where everyone knows each other, Washington's cities give you lots of options to choose from. You can easily find where each city is on the Washington Cities Map.
Largest Cities in Washington
The biggest cities in Washington are full of life and have lots of chances for fun and learning. Some of the famous cities in Washington are Seattle, Spokane, Tacoma, Vancouver, Bellevue, and Everett. People know these cities for their many cool things to do, important places to visit, and exciting art and culture. Whether you live there or you're just visiting, you can explore and find new things to do in these cities.
Safest Cities in Washington
Some cities in Washington really focus on keeping their residents safe and happy. These places work hard to make sure everyone feels secure and calm. Towns like Sammamish, Camas, Bainbridge Island, Pullman, and Mercer Island are famous for being some of the safest cities in Washington. They put a lot of effort into making sure there is very little crime and that everyone feels really safe. This makes these cities great for families and people who want to live in a safe place.
Best Cities to Live in Washington
Washington has many really good cities where life is great. Some top places to think about living in Washington are Seattle, Bellevue, Spokane, Tacoma, and Redmond. These cities have lots of good things, like plenty of good jobs, excellent schools, and lots of fun things to do. Whether you really like being outside, love to learn new things, or enjoy different cultures, these cities have something for everyone. They make sure you have a happy and satisfying life.
Feel free to explore the Map of Washington Cities to find and learn the location of all cities in Washington.
List of Cities in Washington

City Name
County Name
Seattle
King
Spokane
Spokane
Tacoma
Pierce
Vancouver
Clark
Bellevue
King
Kent
King
Everett
Snohomish
Renton
King
Yakima
Yakima
Federal Way
King
Spokane Valley
Spokane
Bellingham
Whatcom
Kennewick
Benton
Auburn
King
Pasco
Franklin
Marysville
Snohomish
Lakewood
Pierce
Redmond
King
Shoreline
King
Kirkland
King
Richland
Benton
Olympia
Thurston
Sammamish
King
Lacey
Thurston
Edmonds
Snohomish
Bremerton
Kitsap
Puyallup
Pierce
Longview
Cowlitz
Lynnwood
Snohomish
Bothell
King
Burien
King
Wenatchee
Chelan
Walla Walla
Walla Walla
Mount Vernon
Skagit
University Place
Pierce
Issaquah
King
Des Moines
King
Pullman
Whitman
Lake Stevens
Snohomish
SeaTac
King
Bainbridge Island
Kitsap
Mercer Island
King
Maple Valley
King
Oak Harbor
Island
Kenmore
King
Moses Lake
Grant
Mukilteo
Snohomish
Mountlake Terrace
Snohomish
Camas
Clark
Tukwila
King
Port Angeles
Clallam
Mill Creek
Snohomish
Ellensburg
Kittitas
Arlington
Snohomish
Covington
King
Battle Ground
Clark
Tumwater
Thurston
Bonney Lake
Pierce
Monroe
Snohomish
Aberdeen
Grays Harbor
Centralia
Lewis
Sunnyside
Yakima
Anacortes
Skagit
Washougal
Clark
East Wenatchee
Douglas
Lake Forest Park
King
West Richland
Benton
Lynden
Whatcom
Kelso
Cowlitz
Ferndale
Whatcom
Port Orchard
Kitsap
Woodinville
King
Enumclaw
King
Grandview
Yakima
Snoqualmie
King
Sedro-Woolley
Skagit
Cheney
Spokane
Newcastle
King
Shelton
Mason