What are the popular places to visit in Seattle?

A popular backdrop of love stories from the 90s, Seattle stands for an unwavering spirit, ambivalent weather, and innovative Poetry-on-Buses. The birthplace of grunge music is known for its come-as-you-are vibe. Boundless entertainment, glacial mountain peaks, and damp green forests describe this urban city. Quirkiness and multiculturalism are two distinct aspects of 'The Emerald City' that has something to offer to every traveler.
Seattle is located in the Washington State on the West Coast of the United States. Spread over 91 square miles, the city lies on an isthmus between Lake Washington and Puget Sound, an inlet of the Pacific Ocean.
Facts about Seattle
World's largest coffee chain, Starbucks, was launched here in 1971.

It is often called 'The Emerald City' due to the lush, evergreen surroundings of the Washington State.

Seattle's Harbor Island was once the largest man-made island in the United States.

Contrary to popular belief, Seattle receives less annual rainfall than both Chicago and New York.

The Seattle downtown area is built on top of the remains of the old city after the Great Fire of 1889.

Internet companies like Microsoft and Amazon.com have headquarters in Seattle.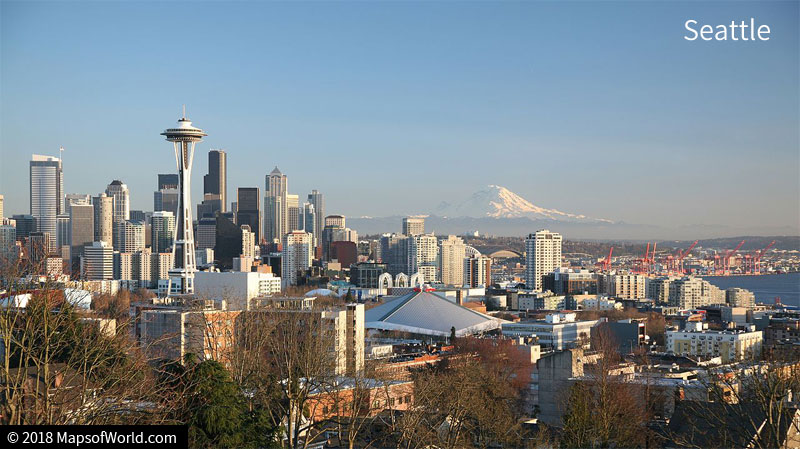 Places to Visit in Seattle
The Space Needle – Standing 605 feet, The Space Needle is a dominant central structure and iconic landmark of Seattle metropolitan area. It offers exhilarating views of the city. Observation decks, hotels, restaurants, and a powerful light beam called the 'Skybeam' grace the top level of this tower.
Seattle Aquarium – Opened in 1977, it is located on the Pier 59 waterfront. It is an ideal place to learn about the Pacific marine life. It exhibits sea mammals, plankton, salmon, sharks, and other species of fish found near Puget Sound. Window on Washington Waters, Crushing Waves Exhibit, and the Underwater Dome are the main attractions of this Aquarium.
Seattle Great Wheel – It is a giant Ferris Wheel with a height of 53 meters and 42 climate-controlled gondolas. One ride (involving three rounds) lasts for 10-20 minutes depending on the season.
Smith Tower – This 38-story skyscraper is the oldest edifice in the city and a model of neoclassical architecture.
Pike Place Market – More than a century old, this original farmer's market is the heart and soul of this lively city. Maze of storefronts and shopping arcades, the restlessness of local vendors, and the smell of fresh Pacific Northwest speciality food define the ambience.
Gum Wall – This is a brick alleyway wall and a local landmark in the downtown area. The wall is known for the accumulation of used chewing gum. Believe it or not, it is an excellent location for wedding photographers.
Safeco Field, Woodland Park Zoo, Fifth Avenue Theatre, Paramount Theatre, Lake Washington Ship Canal, and the Lake Union are other tourist attractions in the city.
Things to Do in Seattle
Underground Tour – This is an amazing guided walking tour that takes place under the city. It begins from Doc Maynard's Public House (a 1890s saloon) and ends at Rogues Gallery (a gift shop). It is a 75-minute-long history lesson that features old downtown, passageways, tunnels, and stories about Seattle.
Shopping – Other than the Pike Place Market, there are popular shopping centers in Belltown, outlet malls, and the Chinatown International District. Whether you are a food lover, a seasoned shopper, a souvenir collector, or just another browser, you ought to pay a visit to any of these places to discover the local lifestyle.
Parks and Recreation – Discovery Park (the most significant public park in Seattle), Golden Gardens Park, Kubota Garden, Matthews Beach Park, Myrtle Edwards Park, and Magnuson Park are some of the popular spots in the city to relax and rejuvenate. These parks feature walking and bicycle riding trails, picnic areas, and golf ranges.
Ferry Ride – Washington State Ferries is one of the busiest ferry networks in the United States. To get the best sights of the city, especially during late evenings, you must step into a ferry. Coleman dock at Pier 52 on the waterfront is the main checking point for ferries to nearby cities and suburbs.
Museum Tour – History buffs will have the time of their life in Seattle as they explore museums such as Pacific Science Center, Museum of Flight, Experience Music Project Museum, Burke Museum of Natural History and Culture, and Museum of History and Industry.
Seattle Accommodations
Four Seasons Hotel Seattle, Fairmont Olympic Hotel, Grand Hyatt Seattle, and Hilton Seattle are the best options for a luxurious stay in the city. Pan Pacific Hotel Seattle, Hotel Monaco Seattle, Hotel 1000, and Mayflower Park Hotel are preferred mid-range options. To get value-for-money accommodations, Ace Hotel, Moore Hotel, City Hostel Seattle, Belltown Inn, and Greenlake Guesthouse are recommended.
Seattle Restaurants
From delicious burgers in Bellevue to grilled steaks in Fremont, Seattle serves a lot on your plate. Salmon, crabs, oysters, and sushi are vital ingredients of local seafood. High-end restaurants like Canlis, Daniel's Broiler, Bar Del Corso, and Joule are inspiring for taste buds. Dick's drive-in is very popular among locals as this food chain serves some of the best burgers and shakes at a reasonable price.
Best Time to Visit Seattle
Weather remains pleasant from August to November, making it an ideal time to visit. However, if you are looking to avoid crowds, then March to May is the preferred time to visit.
How to Reach Seattle?
By Air – Seattle-Tacoma International Airport is located in the southern suburbs of the city.
By Road – I-90, I-5 and I-405 expressways run through this city. Greyhound and other bus services are available at 503 S Royal Brougham Way. Airport shuttles, long-distance buses, and rental cars can be found here.
By Train – Along the west coast, Amtrak provides train services to the rest of the country. King Street Station is the main train station.
By Sea – Washington State Ferries, King County Water Taxi, and Clipper Vacations are three regular ferry systems in the city.
Know more:
Related Maps: