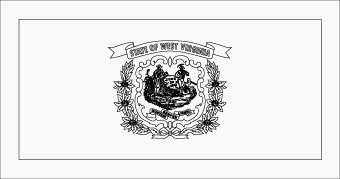 About the Flag of West Virginia
The West Virginia Flag is one of the prominent symbols of the state, lending it an individual identity.
The West Virginia Flag comprises a pure white field, which is bordered in a shade of blue. In the center of the West Virginia Flag is the state's official seal, which is ringed round with rhododendrons. The seal is highly pictorial and portrays 2 men, standing on either sides of a rock , on which the date June 20, 1863 is printed, along with the state motto, "Montani Semper Liberi." Above the shield is a red ribbon containing the words, "State of West Virginia."
Symbolism of West Virginia Flag
The color white denotes the purity of West Virginia, while blue stands for the US. The 2 men featured on the seal are a farmer and a miner. They represent the state's agriculture and mining industry respectively. The rock between them symbolizes the properties of stability and strength. At their feet are 2 rifles, with a Liberty Cap or Phrygian above them. These symbols express the fact that West Virginia had earned its liberty by fighting and is always willing to do anything to keep the state secure. The date on the rock implies the exact date when the state became a part of the Union. The literal translation of the state motto is, "ountaineers are always free." The flowers decorating the shield are the state flowers of West Virginia. The colors and symbols used to enhance the West Virginia Flag make it a beautiful piece of artistic workmanship.
For flags of other states of the USA, check the Flags of the 50 States.