Percentage of Urban Population with Access to Improved Water Sources on the Rise
Next Story
Death Rate for People With Asthma Rising Around the World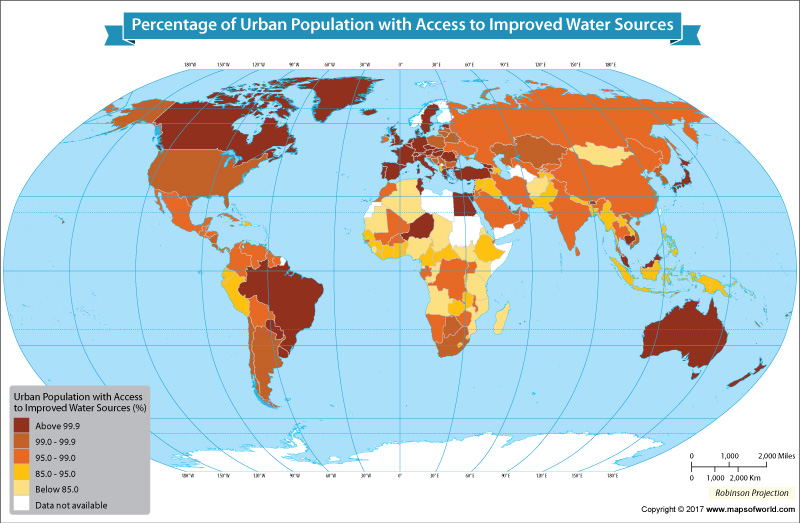 Water is one of the most important ingredients that is essential for sustaining all forms of life force. However, it is of paramount importance to provide people with safe water as it can reduce diseases and deaths and lead to the all round development of the country.
If you have a theme, we have a map.
Contact us for your custom mapping requirements
Today, giving their populations access to improved water sources has become the top most priority for governments around the world. The improved water sources comprise piped water on premises and other sources such as tube wells or boreholes, rainwater collection, public taps, protected springs and protected dug wells.
Many of the nations have been successful in providing their people with improved water sources. According to the World Health Organization (WHO), between the years 1990 and 2015, an estimated 2.6 billion people across the world gained access to safe drinking water. This is a major achievement, but there is still a significant population that does not have access to improved water sources for their drinking and other needs.
The unimproved water sources are surface water from dams, lakes and rivers and also from unprotected springs or dug wells. The disparity does not only exist between countries but also between people living in rural and urban areas. In 2015, according to the WHO data, an estimated 96 percent of the people living in urban areas had access to improved sources of water. In comparison, some 85 percent of those living in the rural areas had access to the same.
The World Health Organization data painted a positive picture with more than 85 percent urban people in a majority of nations having access to improved water sources. Many nations having either achieved the magical figure of 100 percent or provided an upward of 99 percent of the population with access to improved water sources in urban areas.
Armenia, Australia, Bahrain, Cambodia, Canada, Denmark, Egypt, Japan, Qatar, and Niger were a few nations that had met the 100 percent mark. Belarus, Mauritius, South Korea, etc. were just 0.1 percent short of the magical figure. Other nations that had scored between 99 and 100 percent included the United States, Kazakhstan, UAE, South Africa, Bulgaria, Maldives and many others.
At the bottom of the World Health Organization data were Palestine and Mauritania where just 50.7 and 58.4 percent of the urban population, respectively, had access to improved water sources. Nations such as Haiti, Mongolia, and South Sudan fared slightly better with 64.9, 66.4, and 66.7 percent respectively. In all, there were 13 nations where between 71.8 percent and 84.9 percent of the urban population had access to improved water sources.
Refer to the table for information on the percentage of population in urban areas that had access to improved water sources in 2015.
| Countries | Population With Access to Improved Water Sources (%) |
| --- | --- |
| American Samoa | 100.0 |
| Andorra | 100.0 |
| Armenia | 100.0 |
| Australia | 100.0 |
| Austria | 100.0 |
| Bahrain | 100.0 |
| Belgium | 100.0 |
| Cambodia | 100.0 |
| Canada | 100.0 |
| Cyprus | 100.0 |
| Czech Republic | 100.0 |
| Denmark | 100.0 |
| Egypt | 100.0 |
| Finland | 100.0 |
| France | 100.0 |
| French Polynesia | 100.0 |
| Georgia | 100.0 |
| Germany | 100.0 |
| Greece | 100.0 |
| Greenland | 100.0 |
| Hungary | 100.0 |
| Iceland | 100.0 |
| Israel | 100.0 |
| Italy | 100.0 |
| Japan | 100.0 |
| Luxembourg | 100.0 |
| Malaysia | 100.0 |
| Malta | 100.0 |
| Martinique | 100.0 |
| Monaco | 100.0 |
| Montenegro | 100.0 |
| Netherlands | 100.0 |
| New Zealand | 100.0 |
| Niger | 100.0 |
| Norway | 100.0 |
| Paraguay | 100.0 |
| Portugal | 100.0 |
| Qatar | 100.0 |
| Romania | 100.0 |
| Singapore | 100.0 |
| Slovakia | 100.0 |
| Spain | 100.0 |
| Sweden | 100.0 |
| Switzerland | 100.0 |
| Tunisia | 100.0 |
| Turkey | 100.0 |
| United Kingdom | 100.0 |
| Uruguay | 100.0 |
| Bhutan | 100.0 |
| United States Virgin Islands | 100.0 |
| Brazil | 100.0 |
| Estonia | 100.0 |
| Belarus | 99.9 |
| Mauritius | 99.9 |
| Democratic People's Republic of Korea | 99.9 |
| Cook Islands | 99.9 |
| Latvia | 99.8 |
| TFYR Macedonia | 99.8 |
| Republic of Korea | 99.7 |
| Barbados | 99.7 |
| Bosnia and Herzegovina | 99.7 |
| Tonga | 99.7 |
| Lithuania | 99.7 |
| Chile | 99.7 |
| Slovenia | 99.7 |
| Croatia | 99.6 |
| Bulgaria | 99.6 |
| South Africa | 99.6 |
| United Arab Emirates | 99.6 |
| Costa Rica | 99.6 |
| Fiji | 99.5 |
| Guam | 99.5 |
| Maldives | 99.5 |
| Saint Lucia | 99.5 |
| Kazakhstan | 99.4 |
| United States of America | 99.4 |
| Serbia | 99.4 |
| Guadeloupe | 99.3 |
| Nicaragua | 99.3 |
| Poland | 99.3 |
| Réunion | 99.2 |
| Botswana | 99.2 |
| Viet Nam | 99.1 |
| Montserrat | 99.0 |
| Kuwait | 99.0 |
| Grenada | 99.0 |
| Argentina | 99.0 |
| Lebanon | 99.0 |
| Sao Tome and Principe | 98.9 |
| Russian Federation | 98.9 |
| Vanuatu | 98.9 |
| Belize | 98.9 |
| Guinea-Bissau | 98.8 |
| Morocco | 98.7 |
| Sri Lanka | 98.5 |
| Uzbekistan | 98.5 |
| New Caledonia | 98.5 |
| Niue | 98.4 |
| Guatemala | 98.4 |
| Bahamas | 98.4 |
| Tuvalu | 98.3 |
| Saint Kitts and Nevis | 98.3 |
| Guyana | 98.2 |
| Namibia | 98.2 |
| Aruba | 98.1 |
| Suriname | 98.1 |
| Ireland | 97.9 |
| Antigua and Barbuda | 97.9 |
| Jordan | 97.8 |
| Panama | 97.7 |
| Iran (Islamic Republic of) | 97.7 |
| Thailand | 97.6 |
| Northern Mariana Islands | 97.5 |
| China | 97.5 |
| El Salvador | 97.5 |
| Jamaica | 97.5 |
| Samoa | 97.5 |
| Burkina Faso | 97.5 |
| Honduras | 97.4 |
| Djibouti | 97.4 |
| Cayman Islands | 97.4 |
| Gabon | 97.2 |
| Mexico | 97.2 |
| India | 97.1 |
| Saudi Arabia | 97.0 |
| Zimbabwe | 97.0 |
| Palau | 97.0 |
| Republic of Moldova | 96.9 |
| Colombia | 96.8 |
| Kyrgyzstan | 96.7 |
| Bolivia (Plurinational State of) | 96.7 |
| Mali | 96.5 |
| Nauru | 96.5 |
| Cuba | 96.4 |
| Congo | 95.8 |
| Dominica | 95.7 |
| Seychelles | 95.7 |
| Malawi | 95.7 |
| Ukraine | 95.5 |
| Uganda | 95.5 |
| Oman | 95.5 |
| Timor-Leste | 95.2 |
| Trinidad and Tobago | 95.1 |
| Saint Vincent and the Grenadines | 95.1 |
| Venezuela (Bolivarian Republic of) | 95.0 |
| Albania | 94.9 |
| Cameroon | 94.8 |
| Micronesia (Fed. States of) | 94.8 |
| Azerbaijan | 94.7 |
| Lesotho | 94.6 |
| Anguilla | 94.6 |
| Gambia | 94.2 |
| Indonesia | 94.2 |
| Cape Verde | 94.0 |
| Pakistan | 93.9 |
| Iraq | 93.8 |
| Philippines | 93.7 |
| Swaziland | 93.6 |
| Marshall Islands | 93.5 |
| Ecuador | 93.4 |
| Solomon Islands | 93.2 |
| Ethiopia | 93.1 |
| Côte d'Ivoire | 93.1 |
| Tajikistan | 93.1 |
| Senegal | 92.9 |
| Guinea | 92.7 |
| Myanmar | 92.7 |
| Ghana | 92.6 |
| Comoros | 92.6 |
| Syrian Arab Republic | 92.3 |
| Peru | 91.4 |
| Togo | 91.4 |
| Burundi | 91.1 |
| Nepal | 90.9 |
| Central African Republic | 89.6 |
| Liberia | 88.6 |
| Papua New Guinea | 88.0 |
| Kiribati | 87.3 |
| Rwanda | 86.6 |
| Bangladesh | 86.5 |
| Lao People's Democratic Republic | 85.6 |
| Zambia | 85.6 |
| Dominican Republic | 85.4 |
| Benin | 85.2 |
| Sierra Leone | 84.9 |
| Algeria | 84.3 |
| Kenya | 81.6 |
| Madagascar | 81.6 |
| Democratic Republic of the Congo | 81.1 |
| Nigeria | 80.8 |
| Mozambique | 80.6 |
| Afghanistan | 78.2 |
| United Republic of Tanzania | 77.2 |
| Angola | 75.4 |
| Eritrea | 73.2 |
| Equatorial Guinea | 72.5 |
| Chad | 71.8 |
| South Sudan | 66.7 |
| Mongolia | 66.4 |
| Haiti | 64.9 |
| Mauritania | 58.4 |
| Palestine | 50.7 |
(Data Sourced from World Health Organization)
Recent Posts