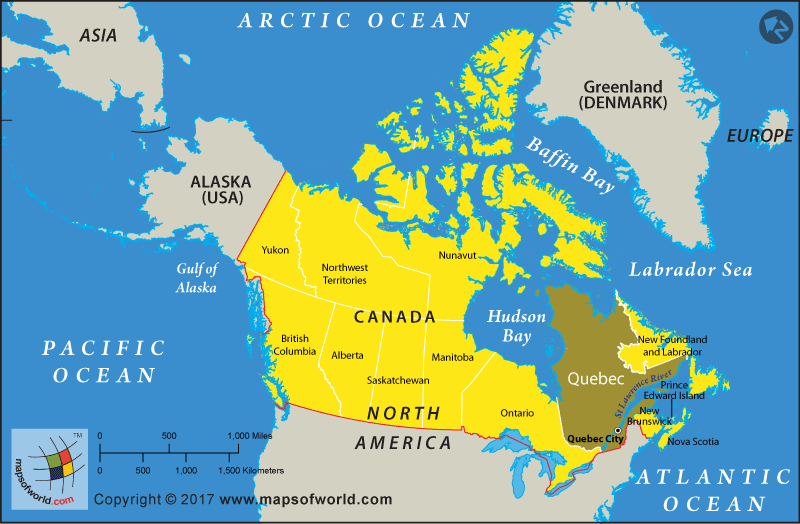 No, Quebec is not a country. It is a province of Canada. In fact, this eastern province is the largest among the 10 provinces in the country (by area) and covers almost a sixth of Canada's land area. It is also the second most populous province of the country (after Ontario). The reason Quebec is often referred to as a 'country within a country' is that the province is distinct from the rest of Canada in terms of its cultural and social outlook.
The largest province of Canada, Quebec, boasts of a distinctively French identity in the midst of a larger heterogeneous Canadian society. It shares borders with other Canadian provinces such as Ontario, New Brunswick, Newfoundland, and Labrador. It also shares borders with the US (states of Maine, New Hampshire, Vermont, and New York). The province of Quebec also shares maritime borders with other Canadian territories – Nunavut, Prince Edward Island, and Nova Scotia.
Quebec province has remained distinct from the rest of Canada primarily due to the dominance of the Francophone (speaking the French language) community. The struggle of this community to carve out a distinct identity in the midst of other English-speaking Canadians or even the growing immigrant population, its need to establish its dominance as one of the founding communities of Quebec, has often translated into a demand for Quebec separatism. This does not necessarily mean that there is a demand for sovereignty – the Francophone community of Quebec and the political leaders supported by this community have time and again raised a demand for decentralization of the Canadian government. This is also the cause of a rift between the French-speaking community of Quebec (usually referred to as the Quebecois) and the other residents (who go by the name Quebecers). The dynamic growth of Canada as a diversity-embracing, rich confluence of cultures has, however, made it a peace-loving and strong nation easily capable of reconciling such differences.
The capital of Quebec is Quebec City – the oldest city in the country – which is now over 400 years old. The city of Quebec is one of the most beautiful and picturesque tourist destinations in the country. The city is located at the confluence of two important rivers – Saint-Charles and Saint Lawrence Rivers. Quebec's Old Town (Vieux-Québec) is the only fortified (walled) city in the continent to the north of Mexico. In 1985, Old Quebec has declared a UNESCO World Heritage Site.
Related Links:
Related Maps: