Which Country Has The Most Nobel Laureates In Literature?
Next Story
Duration of Compulsory Education by Country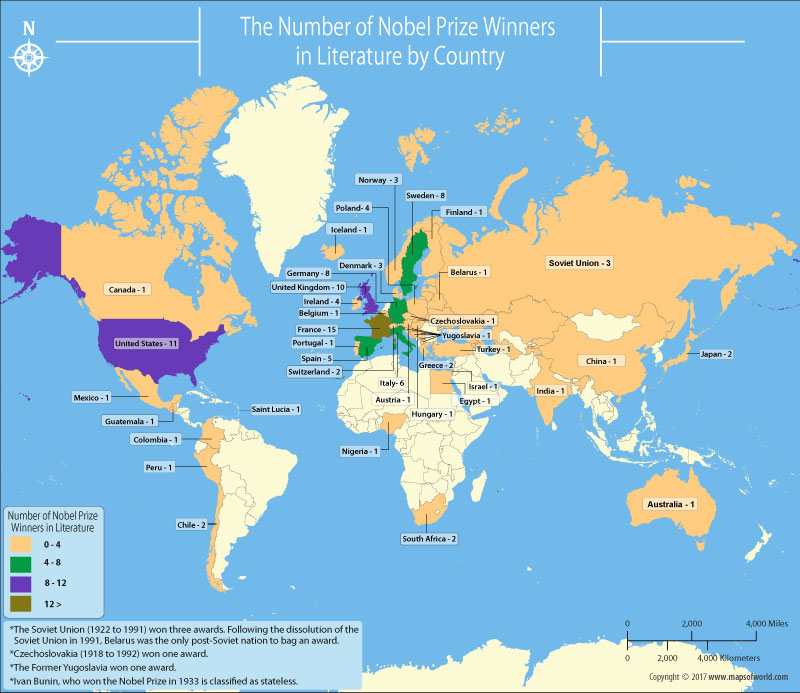 If you have a theme, we have a map.
Contact us for your custom mapping requirements
The Nobel Prize in Literature is the most prestigious award that is presented to an author for his or her contribution in the field of literature. The prize was initiated in 1901 and since then, numerous reputed authors have received the award for their work. French poet and essayist Sully Prudhomme was the first recipient of the award. Bob Dylan, an American songwriter, singer, writer and artist is the latest individual to win the award. Bob Dylan bagged the 2016 Nobel Prize in Literature "for having created new poetic expressions within the great American song tradition".
A majority of the awards have been bagged by the European nations and the United States. The European nation of France has the most Nobel Prize winners in Literature, with 15 overall winners. The United States and the United Kingdom occupy the second and third spots with 11 and 10 awards respectively. While Germany and Sweden have eight Nobel Prize winners each in Literature, Italy has six and Spain has five. Both Ireland and Poland have overall four winners each.
The former USSR has had three Nobel Prize winners in Literature; however, post the break up of the nation in 1991, Belarus is the only post-Soviet country to bag the award. The nation received the award in 2015. Many nations have won just one award and some of these include Australia, Turkey, Portugal, India, China, Canada, and Egypt, to name a few.
See More
Recent Posts