How Free is the Internet Around the World
Next Story
The Number of Dentists in the United States per 100,000 People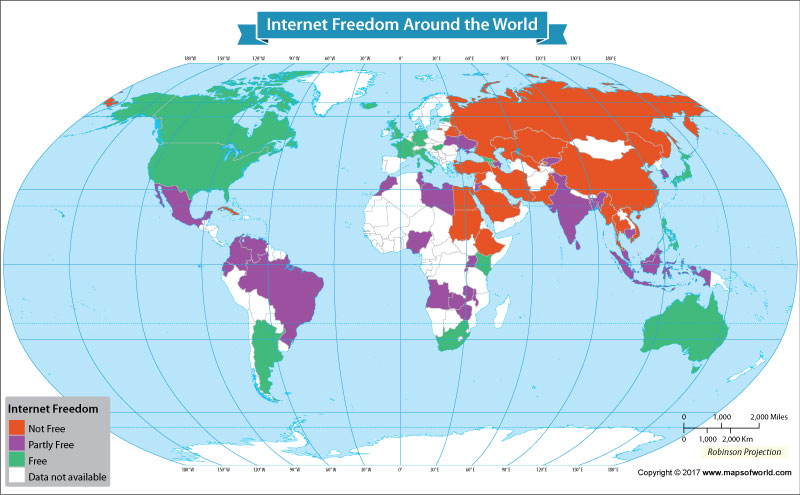 If you have a theme, we have a map.
Contact us for your custom mapping requirements
The internet can be described as one of the most spectacular achievements of the modern age. It is of immense benefit as it helps disseminate knowledge and information, and also can be used as a medium to air one's opinions in the form of blogs or news websites, etc.
But on the flip side for many governments, this fast dissemination of information can prove deadly for them, especially during anti-government protests as it can sway public opinions. As such, many governments around the world attempt to curb internet freedom to stop the people from getting information.
While some nations may censor any criticism of the authorities, others may censor corruption allegations. Other than this, news and opinions on conflicts or terrorism, social commentary, blasphemy and other topics many also be censored.
Nevertheless, there are some nations where the internet is partially free and a few where it is totally free. In its 2016 report 'Freedom on the Net', Freedom House has listed 65 countries where the internet is free, partly free or not free.
According to the report, these 65 countries cover around 88 percent of the internet population of the world. Of the total 3.2 billion people that have access to the internet, the three nations of China, India and the United States, have over 1.2 billion internet users. These form some 40 percent of the global users and all the three nations individually fall into the three different categories.
According to the 'Freedom on the Net' report, in 2016, there were 17 nations among the list of 65 where the internet was free. These included the European nations of Estonia, Iceland, Germany, the United Kingdom, France and a few others. The United States, Canada, and Australia also had free internet. Kenya and South Africa were the only two African nations with free internet. The two Asian nations with free internet were the Philippines and Japan, while Argentina was the only South American nation with free internet.
There were 28 nations where the internet was partly free. Of these, Ukraine was the only European nation which had a partly free internet. Other countries where the internet was partly free were Brazil, Colombia, India, Sri Lanka, Venezuela, Nigeria, Singapore, etc.
The data of 2016 listed 20 countries where the internet was not at all free. These were the nations of China, Iran, Saudi Arabia, Ethiopia, Cuba, Pakistan, Russia, Egypt and many others.
Recent Posts