What is the capital of Zambia?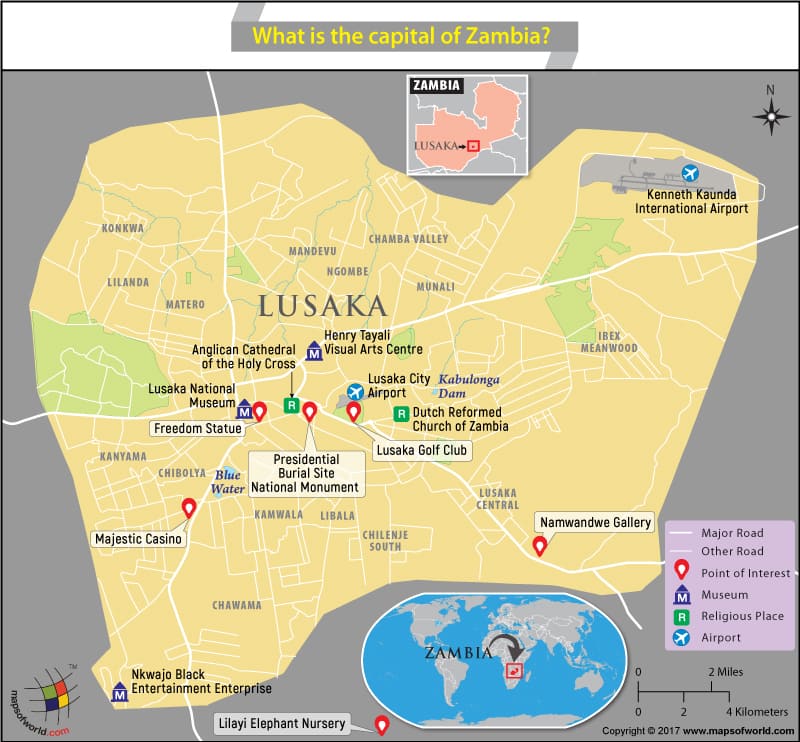 Zambia is a landlocked country in the southern part of Africa. It is surrounded by the Democratic Republic of the Congo, Tanzania, Malawi, Mozambique, Zimbabwe, Botswana, Namibia, and Angola. Zambia gained independence from the United Kingdom on October 24th, 1964 and Lusaka became its capital and administrative center.
Not only is Lusaka the capital of Zambia, it is also the main commercial hub of the country and the economy largely relies on the businesses and enterprises located in the city. Lusaka is a quintessential African city with long avenues and a vibrant culture.
Lusaka does host a number of international visitors each year and is quite cosmopolitan in its outlook. The Chaminuka Game Reserve, the Lower Zambezi National Park, the Kalimba Reptile Park, the Zambia National Museum, the Presidential Burial Site National Monument, the Namwandwe Gallery, the Lilayi Elephant Nursery, the Munda Wanga Environmental Park, and the Lusaka National Park are among the top attractions in and around the city. Lusaka is best known, perhaps, for its numerous street markets and for its colorful spirit.
Related Maps: