Countries where many people are still living in the dark
Next Story
Countries Where the Classrooms at the Primary Level are Less Crowded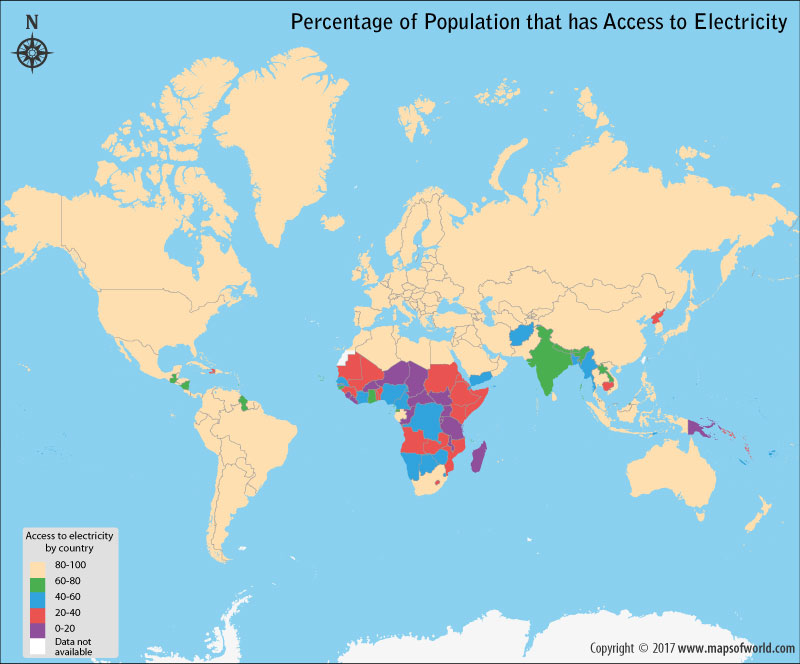 If you have a theme, we have a map.
Contact us for your custom mapping requirements
Electricity is a basic need of mankind and forms a core component for good living. Though the countries around the world have strived to provide their populace with this basic necessity, there are many nations around the world where a substantial part of the population still does not have access to electricity. According to a 2012 World Bank report, the European continent is the most well off where 100 percent of the population has access to electricity. In a couple of African and Asian nations such as Morocco, Egypt, Iran and Thailand too 100 percent of the people have access to electricity. In war-torn and unstable nations like Iraq and Libya also the people were quite well off with the percentage of population with access to this basic necessity standing at 100 percent.
However, the sub-Saharan African were badly affected with a close to 600 million people having no access to electricity. However, many countries are trying to tide over the crisis by creating mini grids which would be using renewables. In African nation such as Mozambique, Zambia, Kenya, Ethiopia, Sudan, Somalia, Congo, Swaziland, Nigeria, Senegal, and many others, the percentage of people who are without electricity ranged from 20 percent to 60 percent. Many African nation even fared worse. In nations such as South Sudan, Chad, Burundi, Malawi, and Liberia less than 10 percent of the population have electricity.
The South Asian nation of India, which is an emerging economic power, also does not fare well. Here power reaches some 78.7 percent of the people with almost 23 percent still without it. However, efforts are being made to provide electricity to all. However, faring much worse are North Korea with just 29.6 percent of the people with power, Cambodia with 31.1 percent, and Myanmar with 52.4 percent without power. On the other hand, China has done exceedingly well with 100 percent of its population having access to electricity.
Data sourced from World Bank
Recent Posts