Countries that have an Extradition Treaty with the United States
Next Story
Top Ten Cities with the Most Skyscrapers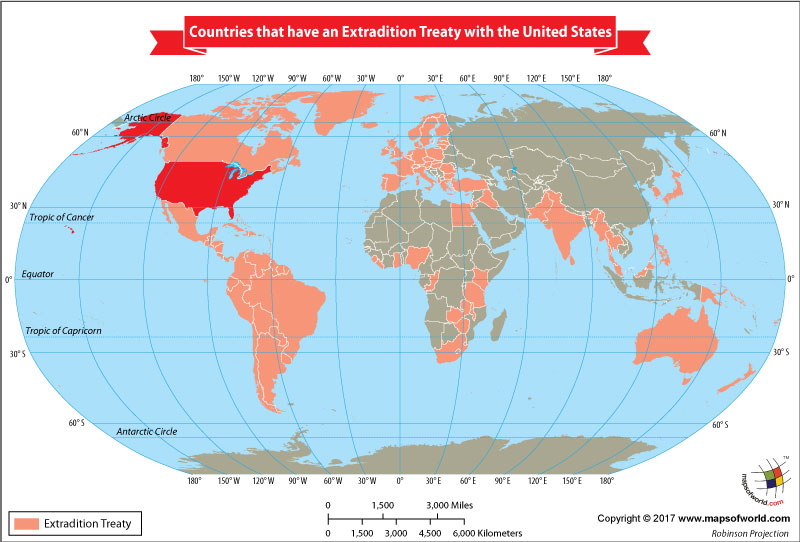 If you have a theme, we have a map.
Contact us for your custom mapping requirements
Extradition is the process whereby a person who has committed a crime in his or her home country and then escaped to another country to avoid the law can be sent back to their home country. Extradition takes place between two countries or states and its references can be found even in ancient times. There is mention of Ramesses II, an Egyptian Pharaoh, negotiating an extradition treaty with Hattusili III, a Hittite King as early as the 13th century B.C. There are treaties in place to regulate the extradition process; however, there is no country in the world which has extradition with all other nations.
The United States has extradition treaties with more than 100 countries. So, if a fugitive is hiding in any of these countries, he or she can be arrested and handed over to the United States. Some of the nations with whom the United States has an extradition treaty are Canada, India, Italy, France, Gambia, Egypt, Australia, Belgium, Brazil, Myanmar, Ghana, and many others. While the United States does not have an extradition treaty with China, it does have one with Hong Kong, which is a Special Administrative Region of China.
Meanwhile, there are many nations with whom the United States does not have an extradition treaty. A few of these are Russia, Saudi Arabia, Ukraine, Namibia, Nepal, Libya, Ethiopia, Cambodia, and many others.
Recent Posts