2016 US Well-Being Index: Hawaii tops the rankings
Next Story
Winners of the World Hip Hop Dance Championships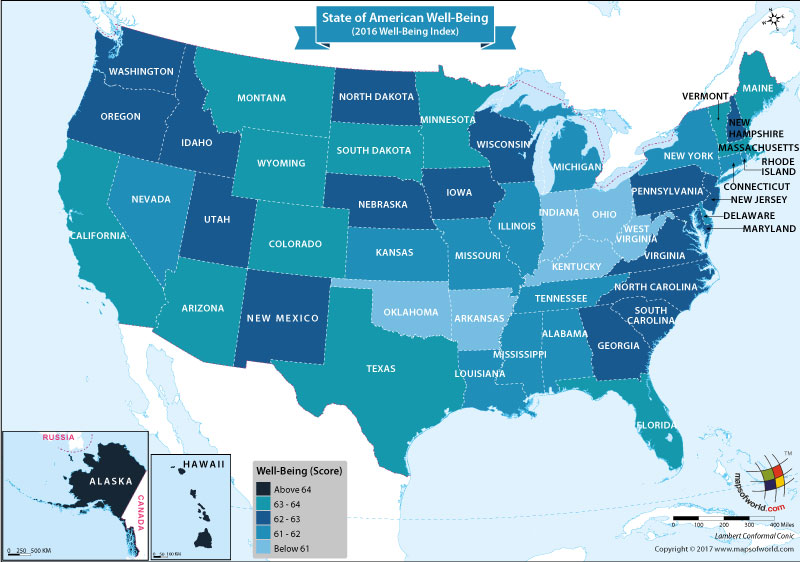 If you have a theme, we have a map.
Contact us for your custom mapping requirements
Gallup and Healthways released the 2016 US Well-Being Index in the beginning of 2017. The index provides an insight into the overall well-being of Americans. The Gallup Healthways Well-Being Index comprises five elements. These five elements are important components that help people lead the best possible life and are social, physical, purpose, financial and community. The states are ranked on scores between 0 and 100. while 100 represents the highest possible well-being, 0 stands for the lowest.
According to the 2016 Well Being Index, the residents of Hawaii had the highest well-being among all the states of the country. The people of Hawaii exercise a lot and experience little stress. Obesity rates are also low in the state. Thus, Hawaii occupied the first rank with a score of 65.2. Coming at the second spot in terms of overall well-being was the state of Alaska. The state had a score of 64.
States, which had scores between 63 and 64 were South Dakota, Maine, Vermont, Colorado, Arizona, Montana, Minnesota, Texas, Florida, Wyoming, Massachusetts, and California. Of these Colorado, which was at the sixth spot, was the only state along with Hawaii that has been among the top ten since the start of the rankings. States such as North Dakota, New Mexico, Wisconsin, Maryland, Washington, Iowa, to name a few, had scores between 62 and 63. Some of the states with scores between 61 and 62 were New York, Alabama, Michigan, Illinois, Kansas and some others.
Meanwhile, states at the bottom of the list and having scores of less than 61 were Ohio, Arkansas, Oklahoma, Kentucky, Indiana, and West Virginia. In fact, it was for the eight year in the row that West Virginia has occupied the last place on the rankings. The incidence of high blood pressure and diabetes among the people of West Virginia is the highest amongst all states in the United States.
To get to know how each state scores in the 2016 Well-Being Index, refer to the table below.
| State | Score |
| --- | --- |
| Hawaii | 65.2 |
| Alaska | 64 |
| South Dakota | 63.7 |
| Maine | 63.6 |
| Vermont | 63.5 |
| Colorado | 63.5 |
| Arizona | 63.4 |
| Montana | 63.2 |
| Minnesota | 63.2 |
| Texas | 63.1 |
| Florida | 63.1 |
| Wyoming | 63 |
| Massachusetts | 63 |
| California | 63 |
| North Dakota | 62.9 |
| Nebraska | 62.9 |
| Utah | 62.8 |
| Idaho | 62.7 |
| Virginia | 62.6 |
| New Mexico | 62.6 |
| New Hampshire | 62.6 |
| Iowa | 62.6 |
| Washington | 62.5 |
| Oregon | 62.5 |
| New Jersey | 62.5 |
| North Carolina | 62.4 |
| Wisconsin | 62.3 |
| South Carolina | 62.3 |
| Georgia | 62.3 |
| Pennsylvania | 62.1 |
| Maryland | 62 |
| New York | 61.8 |
| Nevada | 61.8 |
| Kansas | 61.8 |
| Missouri | 61.7 |
| Connecticut | 61.7 |
| Illinois | 61.6 |
| Tennessee | 61.5 |
| Michigan | 61.4 |
| Delaware | 61.4 |
| Rhode Island | 61.3 |
| Mississippi | 61.3 |
| Louisiana | 61 |
| Alabama | 61 |
| Ohio | 60.9 |
| Arkansas | 60.8 |
| Oklahoma | 60.5 |
| Kentucky | 60.5 |
| Indiana | 60.5 |
| West Virginia | 58.9 |
(Data sourced from Gallup)
Recent Posts