Countries that are Most Competitive in the Health and Hygiene Factor in Tourism
Next Story
Countries that Consume the Most Pasta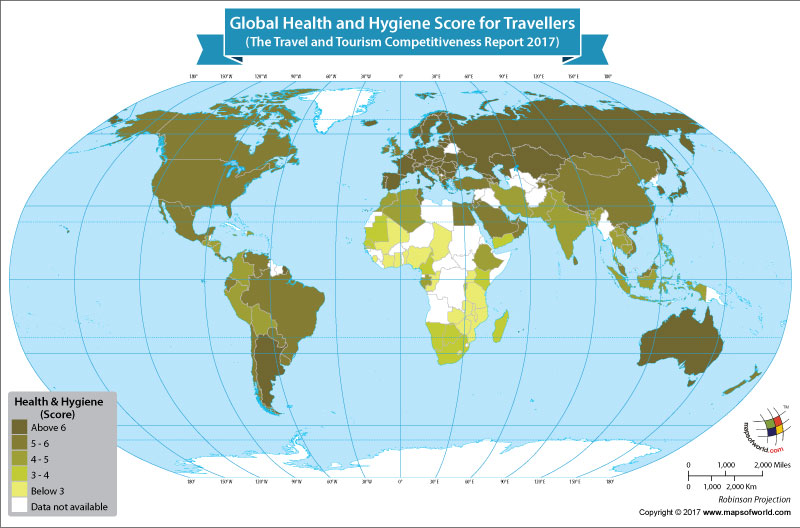 If you have a theme, we have a map.
Contact us for your custom mapping requirements
Every year millions of tourists fly to other nations for leisure, business or other purposes; hence tourism is one of the most significant industry that rakes in huge revenues for the nations. Apart from revenues, the tourism industry also creates employment for people in the travel industry. There are several factors that compel tourists to either visit a nation or to develop business there. Before a person decides to develop a business in a nation, he looks at crucial factors such as safety and security, the state of infrastructure, business environment, among others. But, health and hygiene is a very significant factor that can either make or mar the reputation of a nation and may be the reason for a tourist to either choose or ignore a particular destination.
The Travel and Tourism Competitiveness Report, which is released by the World Economic Forum,  accesses the competitiveness on a number of a parameters such as business environment, safety and security, health and hygiene, human resources and labor market; and ICT readiness. Germany has topped the pillar of Health and Hygiene of the 2017 Travel and Tourism Competitiveness Report. In terms of health and hygiene, Germany was the most competitive country in the world and had a score of 6.86. Lithuania came at the second spot with a score of 6.81. Austria was the third best nation in terms of health and hygiene and had a score of 6.71. Some other nations that had scores of more than 6 were Kazakhstan, Ukraine, Hungary, Japan, Argentina, Spain, Barbados, Israel, etc.
Nations which had score between 5 and 6 were Qatar, the United Kingdom, New Zealand, the United States, Canada, Singapore, Turkey, Oman and some other nations. Meanwhile, the nations that were least competitive in the health and hygiene pillar and had scores of less than three were Ghana, Malawi, Lesotho, Mozambique, Nigeria, Uganda, and a few other nations.
To get information on how nations are ranked on the health and hygiene factor, refer to the table below.
| Country | Score |
| --- | --- |
| Germany | 6.86 |
| Lithuania | 6.81 |
| Austria | 6.71 |
| Belgium | 6.71 |
| Russian Federation | 6.7 |
| Kazakhstan | 6.69 |
| Czech Republic | 6.69 |
| Ukraine | 6.63 |
| Hungary | 6.63 |
| Bulgaria | 6.63 |
| Greece | 6.57 |
| Hong Kong SAR | 6.56 |
| Switzerland | 6.53 |
| France | 6.52 |
| Slovak Republic | 6.5 |
| Latvia | 6.44 |
| Japan | 6.43 |
| Argentina | 6.38 |
| Croatia | 6.38 |
| Korea, Rep. | 6.35 |
| Malta | 6.35 |
| Norway | 6.31 |
| Finland | 6.29 |
| Spain | 6.28 |
| Estonia | 6.27 |
| Luxembourg | 6.27 |
| Portugal | 6.25 |
| Poland | 6.25 |
| Netherlands | 6.23 |
| Italy | 6.18 |
| Romania | 6.14 |
| Australia | 6.14 |
| Denmark | 6.13 |
| Moldova | 6.13 |
| Sweden | 6.11 |
| Georgia | 6.1 |
| Azerbaijan | 6.09 |
| Iceland | 6.07 |
| Israel | 6.06 |
| Taiwan, China | 6.05 |
| Barbados | 6.05 |
| Serbia | 6.04 |
| Slovenia | 6.03 |
| Macedonia, FYR | 5.99 |
| Uruguay | 5.97 |
| Qatar | 5.96 |
| Lebanon | 5.91 |
| Armenia | 5.91 |
| United Kingdom | 5.83 |
| Mongolia | 5.82 |
| Cyprus | 5.81 |
| Montenegro | 5.8 |
| Kyrgyz Republic | 5.76 |
| New Zealand | 5.72 |
| Ireland | 5.71 |
| United States | 5.71 |
| Tajikistan | 5.68 |
| Bosnia and Herzegovina | 5.66 |
| Canada | 5.59 |
| Saudi Arabia | 5.58 |
| Jordan | 5.54 |
| Singapore | 5.45 |
| United Arab Emirates | 5.44 |
| Turkey | 5.43 |
| Oman | 5.43 |
| Kuwait | 5.43 |
| China | 5.42 |
| Egypt | 5.4 |
| Mauritius | 5.34 |
| Brazil | 5.32 |
| Sri Lanka | 5.28 |
| Mexico | 5.26 |
| Albania | 5.22 |
| Chile | 5.19 |
| Tunisia | 5.18 |
| Bahrain | 5.17 |
| Malaysia | 5.16 |
| Panama | 5.14 |
| Trinidad and Tobago | 5.14 |
| Venezuela | 5.1 |
| Ecuador | 5.06 |
| Vietnam | 5.04 |
| Paraguay | 5.02 |
| Costa Rica | 5.01 |
| Nepal | 5.01 |
| Colombia | 4.99 |
| El Salvador | 4.94 |
| Dominican Republic | 4.93 |
| Algeria | 4.92 |
| Thailand | 4.9 |
| Peru | 4.8 |
| Philippines | 4.79 |
| Iran, Islamic Rep. | 4.72 |
| Jamaica | 4.68 |
| Cape Verde | 4.67 |
| Bhutan | 4.62 |
| Nicaragua | 4.6 |
| Guatemala | 4.58 |
| Morocco | 4.57 |
| Honduras | 4.55 |
| Pakistan | 4.53 |
| Ethiopia | 4.47 |
| Bolivia | 4.43 |
| India | 4.36 |
| Gabon | 4.35 |
| Lao PDR | 4.34 |
| Bangladesh | 4.34 |
| Indonesia | 4.3 |
| Cambodia | 4.02 |
| Yemen | 3.85 |
| Burundi | 3.8 |
| Rwanda | 3.79 |
| South Africa | 3.77 |
| Mauritania | 3.69 |
| Senegal | 3.63 |
| Gambia, The | 3.58 |
| Namibia | 3.52 |
| Botswana | 3.51 |
| Madagascar | 3.33 |
| Kenya | 3.17 |
| Cameroon | 3.14 |
| Ghana | 2.99 |
| Malawi | 2.97 |
| Lesotho | 2.94 |
| Tanzania | 2.93 |
| Benin | 2.9 |
| Chad | 2.89 |
| Zimbabwe | 2.88 |
| Congo, Democratic Rep. | 2.77 |
| Uganda | 2.75 |
| Zambia | 2.7 |
| Nigeria | 2.68 |
| Mali | 2.56 |
| Côte d'Ivoire | 2.56 |
| Sierra Leone | 2.34 |
| Mozambique | 1.83 |
Recent Posts