Winners of the World Hip Hop Dance Championships
Next Story
Household and ambient air pollution: A Health Hazard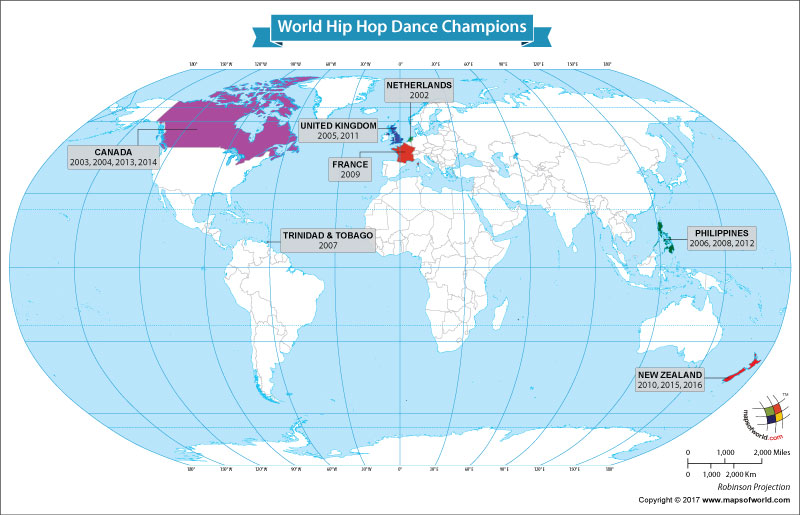 If you have a theme, we have a map.
Contact us for your custom mapping requirements
In recent years Hip-hop dance has gained wide popularity around the world. It is primarily a street dance which is performed along with hip-hop music. Hip-hop dance and music, which evolved as apart of the hip-hop culture way back in the 1970s, comprises various styles such as locking, breaking and popping. Hip gained mainstream exposure with the American music-dance television program, Soul Train, and some films of the 80s such as wild Style, Beat Street etc. Today hip-hop dance has become popular around the world.
In 2002, Hip Hop International, which is based in Los Angeles, the United States, created a dance competition titled the World Hip Hop Dance Championship with the aim to foster an understanding of street dance around the world. Since 2002, the event has been held every year and has witnessed the participation of a large number of nations. Some of the nations which have participated in World Hip Hop Dance Championships are the United States, China, Germany, India, the United Kingdom, Australia, Canada, Argentina, the Philippines, and other nations. The competition has four sections. These are junior crew, adult crew, varsity crew and mega crew.
Canada has won the most championships in the Adult Crews section of the World Hip Hop Dance Championship. From 2002 to 2016, Canada has won four championships – 2003, 2004, 2013, and 2014. Both New Zealand and the Philippines have won three championships each. New Zealand bagged the championships in 2010, 2015, and 2016, while the Philippines emerged victorious in 2006, 2008, and 2012. The United Kingdom has till date won two championships – 2005, and 2011. Countries which have won just one championship are France, the Netherlands and Trinidad & Tobago. The Netherlands won the inaugural championship in 2002, while Trinidad & Tobago and France won in 2007 and 2009, respectively. Meanwhile, the United States where the Hip Hop dance originated, is yet to win a championship.
For a better understanding on when the nations won the World Hip Hop Dance Championships, refer to the table below.
| Year | Dance Group | Country |
| --- | --- | --- |
| 2016 | The Bradas | New Zealand |
| 2015 | The Bradas | New Zealand |
| 2014 | Brotherhood | Canada |
| 2013 | Rockwell Family | Canada |
| 2012 | The Crew | Philippines |
| 2011 | Plague | United Kingdom |
| 2010 | ReQuest | New Zealand |
| 2009 | R.A.F. Crew | France |
| 2008 | Philippine All Stars | Philippines |
| 2007 | Eclectik | Trinidad & Tobago |
| 2006 | Philippine All Stars | Philippines |
| 2005 | Plague | United Kingdom UK |
| 2004 | Extreme | Canada |
| 2003 | Extreme | Canada |
| 2002 | Total Workout Dance crew | Netherlands |
(Data sourced from Hip Hop International)
Recent Posts