A Glimpse into How the Internet Grew in 2016 Over 2015
Next Story
Top NBA Teams in the Past 25 Years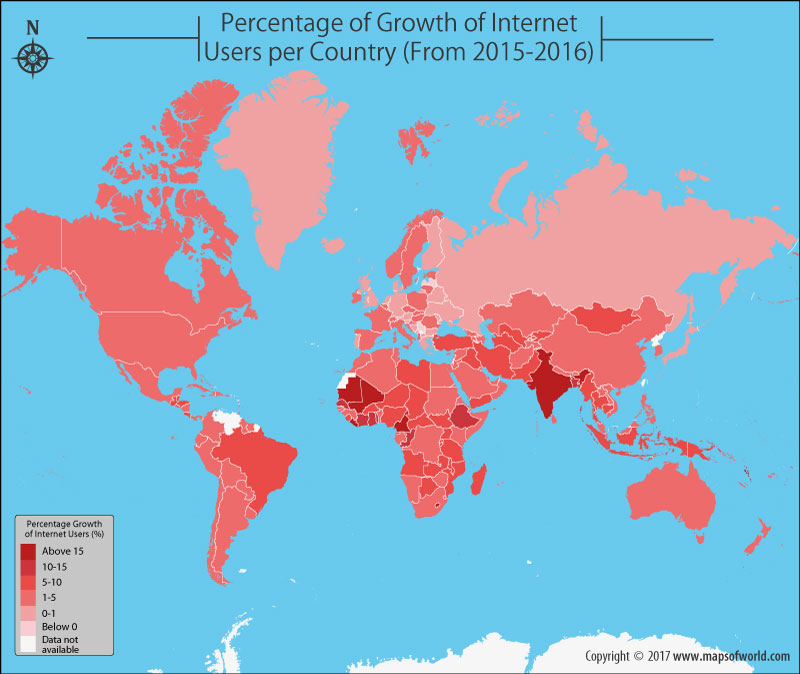 If you have a theme, we have a map.
Contact us for your custom mapping requirements
The percentage of internet users is growing with each passing year. It has been estimated that around 48 percent of the world's population today uses the internet. During the past year, India has witnessed the highest percentage of internet penetration in the world. According to a Internet Live Stats data, India, which has one of the fastest growing internet populations, witnessed a user one-year change of 30 percent. The country stood at the number one spot. When translated into figures, this means that a whopping 108,010,242 new internet users were added from 2015 to 2016.
Coming at the second spot was the African nation of Mali which witnessed user one-year change of 18.6 percent. The nation was closely followed by Lesotho at the third spot with a figure of 18.1 percent. In fact, taking into account the top ten countries in the list, barring India and Vanuatu, all the rest were from Africa.
The United States witnessed a user one-year change of just 1.1 percent. This means that from 2015 to 2016, 3,229,955 new internet users joined the total number of net users in the country. Similarly, a majority of the European nations, Australia, New Zealand, Canada, and a few Asian and African nations witnessed a user one-year change of less than 3 percent. Meanwhile, the four nations of Serbia, Bermuda, Latvia and Andorra witnessed a decline with the user one-year change percentage ranging from -0.1 percent to -1.6 percent.
The data below gives an insight into the details of each country.
Country
Users 1 Year
Change (%)
India
30.50%
Mali
18.60%
Lesotho
18.10%
Cameroon
16.50%
Vanuatu
16.00%
Mauritania
15.80%
Liberia
15.50%
Côte d'Ivoire
14.30%
Ghana
14.00%
Ethiopia
13.40%
Senegal
11.40%
DR Congo
11.00%
Bangladesh
10.40%
Togo
10.00%
Libya
9.90%
Pakistan
9.70%
Mongolia
9.70%
Samoa
9.70%
Papua New Guinea
8.60%
Cambodia
7.90%
El Salvador
7.80%
Iran
7.70%
Iraq
7.50%
State of Palestine
7.50%
Kyrgyzstan
7.50%
Rwanda
7.30%
Madagascar
7.30%
Burkina Faso
7.00%
Malawi
6.70%
Niger
6.70%
Belize
6.70%
Sierra Leone
6.60%
Indonesia
6.50%
Turkmenistan
6.40%
Thailand
6.20%
Botswana
6.20%
Uzbekistan
6.10%
Myanmar
6.10%
Equatorial Guinea
6.10%
Zambia
5.90%
Guatemala
5.80%
Angola
5.70%
Gambia
5.70%
Tanzania
5.60%
Marshall Islands
5.60%
Uganda
5.50%
South Sudan
5.50%
Chad
5.50%
Central African Republic
5.30%
Tonga
5.30%
Yemen
5.20%
Brazil
5.10%
Turkey
5.10%
Burundi
5.10%
Nigeria
5.00%
Costa Rica
5.00%
Mozambique
5.00%
Honduras
5.00%
Saint Lucia
5.00%
Colombia
4.90%
Eritrea
4.80%
Afghanistan
4.70%
Laos
4.70%
Guinea
4.70%
Somalia
4.60%
Solomon Islands
4.60%
Sudan
4.50%
Nepal
4.50%
Benin
4.50%
Philippines
4.40%
Congo
4.40%
Algeria
4.30%
Tajikistan
4.30%
Maldives
4.30%
Sri Lanka
4.20%
Bahamas
4.20%
Zimbabwe
4.10%
Oman
4.10%
Nicaragua
4.10%
Guinea-Bissau
4.10%
Cuba
4.00%
Fiji
4.00%
Djibouti
4.00%
South Africa
3.90%
Paraguay
3.90%
Gabon
3.90%
Comoros
3.90%
Namibia
3.80%
Kenya
3.70%
Croatia
3.60%
Sao Tome and Principe
3.60%
Kuwait
3.40%
Trinidad and Tobago
3.40%
Bhutan
3.40%
Viet Nam
3.30%
Egypt
3.30%
Chile
3.30%
Kiribati
3.30%
Czech Republic
3.20%
Lebanon
3.20%
Jordan
3.20%
Argentina
3.10%
Bolivia
3.10%
Timor-Leste
3.10%
Haiti
3.00%
Macao
2.90%
Brunei
2.90%
Cabo Verde
2.90%
Saudi Arabia
2.80%
Qatar
2.80%
Malta
2.80%
Guam
2.70%
Armenia
2.60%
French Polynesia
2.60%
Seychelles
2.60%
Poland
2.50%
Dominican Republic
2.50%
Jamaica
2.50%
Suriname
2.50%
Tunisia
2.40%
United States Virgin Islands
2.40%
China
2.20%
Spain
2.20%
Malaysia
2.20%
New Zealand
2.20%
Estonia
2.20%
Swaziland
2.20%
Guyana
2.20%
Mexico
2.10%
Venezuela
2.10%
Israel
2.10%
Uruguay
2.10%
St. Vincent & Grenadines
2.10%
Micronesia
2.10%
Syria
2.00%
Singapore
2.00%
Cyprus
2.00%
Dominica
2.00%
Peru
1.90%
Belgium
1.90%
Georgia
1.90%
Panama
1.90%
Luxembourg
1.90%
Canada
1.80%
Kazakhstan
1.80%
Aruba
1.80%
Antigua and Barbuda
1.80%
Italy
1.70%
Australia
1.70%
Morocco
1.70%
United Arab Emirates
1.70%
Norway
1.70%
Bahrain
1.70%
Barbados
1.70%
Albania
1.60%
Grenada
1.60%
Ecuador
1.50%
Saint Kitts and Nevis
1.50%
France
1.40%
Romania
1.40%
Puerto Rico
1.40%
New Caledonia
1.30%
Faeroe Islands
1.30%
Cayman Islands
1.30%
South Korea
1.20%
Hungary
1.20%
Azerbaijan
1.20%
U.S.
1.10%
Lithuania
1.10%
Mauritius
1.10%
Sweden
1.00%
Switzerland
1.00%
Slovakia
1.00%
Ireland
1.00%
Liechtenstein
1.00%
U.K.
0.90%
Belarus
0.90%
Bulgaria
0.90%
TFYR Macedonia
0.90%
Montenegro
0.90%
Iceland
0.90%
Portugal
0.80%
Moldova
0.70%
Monaco
0.70%
Germany
0.60%
Netherlands
0.60%
Hong Kong
0.60%
Denmark
0.50%
Ukraine
0.40%
Greece
0.40%
Finland
0.40%
Slovenia
0.40%
Greenland
0.40%
Russia
0.30%
Austria
0.30%
Bosnia and Herzegovina
0.20%
Japan
0.10%
Serbia
-0.10%
Bermuda
-0.30%
Latvia
-0.50%
Andorra
-1.60%
Recent Posts