What is the Capital of Austria?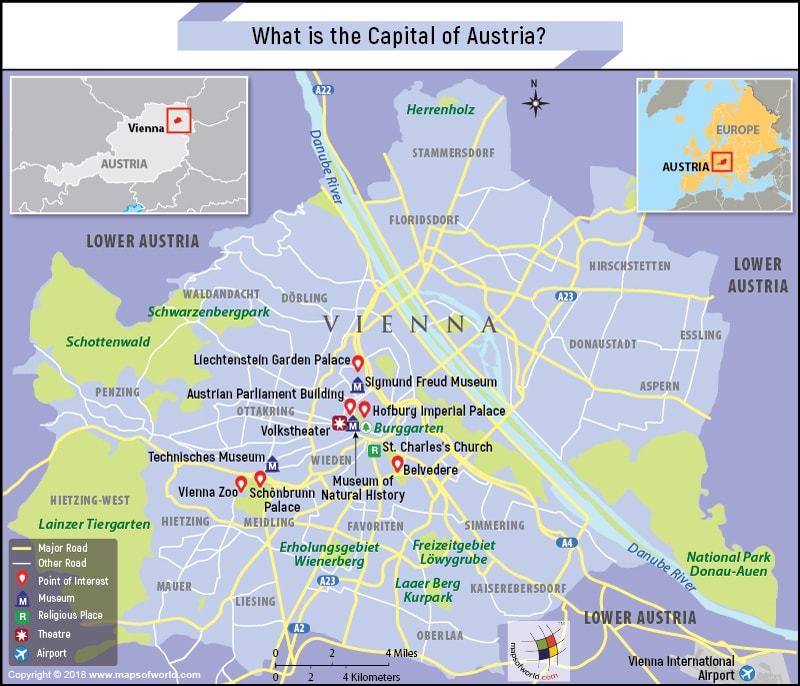 Vienna is the capital of Austria.
Vienna is the largest city in Austria and the seventh largest in the European Union in terms of population. As of January 2017, the city comprised a population of 1,867,960 inhabitants. Vienna is situated in the eastern part of the country and covers an area of 160.10 square miles. The city occupies a strategic location as it is situated close to the borders of Hungary, Czech Republic, and Slovakia.
Vienna is among the world's most important capitals as it hosts many prominent international organizations. Among a few that have their headquarters in the city are the Organization of the Petroleum Exporting Countries (OPEC) and the United Nations. The city is renowned for its quality of living and was ranked first by Mercer in its annual "Quality of Living" survey between the years 2009 and 2016.
A great cultural center, Vienna is also referred to as the City of Music due to its long tradition of Music, and art and culture. Home to many renowned theaters and opera houses, Vienna has provided an enriching environment to musicians and artists since medieval times. Some of the famous musicians who have worked in the city include Ludwig van Beethoven, Mozart, Franz Schubert, and Arnold Schoenberg.
Vienna is one of the most popular tourist destinations in the world and attracts more than 6 million visitors per year. Some of the places worth to see in the city are; Schönbrunn Palace; Hofburg Imperial Palace; Belvedere, which consists of many palaces; Burggarten, which was once a royal garden, and many others.
Visit the following to learn more about Austria:
Related Maps: