How Deep is Lake Superior?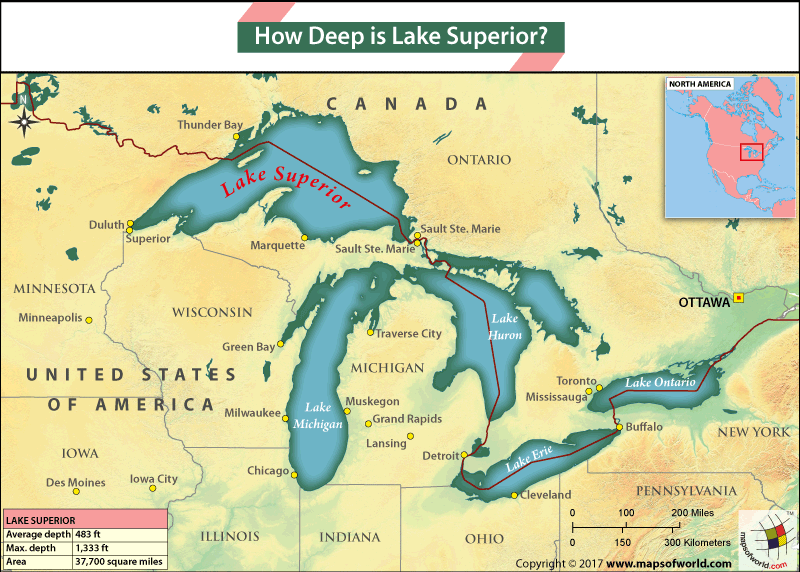 Lake Superior has an average depth of 483 feet (147 meters), and its maximum depth is 1,333 feet (406 meters).
Lake Superior is one of the five Great Lakes of North America and is the largest of the Great Lakes. The lake has a length of 350 miles and is shared by both the United States and Canada. The Canadian province of Ontario is situated to the north of Lake Superior, while the US state of Minnesota is to its west. The Upper Peninsula of Michigan and Wisconsin are located to the south of Lake Superior.
Lake Superior has a surface area of 31,700 square miles, which makes it the world's largest freshwater lake by surface area. It is the third largest freshwater lake in the world by volume which is 2,900 cubic miles.
The lake has rich marine life. There are around 80 species of fish living in Lake Superior. Some of these are salmon, perch, carp, trout, cisco, killifish, etc. The white pine and the Flowering Rush are a few of the native plant species found in the lake. Bird varieties that one would come across on the lake are owls, many types of hawks, and woodpeckers, to name a few.
The lake is home to several islands and the largest of these is the Isle Royale, which is located in Michigan. Other prominent islands are Michipicoten Island in the Canadian province of Ontario, the Grand Island, and the Madeline Island in the US states of Michigan and Wisconsin. Some of the settlements along Lake Superior are Thunder Bay and Sault Ste. Marie in Ontario, Superior in Wisconsin, Duluth in Minnesota, Marquette and Sault Ste. Marie in Michigan.
Related Links:
Related Maps: