What is the Capital of Germany?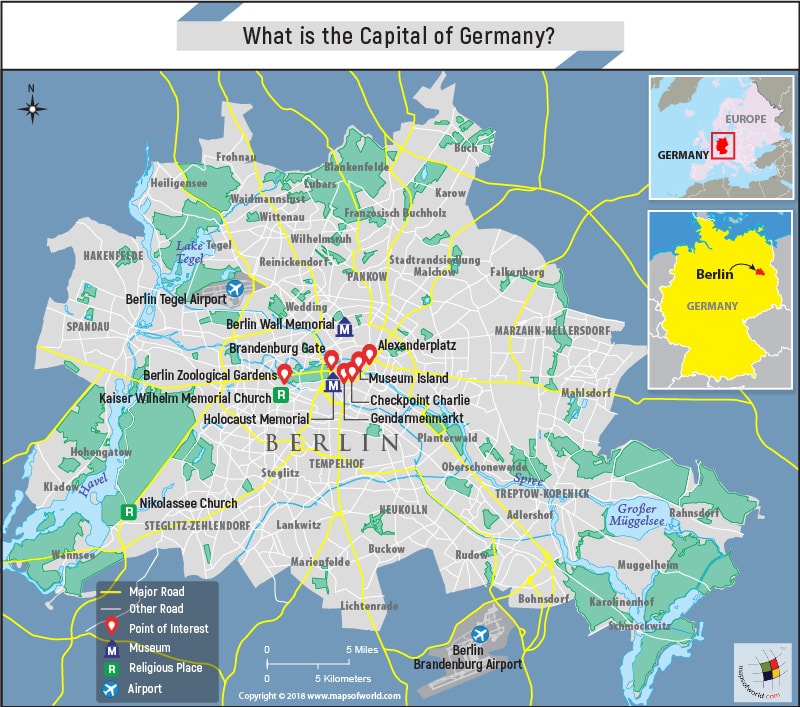 Berlin is the capital of Germany.
Berlin is the largest city in Germany with a 2016 estimated population of 3,671,000 people. It is also the second most populous city in the European Union. The city covers an area of 344.3 square miles.
Berlin is an important political, commercial, finance, and educational center. It is a prosperous city comprising a number of economic sectors such as information and technology, hospitality, life sciences, e-commerce, retail, medical and engineering. R&D is a driving force of the city and many multi-national organizations such as Pfizer, Volkswagen, SAP, and others have their laboratories in Berlin. It is also a preferred destination for corporations, and a number of companies have their headquarters here. Some of the leading companies present in the city are Daimler, Bayer HealthCare, Air Berlin, Siemens (partly headquartered), Deutsche Bahn, Bombardier Transportation, and Coca-Cola.
German is the official language of the city, one of the 24 languages of the EU, and one of the three working languages of the European Commission. Berlin is home to people of many other nationalities. It comprises a significant number of Turkish people, estimated to be the largest Turkish community outside of Turkey.
Berlin has been a prominent city since medieval times. It has served as the capital of prominent kingdoms and empires such as the Margraviate of Brandenburg, Kingdom of Prussia, German Empire, Weimar Republic, Third Reich, East Germany, and finally unified Germany. Berlin was devastated during World War I and World War II. Following the end of the World War II, the city came under the control of the Allied forces and was divided into four sectors. West Berlin came under the control of the United Kingdom, France, and the United States, while East Berlin was placed under the Soviet Union. Following the founding of the Federal Republic of Germany (West Germany), the western part of the city became a West German exclave, while East Berlin became the capital of East Germany. With the reunification of Germany in 1990, the unified Berlin became the capital of the country.
Berlin is a popular tourist destination and is visited by tourists from all across the globe. Some prominent destinations in the city are the Brandenburg Gate, Museum Island, the Berlin Wall Memorial, Kaiser Wilhelm Memorial Church, Berlin Zoological Gardens, and many others.
Visit the following to learn more about Germany:
Related Maps: