Global Cybersecurity Index 2017: Singapore Tops the List
Next Story
The Least Expensive Cities in the World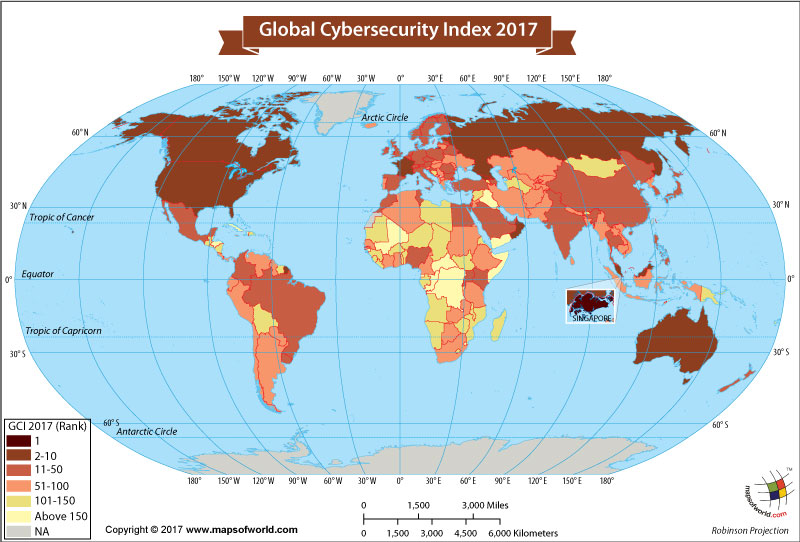 The recent high-profile global cyber security attacks such as WannaCry Ransomware and NotPetya caught many countries off-guard, forcing them to adopt more stringent measures to protect their networks and infrastructure. WannaCry Ransomware, which struck in May 2017, affected thousands of computers around the world. According to estimates, around 150 countries were affected. Over the past few years, there have been many other attacks which have seriously affected businesses and finances. Despite the threat, there are quite a few nations which have still to formulate strong cyber security policies.
If you have a theme, we have a map.
Contact us for your custom mapping requirements
To measure the commitment of nations, the International Telecommunication Union, the UN telecommunications agency, recently released its second Global Cybersecurity Index. Singapore has topped the 2017 Global Cybersecurity Index due to its strong initiatives in this field. Coming in second place is the United States. The other nations among the top ten are Malaysia, Oman, Estonia, Mauritius, Australia, Georgia, France, Canada, and Russia. Both Georgia and France are tied at the 8th position.
Other countries that have showed a strong commitment to their cyber security initiatives are; the United Kingdom, Japan, Egypt, Finland, New Zealand, Germany, Qatar, Rwanda, India, to name a few. These countries have ranked between 11 and 50. Countries such as Portugal, South Africa, Iran, Argentina, Indonesia, Sri Lanka, Iceland, etc., rank between 51 and 100. Occupying the ranks between 101and 150 are Zimbabwe, Mongolia, Lebanon, South Sudan, Guatemala, Angola, Belize, and quite a few other nations.
Equatorial Guinea, Central African Republic, Yemen, Congo, Swaziland, Iraq, Maldives, Andorra, etc., have not formulated strong cyber security policies and as such are placed at the bottom of the list. These nations were ranked 150 and above.
(Data sourced from International Telecommunication Union)
Recent Posts