A glance at the number of patent applications by residents around the world
Next Story
How Secure is Your Country's Internet Server?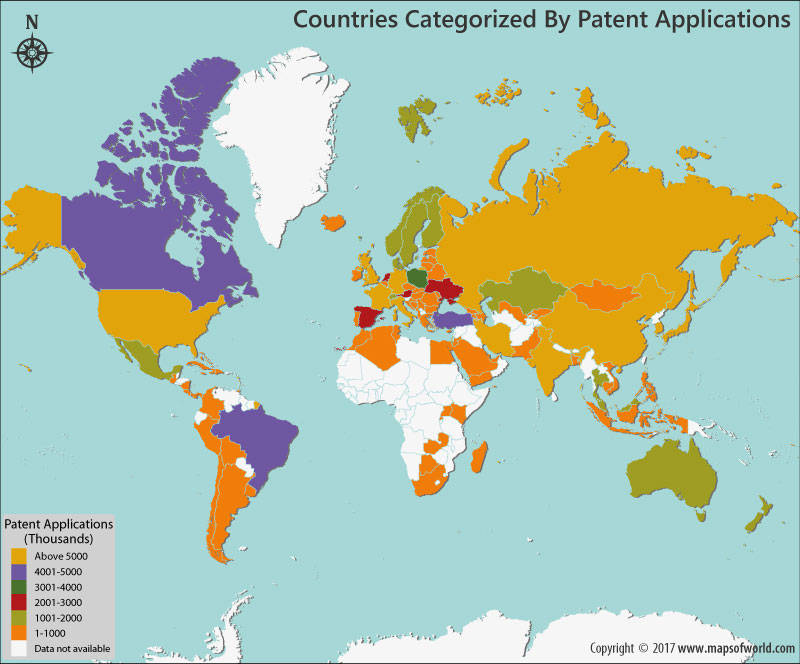 If you have a theme, we have a map.
Contact us for your custom mapping requirements
A look at the number of patent applications filed by the people of China shows why it is the most innovative country in the world. According to a World Bank data, China reported a staggering 801,135 patent applications being filed by residents in 2014, the highest in the world. Apart from China, there are only three other countries that saw more than 100,000 patents applications by residents.
The United States, which has one of the best educational institutions in the world and fabulous research facilities occupies the second place. In comparison to China's whopping figure, the US recorded a figure of 285,096 patent applications being filed by its residents. One of the most technological advanced countries in the world, Japan stood at the third place, while South Korea occupied the fourth. Both Asian countries reported a figure of 265,959 and 164,073 respectively.
Meanwhile, USA's northern neighbor of Canada witnessed just 4,198 patent applications being filed by residents in 2014. India, which is the second most populous country in the world and among the fastest emerging economies, recorded just 12,040 patent applications in the year 2014. Among the European nations, Germany had the highest number of patent applications which stood at 48,154, while Malta had just five patent applications. The United Kingdom and France reported numbers of 15,196 and 14,500 respectively. Australia and New Zealand reported numbers of 1,988 and 1,636 respectively. On the other side of the table is Barbados, Samoa, and Nicaragua which filed just one patent application each in the year 2014.
Data sourced by World Bank
Recent Posts