Top 20 Nations with the Most Medals at the World Wrestling Championships
Next Story
Nuclear Suppliers Group Member States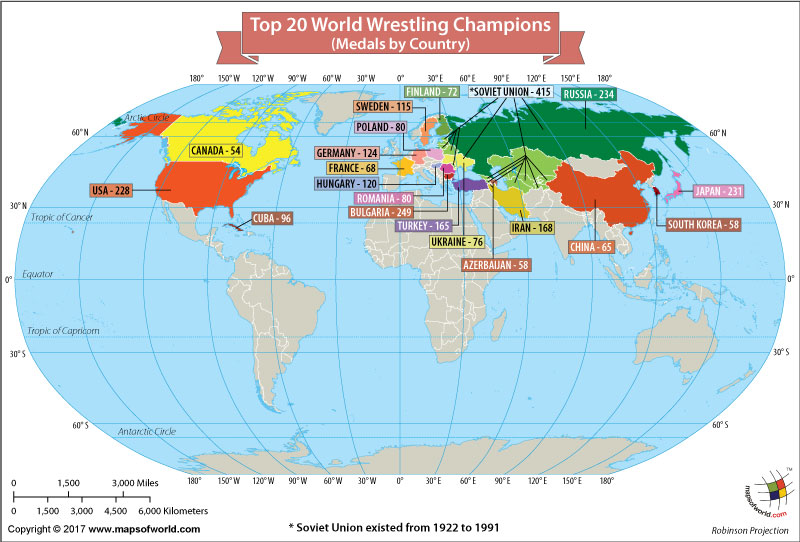 If you have a theme, we have a map.
Contact us for your custom mapping requirements
Wrestling is one of the most popular sports and has been in existence since antiquity. Wrestling matches, which involve two competitors trying to maintain a superior position and forcing the opponent to touch the ground, draws a large number of spectators.
Television channels cash in on wrestling matches with viewership, at times, reaching astronomical figures. Mention of the sport goes back to the dawn of recorded history, and can be found from the cave drawings in France, which are more than 15,000 years old, to the ancient texts such as the Vedas, Ramayan, Mahabharata, and the Iliad. From Babylon and Egypt to India, China, and Japan, wrestling is one of the most dominant sports. However, its fame was unprecedented in ancient Greece where it was widely mentioned in literature as well as legend. Though brutal as times, the sport was also included in the ancient Olympic Games. In the Middles Ages, wrestling enjoyed the patronage of many royal families around the world.
The popularity of the sport has continued in modern times, and it is part of the modern Olympic Games. An equally popular tournament is the World Wrestling Championships, which is organized by the United World Wrestling. The tournament comprises of four competitions – Men's Freestyle, Men's Greco-Roman, Women's freestyle, and Combined. The oldest of these is the Men's Greco-Roman Wrestling tournament which began in 1904.
Among the top 20 nations that have won the most medals from 1904 through 2016, is the former Soviet Union. To date, the Soviet Union, is the most successful nation winning a total of 415 medals – Gold, Silver, and Bronze – from 1922 until its dissolution in 1991. Bulgaria is the second most successful nation winning a total of 249 medals. A part of the former Soviet Union, Russia has been the third most successful nation with 234 medals to its credit. The land of Sumo wrestlers, Japan, has 231 medals to its credit, while the United States has won 228 medals.
Iran, Turkey, Germany, Hungary, and Sweden have also made it to the top ten bagging 168, 165, 124, 120 and 115 medals respectively. Meanwhile, the other nations among the top 20 nations with the most medals are Canada, Azerbaijan, South Korea, China, France, Finland, Ukraine, Poland, Romania, and Cuba. The medal tally of these nations ranges from 54 to 96.
Take a look at the table below to get information about the number of medals won by each of the top twenty nations.
| Country | Medals |
| --- | --- |
| Soviet Union | 415 |
| Bulgaria | 249 |
| Russia | 234 |
| Japan | 231 |
| United States | 228 |
| Iran | 168 |
| Turkey | 165 |
| Germany | 124 |
| Hungary | 120 |
| Sweden | 115 |
| Cuba | 96 |
| Romania | 80 |
| Poland | 80 |
| Ukraine | 76 |
| Finland | 72 |
| France | 68 |
| China | 65 |
| South Korea | 58 |
| Azerbaijan | 58 |
| Canada | 54 |
Recent Posts