Countries that have won the Wimbledon tournament
Next Story
The Top Ten Airlines in the World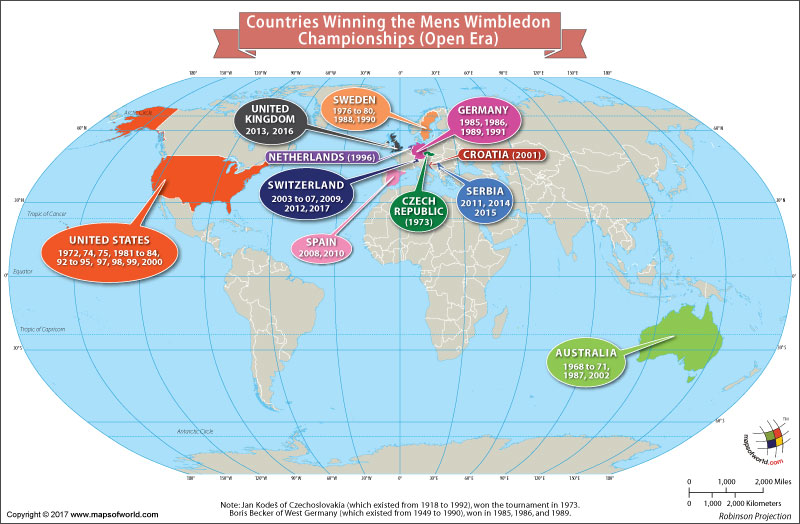 If you have a theme, we have a map.
Contact us for your custom mapping requirements
The prestigious Wimbledon tournament is one of the most watched tennis matches, drawing in billions of viewers from across the globe. Also known as The Championships, Wimbledon, it is the world's oldest tennis tournament, dating back to July 9th, 1877. At that time, the tournament had only one event – Gentlemen's Singles. The event, which saw a presence of just 200 spectators, was won by Spencer Gore.
Today, the world's most loved tennis tournament has expanded, and includes five main events, four junior events, and seven invitation events. Among the main events, apart from the Gentlemen's Singles, are the; Ladies' Singles, Gentlemen's Doubles, Ladies' Doubles, and Mixed Doubles. The 14-day tournament, which is played every year in June-July, starts on a Monday and concludes on a Sunday. Wimbledon forms a part of the four Grand Slam Tennis Tournaments. The other three are the French Open, Australian Open, and the US Open.
From 1968, with the inclusion of professional tennis players, the Open Era began. In the Gentlemen's Singles from the Open Era onwards, Roger Federer of Switzerland is the most successful player. With eight victories, he currently holds the record for the most victories in the Gentlemen's Singles. Federer won consecutive tournaments from 2003 to 2007. Thereafter he emerged victorious in 2009, 2012, and the recently held 2017 tournament.
Meanwhile, the United States has won the most number of tournaments – 15 in all. In the Open Era, Stan Smith won the first Wimbledon tournament in 1972 when he defeated Ilie Năstase of Romania in the final. Other US players who have won the tournament are Jimmy Connors, Arthur Ashe, John McEnroe, Andre Agassi, and Pete Sampras.
Australian tennis players have won six Wimbledon tournaments, and include Rod Laver, John Newcombe, Pat Cash, and Lleyton Hewitt. Seven Wimbledon tournaments have been won by Swedish players, five by Bjorn Borg. Borg emerged victorious from 1976 to 1980. The other Swedish player, Stefan Edberg won the tournament in 1988 and 1990. Andy Murray of the United Kingdom has won two tournaments, in 2013 and 2016. Novak Djokovic of Serbia has won three tournaments, 2011, 2014 and 2015, while Rafael Nadal of Spain has won twice, in 2008 and 2010.
Boris Becker and Michael Stich of Germany have won three and one tournaments respectively. While Boris Becker won in 1985, 1986, and 1989, Michael Stich emerged victorious in 1991. Other players who have won the Wimbledon tournament are Goran Ivanišević of Croatia (2001), Richard Krajicek of the Netherlands (1996), and Jan Kodeš of the former Czechoslovakia (1973).
Recent Posts