Countries With the Most Grand Prix Motorcycle Racing World Championships
Next Story
Electricity Generation From Natural Gas by Country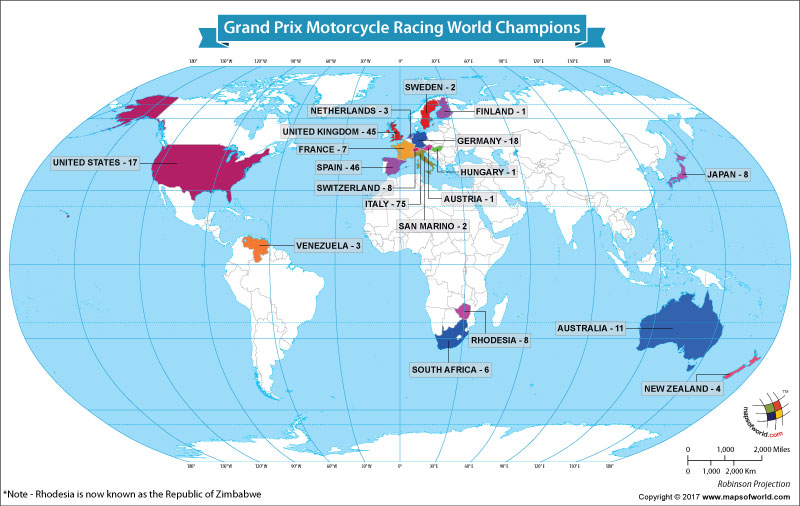 If you have a theme, we have a map.
Contact us for your custom mapping requirements
Grand Prix motorcycle racing is one of the most prestigious, popular, as well as the oldest motorsport World Championship. The mega sporting event, which features some of the top names in the motorcycle racing world, was established in 1949. The Grand Prix motorcycle racing has been divided into three classes which are Moto GP, Moto 2 and Moto 3.
Italy has been the most successful nation since the tournament began in 1949. The European nation has till date 75 champions in all three categories. Spain and the United Kingdom, which are the second and third successful nations, are neck-to-neck in the number of championships. While Spain has won a total of 46 championships, the United Kingdom has till date bagged 45 championships. Though Germany is the fourth most successful nation but it is way behind the United Kingdom. Germany has till now won 18 championships in all the three categories.
The United States and Australia are the fifth and sixth most successful nations winning 17 and 11 championships respectively. The former African nation of Rhodesia, which is present Zimbabwe, won eight championships. Japan and Switzerland are the other two nations that have bagged eight championships. Both France and South Africa have won 7 and 6 championships each. Nations that have won between 1 and 4 championships are New Zealand, Venezuela, the Netherlands, San Marino, Sweden, Finland, Austria and Hungary.
The table gives information on how many times has each nation won the Grand Prix Motorcycle Racing World Championship.
| Country | Championships Won |
| --- | --- |
| Italy | 75 |
| Spain | 46 |
| United Kingdom | 45 |
| Germany | 18 |
| United States | 17 |
| Australia | 11 |
| Rhodesia | 8 |
| Japan | 8 |
| Switzerland | 8 |
| France | 7 |
| South Africa | 6 |
| New Zealand | 4 |
| Venezuela | 3 |
| Netherlands | 3 |
| San Marino | 2 |
| Sweden | 2 |
| Finland | 1 |
| Austria | 1 |
| Hungary | 1 |
Recent Posts