Chess Olympiad Gold, Silver and Bronze Medal Winners From 1992 to 2016
Next Story
Gaming Market Revenues Continue to Grow Around the World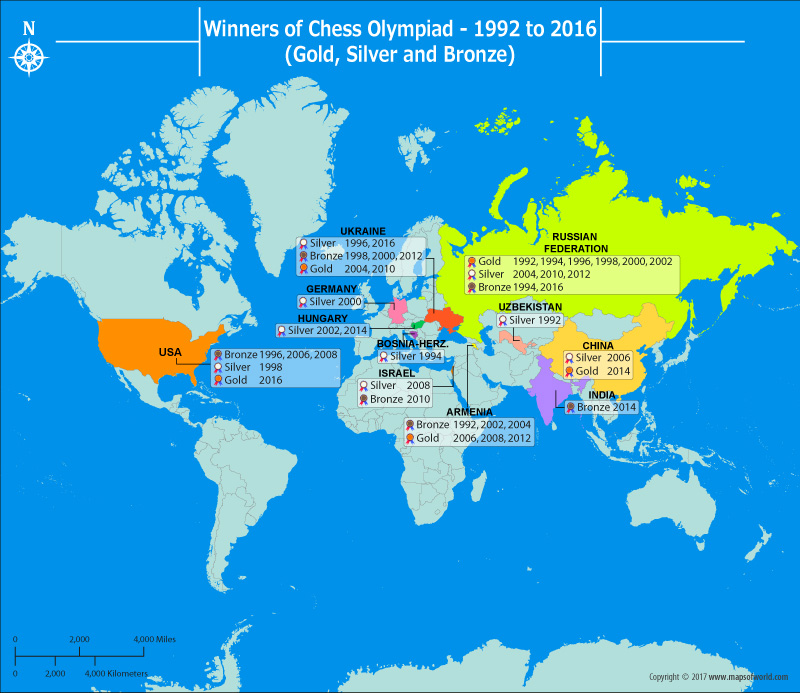 If you have a theme, we have a map.
Contact us for your custom mapping requirements
Chess is a sport that originated in ancient India. Played during the age of the Gupta Empire around the 6th century AD, over time the game began to spread across the world from the Muslim regions to Russia and finally Europe. Even the chess pieces underwent changes over time. While in the time of the Guptas, the pieces exuded a military aura as they were divided into the cavalry, elephants, infantry and chariots, but time witnessed these being replaced by knight, bishop, pawn and rook.
Whatever changes the sport has underwent, it cannot be denied that today Chess is one of the most popular games played around the world. Unlike sports which require more of a strength and stamina, chess requires brains and patience. A number of tournaments are held every year and Chess Olympiad continues to be a popular one.
Unofficially, the Chess Olympiad began in 1924 and the event was hosted in Paris; however, the actual event was held in 1927 in London. In the last 24 years, from 1992 to 2016, 13 tournaments have been held at an interval of two years. Russia has dominated these thirteen tournaments bagging a total of 11 medals over three categories of gold, silver and bronze. In fact, Russia bagged six consecutive gold medals in the six tournaments held from 1992 to 2002. While the United States has won a total of five medals, one gold, one silver and three bronze; the former USSR states of Ukraine, Armenia and Uzbekistan, won 7, 6 and one medal respectively.
Interestingly, India, where the game originated, has been able to win just one bronze in the 2014 tournament, while China bagged a gold in 2014 and a silver in 2006.
Recent Posts