Next Story
Time to Provide People with Safe Vehicles to Stop Road Deaths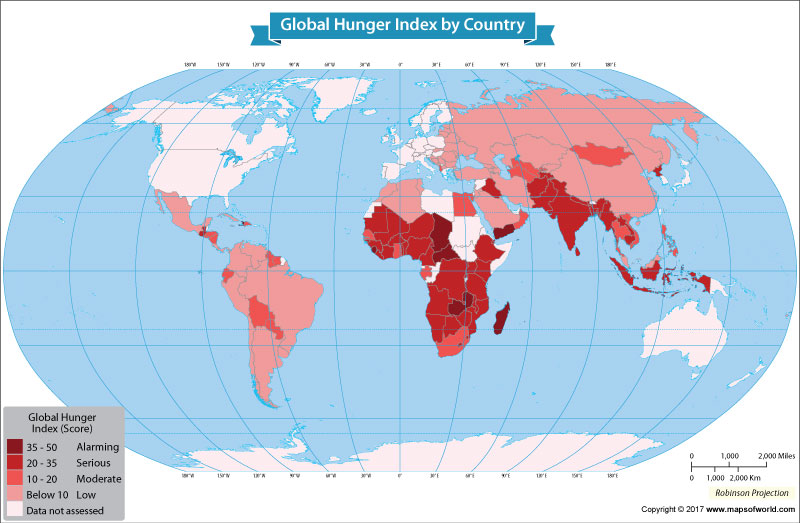 If you have a theme, we have a map.
Contact us for your custom mapping requirements
It has been estimated that right now there are approximately 800 million people in the world who are suffering from chronic undernourishment. Despite progress being made on this front, it would still be a tough battle to eradicate hunger entirely from the world. However, there is a disparity among nations regarding the Global Hunger Index, with the African nations being the most affected and some of them even falling in the alarming, or serious hunger situation.
According to the International Food Policy Research Institute, the hunger situation was extremely acute in the Central African Republic (CAR). According to the data, CAR had a Global Hunger Index score of 46.1 in 2016.
The Global Hunger Index lists the countries from 0 to 100 (0 meaning that there is no hunger, and those with 100 are the worst of the lot). However, both these extremes are never reached in reality. Further, the list has been divided into sections. The situation is "alarming" in countries which fall in the range of 35-to-50. The situation is "serious" in countries in the range of 20-to-35. In countries, where the range is from 10-to-20, the situation is "moderate", while the countries having a score below 10 reported a "low" Global Hunger Index score.
The hunger situation in the African nation of Chad was equally alarming as that of the CAR. The second most affected country in the world, Chad had a Global Hunger Index score of 44.3. Other countries where the situation was alarming included Sierra Leone, Yemen, Madagascar, Haiti and Zambia, where the index score ranged between 35 and 39.
Among the countries where the situation was serious, Afghanistan stood at the top. The country's Global Hunger Index score in 2016 was 34.8, while that in Timor-Leste it was 34.3. Niger recorded a Global Hunger Index of 33.7. Some of the other countries where the situation was serious were Pakistan, North Korea, India, Bangladesh and Rwanda to name a few. Here the index score stood at 33.4, 28.6, 28.5, 27.1 and 27.4 respectively.
Guatemala was placed at the bottom of the category where the situation was serious with a score of 20.7. However, barring Guatemala, all the other countries in the serious category were located either in Asia or Africa.
Nations such as Argentina, Belarus, Brazil, Cuba, Ukraine, China, Russia, Malaysia, and many other nations witnessed a very low Global Hunger Index score. In these nations, the score in 2016 stood below 10.
The data provides information on the Global Hunger Index score per country.
| Country | Global Hunger Index Score (2016) |
| --- | --- |
| Central African Republic | 46.1 |
| Chad | 44.3 |
| Zambia | 39 |
| Haiti | 36.9 |
| Madagascar | 35.4 |
| Yemen, Rep. | 35 |
| Sierra Leone | 35 |
| Afghanistan | 34.8 |
| Timor-Leste | 34.3 |
| Niger | 33.7 |
| Pakistan | 33.4 |
| Ethiopia | 33.4 |
| Angola | 32.8 |
| Djibouti | 32.7 |
| Mozambique | 31.7 |
| Namibia | 31.4 |
| Burkina Faso | 31 |
| Liberia | 30.7 |
| Tajikistan | 30 |
| Zimbabwe | 28.8 |
| North Korea | 28.6 |
| India | 28.5 |
| Tanzania | 28.4 |
| Mali | 28.1 |
| Lao PDR | 28.1 |
| Guinea | 28.1 |
| Rwanda | 27.4 |
| Guinea-Bissau | 27.4 |
| Bangladesh | 27.1 |
| Malawi | 26.9 |
| Congo, Rep. | 26.6 |
| Uganda | 26.4 |
| Côte d'Ivoire | 25.7 |
| Nigeria | 25.5 |
| Sri Lanka | 25.5 |
| Swaziland | 24.2 |
| Benin | 23.2 |
| Botswana | 23 |
| Cameroon | 22.9 |
| Lesotho | 22.7 |
| Togo | 22.4 |
| Mauritania | 22.1 |
| Myanmar | 22 |
| Iraq | 22 |
| Nepal | 21.9 |
| Kenya | 21.9 |
| Indonesia | 21.9 |
| Cambodia | 21.7 |
| Gambia, The | 20.9 |
| Guatemala | 20.7 |
| Philippines | 19.9 |
| Senegal | 16.5 |
| Bolivia | 15.4 |
| Vietnam | 14.5 |
| Guyana | 14.5 |
| Ghana | 13.9 |
| Ecuador | 13.9 |
| Mongolia | 13.8 |
| Egypt, Arab Rep. | 13.7 |
| Nicaragua | 13.3 |
| Mauritius | 13.2 |
| Honduras | 13.2 |
| Uzbekistan | 13.1 |
| Turkmenistan | 12.3 |
| Gabon | 12 |
| Albania | 11.9 |
| South Africa | 11.8 |
| Thailand | 11.8 |
| El Salvador | 11.2 |
| Dominican Republic | 11.1 |
| Paraguay | 10.4 |
| Oman | 10.4 |
| Suriname | 10.1 |
| Azerbaijan | 9.8 |
| Malaysia | 9.7 |
| Panama | 9.3 |
| Morocco | 9.3 |
| Moldova | 9.2 |
| Kyrgyz Republic | 9.1 |
| Algeria | 8.7 |
| Armenia | 8.7 |
| Peru | 8.6 |
| Trinidad & Tobago | 8.5 |
| Fiji | 8.5 |
| Colombia | 8.5 |
| Bulgaria | 8.3 |
| Georgia | 8.2 |
| Jamaica | 7.9 |
| Kazakhstan | 7.8 |
| China | 7.7 |
| Mexico | 7.2 |
| Serbia | 7.1 |
| Lebanon | 7.1 |
| Venezuela, RB | 7 |
| Russian Federation | 6.8 |
| Iran, Islamic Rep. | 6.7 |
| Macedonia, FYR | 5.8 |
| Jordan | 5.7 |
| Uruguay | 5.6 |
| Tunisia | 5.5 |
| Romania | 5.5 |
| Slovak Republic | 5.3 |
| Ukraine | <5 |
| Turkey | <5 |
| Saudi Arabia | <5 |
| Montenegro | <5 |
| Latvia | <5 |
| Lithuania | <5 |
| Kuwait | <5 |
| Croatia | <5 |
| Estonia | <5 |
| Cuba | <5 |
| Costa Rica | <5 |
| Chile | <5 |
| Brazil | <5 |
| Belarus | <5 |
| Bosnia & Herzegovina | <5 |
| Argentina | <5 |

(Data sourced from International Food Policy Research Institute)
See More
Top Ten Countries with Standard of Living
Happiest Countries in the World
Recent Posts